This is AI generated summarization, which may have errors. For context, always refer to the full article.
The Philippines is off to a great start in the FIBR Asian Men's Volleyball Championship, playing in home soil and conquering their first assignment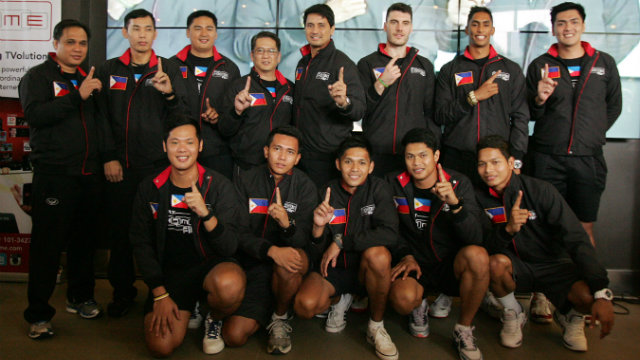 MANILA, Philippines – First game down.
The PLDT Home TVolution Power Pinoys trounced Mongolia in straight sets, 25-13, 25-23, 25-16, to notch their first win in the PLDT Home FIBR Asian's Men's Volleyball Championship on Tuesday, April 8, at the Mall of Asia Arena.  
"It's a big win kasi (because) it's a possible quarter finals (slot), pasok sila (we're in)," Philippine team head coach Francis Vicente said in a TV interview. "If Iraq wins against Mongolia it's a definite na andoon kami sa (that we're there in the) quarter finals."
For the most part, Team Philippines breezed through their opponents who simply played a hugely erratic game.
The game started off slow and cold with both teams committing service errors. But the Philippines then went on a 3-0 spurt to lead 5-3 early on and picked up steam as the set wore on. 
Service and attack errors helped the Philippines' cause as they capitalized on easy points given to them by Mongolia to eventually build a 21-12 wall before they cruised to their first set win.
That lead was a result of an 83% first set success rate on attacking for the Philippines, compared to only 18% for Mongolia. 
It was Australian spiker Cedric Legrand who played the role of energizer bunny beginning in the first set. He eventually finished with 18 points. 
"We trained for this game. It did go the way we expected," said the 26-year old after the game. "The team played really well together. It's a good team win."
Fellow Australian Robert Lewis also chipped in 12 markers. Meanwhile, Alnakran Abdilla was in charge of consistency for the team. (READ: PH unveils roster for Asian men's volleyball championship)
Major resistance
The Mongolians put up some major resistance in the second frame, however, as they finally got to execute better and put together some runs.
With the Philippines up 22-13 and seemingly on their way to an easy 2-0 set lead, the Mongolians came alive and went on a sizzling 9-1 blast to threaten the Philippines, 23-22. But Kheeno Franco stopped the bleeding with a point before Mongolia, haunted once again by their perpetual errors, botched the final point on a service mishap.
In the third set the Philippines led 22-13 once again but this time made sure the Mongolians will stay down and would come back no more.
With this competition, which will run for 9 days from April 8 to 16 in Manila, the Philippines has a chance to showcase its men's volleyball chops and finally move up the International Federation of Volleyball (FIVB) rankings. Currently, the country sits at a far 127.
The Philippines is bracketed in Pool A together with Mongolia and Iraq. They will play Iraq on Thursday, April 10. – Rappler.com