This is AI generated summarization, which may have errors. For context, always refer to the full article.
'[I]'m just thankful that there's so many people in the Philippines cheering for me,' says Saso, who hails from San Ildefonso, Bulacan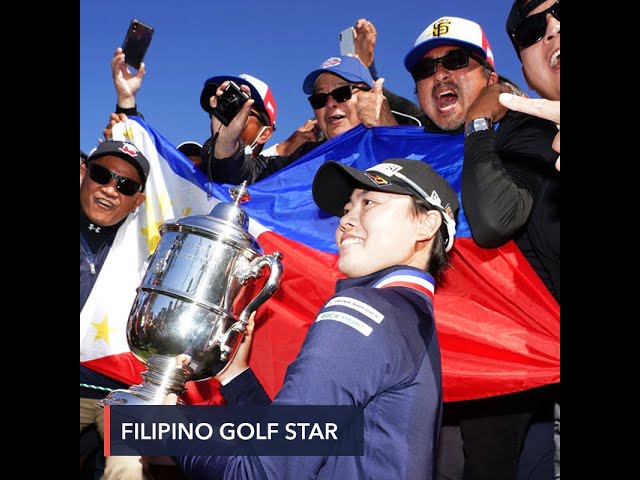 Filipino golf star Yuka Saso made history, and a lot of money, too.
The 19-year-old Saso became the first golfer from the Philippines and the youngest player to capture the 76th US Women's Open championship at the Olympic Club in San Francisco on Sunday, June 6 (Monday, June 7, Manila time).
But aside from taking home the trophy in the biggest tournament in women's golf, Saso also bagged the $1-million prize and tournament exemptions in the next few years.
"I don't know what's happening in the Philippines right now, but I'm just thankful that there's so many people in the Philippines cheering for me," said Saso, who hails from San Ildefonso, Bulacan.
"I don't know how to thank them. They gave me so much energy. I want to say thank you to everyone."
With the victory, Saso earned exemption from qualifying in the next 10 US Women's Open. She's also exempted in the next five AIG Women's British Opens, KPMG Women's PGA Championships, ANA Inspirations, and Amundi Evian Championships.
Saso, who picked up the sport over a decade ago due to her Japanese father's influence, had an up-and-down campaign in the US Open, so to come out on top definitely surprised her.
"I was just glad and thankful that I was here and able to play in this tournament. Yeah, it's unbelievable," said Saso, a double-gold medalist in the 2018 Asian Games.
Saso matched Inbee Park as the youngest golfer at 19 years, 11 months, and 17 days to rule the prestigious tournament. Park won her first US Open in 2008.
During the competition, Saso also enjoyed the vocal support of fans at the South San Francisco course that borders Daly City, a city with a large Filipino population.
"It felt great. There's so many people holding up Philippines flags, and it's really big," she said. "It made me really happy."
The Filipina sank a birdie putt on the third playoff hole to outduel Japan's Nasa Hataoka.
Saso shot a 2-over 73 to finish at 4-under 280 on the Lake Course on a day when American Lexi Thompson shot 4-over 75 and suffered through an epic back-nine collapse.
Hataoka shot a 3-under 68 and matched Saso's scores on the two-hole aggregate playoff on holes 9 and 18. Then the format turned to sudden-death and soon it was Saso who emerged as the surprise golfer in the winner's circle as she made the 10-foot birdie putt on the ninth hole.
Saso entered the final round trailing third-round leader Thompson by one stroke and her day started badly with back-to-back double bogeys on Nos. 2 and 3.
"I was actually upset," said Saso, who's also a two-time winner on the Japan LPGA Tour.
"My caddie talked to me and was like, there's still many holes to go so keep doing what I was doing the last few days and trust the process."
She bounced back with a birdie on No. 7. After a bogey on 11, Saso carded birdies on 16 and 17 during Thompson's collapse.
Saso was wide right on a 20-foot birdie putt to win on 18 before recovering to knock in the par putt to join Hataoka in the playoff. – with reports from Reuters/Rappler.com