It's fast but it has its flaws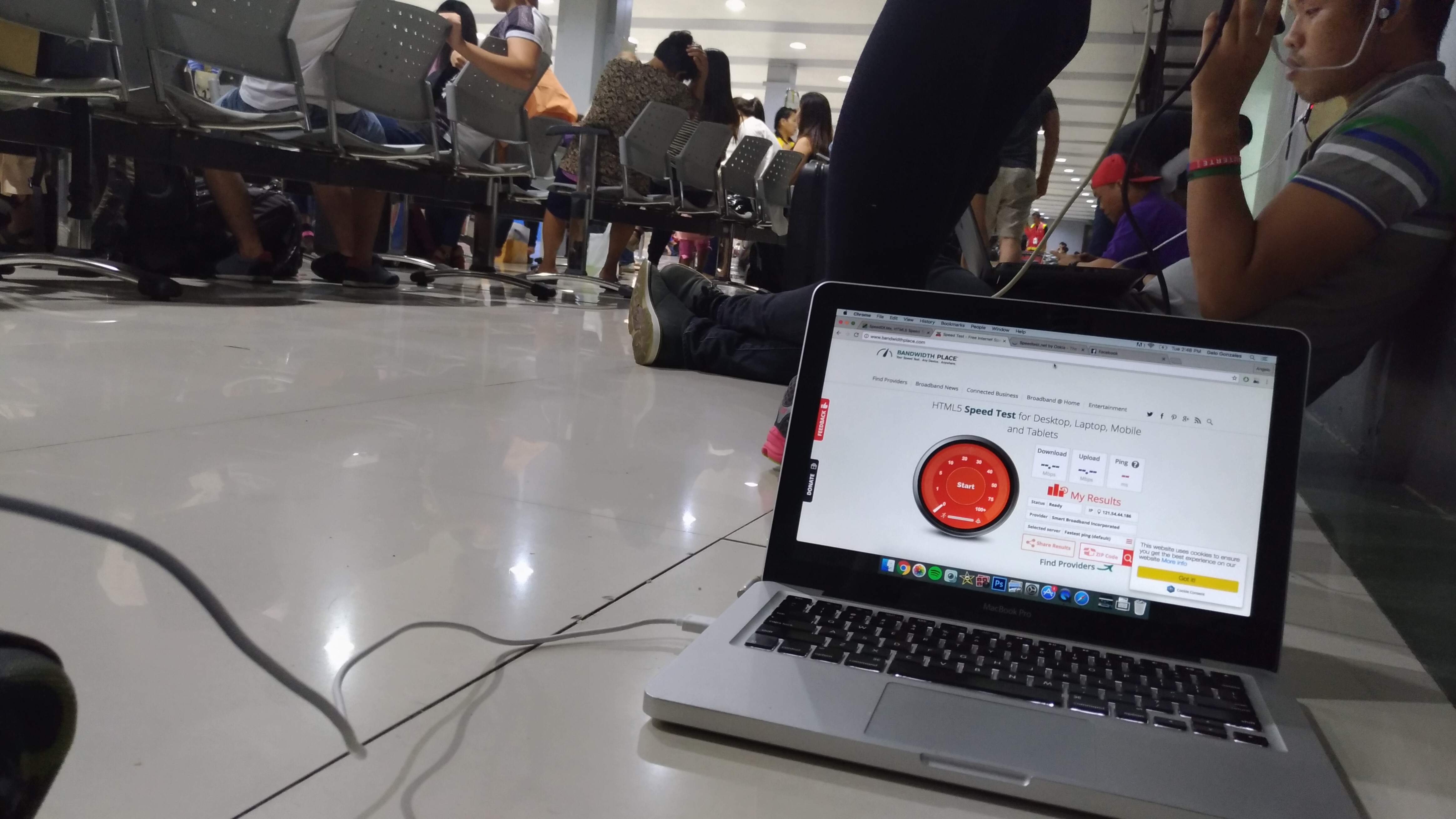 MANILA, Philippines – Long story short, Smart's recently launched "carrier-grade" WiFi at NAIA Terminal 4 is potent. 
I experienced it for myself. Since Smart announced the implementation of their new and improved free WiFi at all NAIA terminals late last week, I'd thought of experiencing the thing for myself. It's free, and it's 1 Gbps-fast, said Smart. I had to find out if it was good as advertised. 
So I booked a September 27 flight to Kalibo, scheduled at 8 pm at Terminal 4. I was at the airport way ahead of schedule at around 11:30 am, planning to record WiFi speeds on an hourly basis.
These were the numbers I got in the early afternoon: 
Satisfactory. I got to upload an 800-megabyte video file on YouTube in 15 minutes, give or take. A larger 1.1-gigabyte video file took longer; expected, but it was also because I had to attend to something more important than staring at my computer geekily crunch bandwidth throughput, and numbers and such. I had to move while the upload was still ongoing and that stalled the process, reaffirming one fact of life for us, WiFi leechers: Some spots are better than others.
I forgot this myself, earlier in the day. I settled in a row of seats situated at the far end of the room, and then even farther behind at the charging station branded with a big, round "Smart WiFi" sticker. (There were several of these, and then one Globe WiFi sticker in the area. Globe also offers free WiFi, which we also measured.)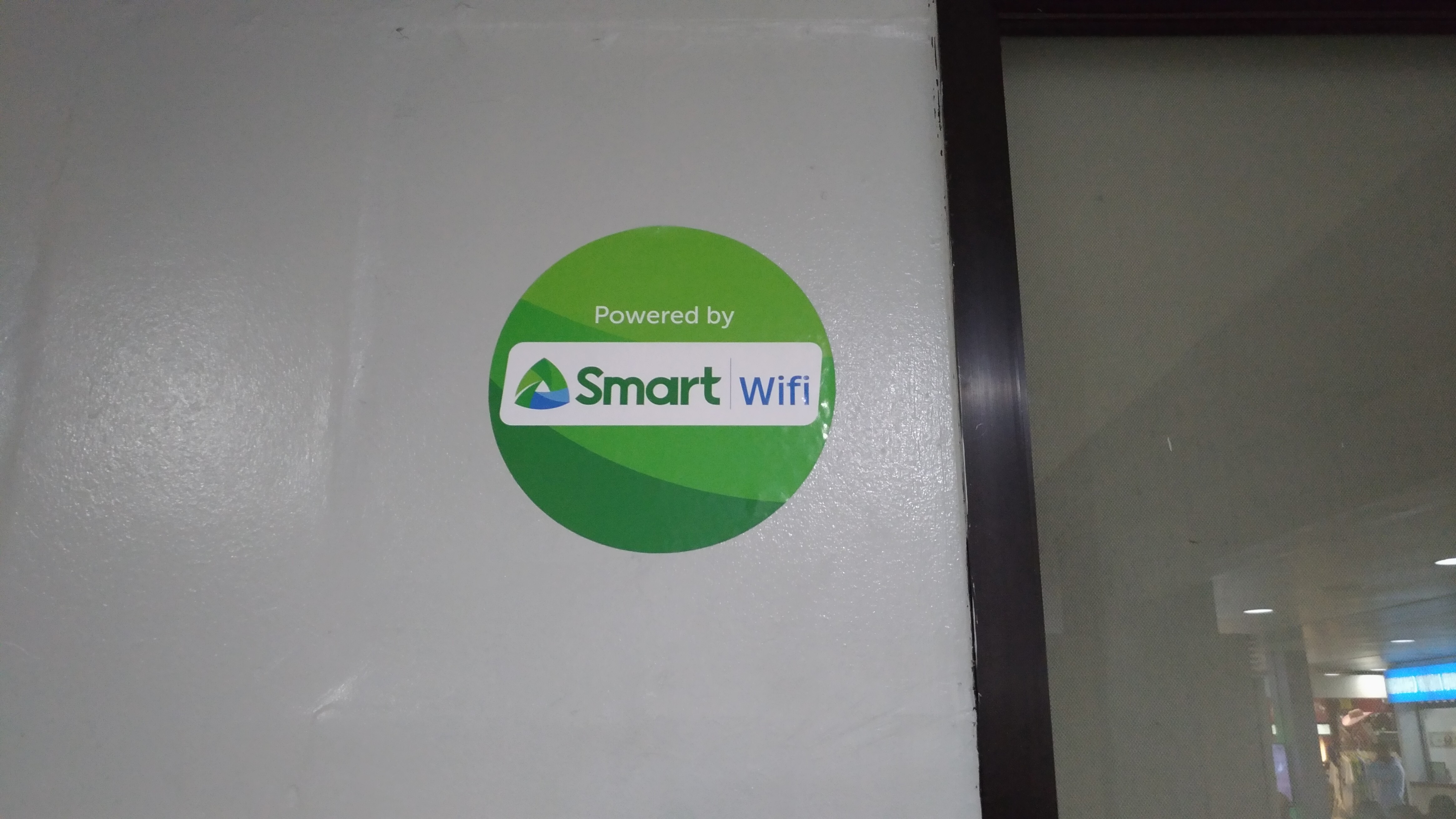 It sucked there. The speed tests wouldn't load no matter the connection – Smart's, Globe's or even my own Smart mobile, which earlier had been able to smoothly stream the Trump-Clinton debate as I drove from Pasig to the airport. I was ready to tell everyone of my grand scoop: "Smart's much-ballyhooed NAIA 'carrier-grade' WiFi disappoints!" Hah. I finally had a story as explosive as, say, a senator teasing a president – if only I hadn't decided to move to another spot. 
I moved to another spot: by the glass wall near the guard checking for the boarding pass. Three feet to my left was a trash can but hey, fast Internet. Specifically: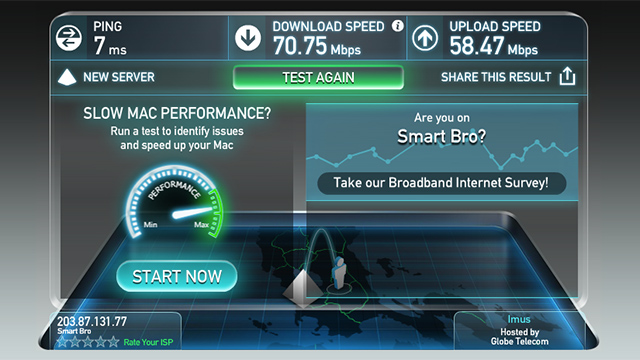 I wrote this piece in this spot which I speak of, about to finish with two hours to spare before my flight. I intend to continue to make use of this free public WiFi in the interim – and pray that our production team does not hate me for continuing to upload even more 1 gigabyte videos for them to process. 
Smart's ongoing efforts to enhance WiFi services at a number of Philippine airports (there are currently 11 regional airports with the same service) can only be good for our nation's Internet-for-all ideals. It's fast but I'd like to add, also imperfect: connections also drop dead from time to time like other consumer connections, and will be time-capped to an hour of use come Monday, Oct 10. But at the very least, it does set standards for the kind of public-space Internet we need to demand, and makes us hope that maybe someday, the whole Philippines can be "carrier-grade." – Rappler.com