Fake news sites will no longer be able to make use of the two tech giants' ad networks, with new advertising guidelines in place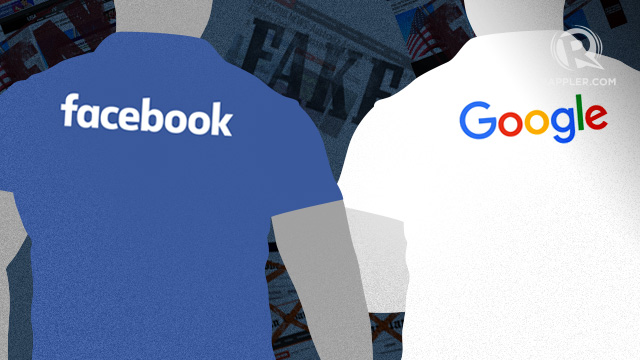 MANILA, Philippines – Facebook and Google, two of the biggest avenues of online information today, have decided to ban fake news sites from their respective ad services. 
Google made the announcement first, Monday, November 14 (US time), as reported in The New York Times. The policy update bans sites that have been determined to be peddling fake news from making use of the Google AdSense system.
Sites that have signed up for AdSense receive advertisements generated by Google. Every time a person who visits the website sees or clicks on those ads, the site gets a portion of the revenue. Now, fake news sites can no longer apply for AdSense with Google's new policy. 
Hours after, Facebook also updated its policy, stamping out "fake news" from its ad network, the Facebook Audience Network. Sites or apps that have been discovered to be peddling fake news can no longer sign up for the ad network – joining the likes of sites that promote pornography, adult products or services, casual dating, violence, and weapon sales, among others.
It is important to note, however, that the Facebook Audience Network is separate from the Facebook News Feed. The former directs ads to apps and mobile websites outside Facebook, although it uses the same targeting mechanism.
As Quartz noted, "the advertising ban won't directly affect the distribution of fake news through Facebook's News Feed," where these controversial news items will remain until the social network does something about it. 
Until Facebook takes action on fake news on the News Feed, it will continue to hear the clamor for more decisive action – especially in light of a recent statement from Facebook chief Mark Zuckerberg that trivialized the effect of fake news and hoaxes. (READ: To curb hoaxes, Facebook must accept it's a media company)
Recently, a group of US students made a Google Chrome extension that determines which news is trustworthy and which isn't on Facebook, based on several parameters. It's an example that it can be done – technically, at the very least.
If 4 students can propose a working solution, a tech giant like Facebook surely has the resources to implement a more sophisticated one. What's stopping the social network may have more to do with an ideological shift. (READ: Facebook had tool to weed out fake news – report)
The policy changes at Facebook and Google come after the two online giants faced criticism related to the recent US elections – that fake news being funneled through them misinformed the voting public, ultimately affecting the final result. Zuckerberg called this claim "a pretty crazy idea."
With these policy changes, the hope is that fake news generators will lose some of the incentives involved with publishing fast-spreading but potentially and dangerously inaccurate information. – Rappler.com