Sporting nearly identical features, the Xperia Z3 and Xperia Z3 Compact aim to provide a quality Android experience for different needs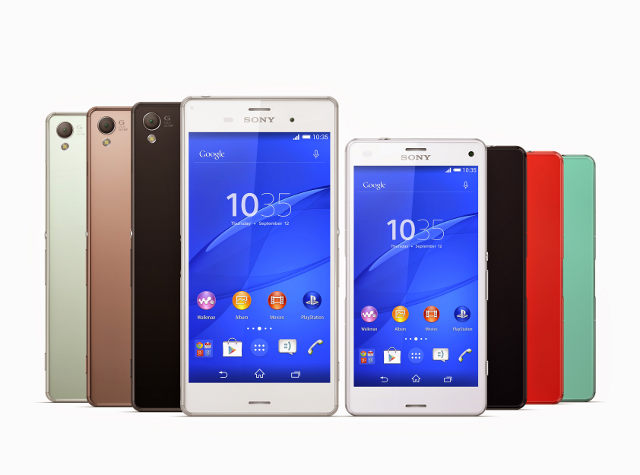 MANILA, Philippines – Ahead of the IFA electronics conference in Berlin, Sony Mobile announced on Wednesday, September 3, its new Xperia Z3 smartphone lineup, comrpised of the Xperia Z3 and the Xperia Z3 Compact.
The Xperia Z3 has a 5.2-inch full HD display. It takes advantage of a Snapdragon 2.5 GHz Qualcomm Quad-core processor and an Adreno 330 graphics processor, as well as 3GB of RAM. The device also supports up to 16GB of flash memory, with up to an additional 128GB via its microSD card slot.
Comparatively, the Xperia Z3 has most of the same internal specifications except for having 2GB of RAM, as well as the 4.6-inch screen. Both run on Android 4.4 Kitkat.
Waterproof and dust tight, both the Xperia Z3 and the Xperia Z3 compact make good use of a 20.7 megapixel rear camera and a 2.2 megapixel front-facing camera that supports HD1080p video chat use.
Watch this product video for the Xperia Z3 smartphones:

Both the Xperia Z3 and the Xperia Z3 Compact also support PlayStation 4 remote play capabilities. With remote play activated, gamers can use the phone as a remote screen on which they can watch games. They can also control the gameplay using a DualShock 4 game controller with the appropriate mount connected to the phone.
The two devices use different battery types. The Xperia Z3 uses a 3100 mAh battery that supports up to 740 hours of standby time or 19 hours of talk time, while the Xperia Z3 compact uses a 2600 mAh battery, with up to 920 hours of standby time and up to 14 hours of talk time. – Rappler.com