A day after the Facebook takedowns, 'Hands Off Our Children PH' returns after a page created in 2018 with currently 11,000 followers is renamed
"Hands Off Our Children PH," perhaps the most controversial Facebook page in the latest takedowns for coordinated inauthentic behavior, has found new life after a page called "Always Victorious" was renamed on Wednesday, September 23.
"Always Victorious" was originally created on Facebook May 16, 2018 before being renamed "Hands Off Our Children PH" on Wednesday last week, just a day after the September 22 Facebook takedown.
The "Hands Off Our Children PH" page that was taken down was part of a network of accounts run by members of the AFP and PNP, according to Facebook.
Members of the military and President Duterte have denounced the removal of what they say is a legitimate advocacy page. Southern Luzon Command chief Lieutenant General Antonio Parlade Jr. said over the weekend that the "Hands Off Our Children" page is only meant to educate parents and their children about communist groups, and that Facebook's takedown of the page counts as suppression of the truth.
Removals are not because of what a page posts but because of behaviors such as a page being run by users misrepresenting themselves through the use of fake accounts.
Specifically, Facebook said the network violated its policy "against foreign or government interference which is coordinated inauthentic behavior on behalf of a foreign or government entity" and had links to the Philippine military or Philippine police.
The page formerly known as "Always Victorious" has since posted anti-communism videos and photos, specifically how leftist groups are supposedly targeting and recruiting children.
Below is a screenshot of the renamed page: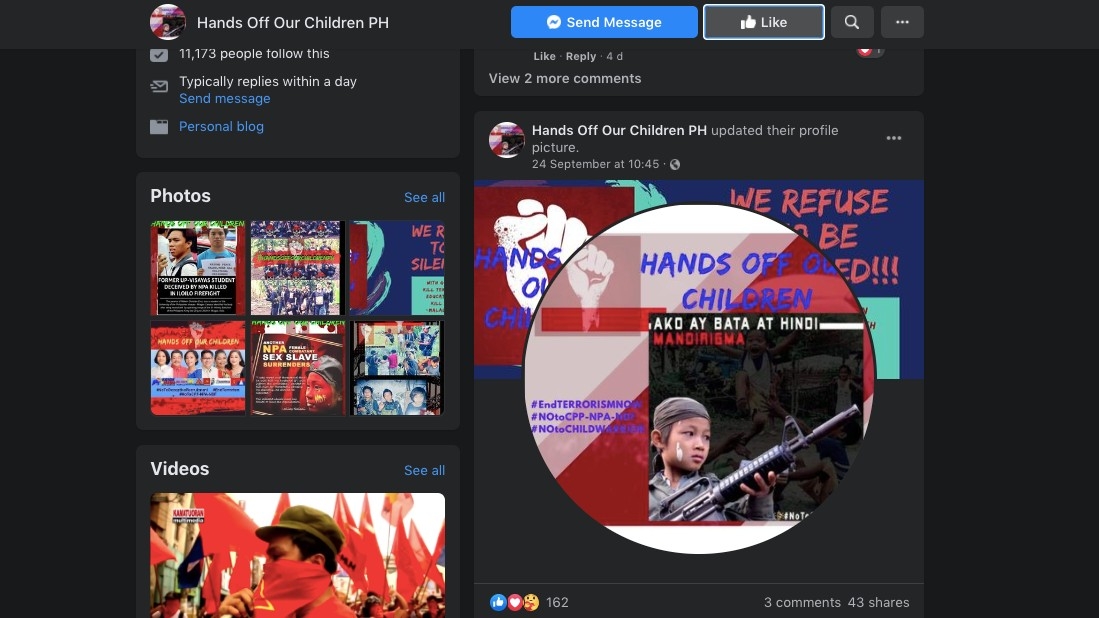 The page also has an inspirational post from another page called Bo Sanchez' Truly Rich Club from July 21, 2018:
Aside from the Bo Sanchez post, there are no other posts prior to its September 23 renaming that would provide any indication as to what type of content the page used to publish.
Since its days as "Always Victorious," the page had amassed about 7,000 likes and 11,000 followers.
There are also two other known pages with the name Hands Off Our Children PH, each with less than a thousand followers. One has about 630 followers since being created on August 30, 2019, while the other has about 850 followers since its creation on May 20, 2020.
Historically, there have been pages in the past that amassed followers by posing as a fan page for celebrities or as a non-political interest page before switching to a new page name with different content. In July, Bea Alonzo also said that unknown buyers had wanted to buy her fan pages. – Rappler.com