Here's what you can expect from Android 12, especially if you're lucky enough to be part of the beta phase
With over 3 billion active Android devices around the world – an increase of some 500 million devices from its 2019 announcement at the last Google I/O developer's conference – you can expect Google to want to impress at this year's conference.
To that end, the company's biggest announcement at Google I/O 2021 was Android 12.
The beta for Android 12 is set to go live on Tuesday, May 18 (May 19, Philippine time), and it aims to provide a host of different features alongside a new design meant to allow for better personalization.
Here's a look at what you can expect from the Android 12 beta, according to a preview by Sameer Samat, vice president of product management at Android and Google Play.
Material You
Material You is perhaps the most notable visible change that'll come with Android 12.
Its a design system implementation that wants to complement an individual's personal style across the various Google-related devices and services a user has.
With Material You, Android users – beginning with Pixel users on Android 12 – will be able to personalize their phone with a custom color palette based off the wallpaper they use. The system will extract colors from your wallpaper, determining dominant, complementary, and otherwise striking colors. It then applies these across the entirety of the operating system, from the notifications to the various widgets you might have on your phone.
Speaking of widgets, Android 12's Material You is also focusing on accessibility, as it aims to make the various UI elements adaptable to various use cases of individuals, such as tweaking the contrast, size or the line width of elements.
Privacy and security
One of the primary themes of Android 12 was "secure by default, and private by design."
Samat added a new Privacy Dashboard feature will give users a better look at their permissions settings and "what data is being accessed, how often, and by which apps."
"It also lets you easily revoke app permissions right from the dashboard."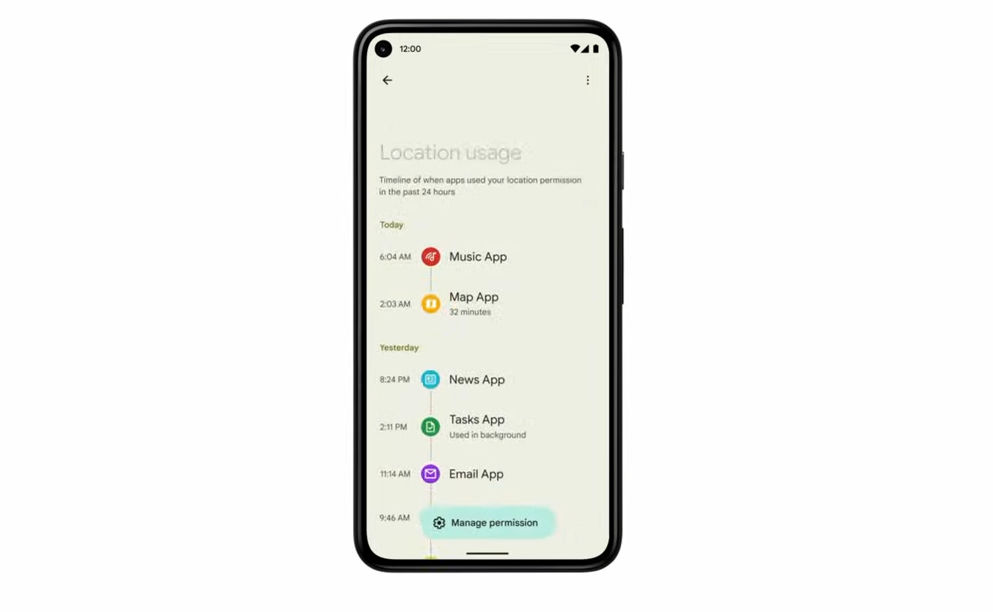 There's also new quick settings features that will allow a universal toggle of the camera and microphone so it isn't being used by any apps.
Additionally, a new Android Private Compute Core (APCC) feature makes audio and language processing of apps occur on-device and locally, isolated from the network as a privacy protection.
Samat adds the protections in Private Compute Core are open source and fully inspectable and verifiable by the security community.
Working better together
Android 12 will also let "select Pixel and Samsung Galaxy phones" natively work as a car key.
There's not a lot of developments in this space, as The Verge noted only BMW is currently working on this as of yet, and only with a single car. – Rappler.com