Facebook critic group Real Facebook Oversight Board visualizes the deaths it claims have been caused by the continued spread of Facebook disinformation
On Wednesday, July 28, US time, activists protesting the spread of COVID-19 disinformation on Facebook set up installations of blue body bags with tags saying "Disinfo kills" at Facebook's headquarters in Washington DC.
The protest was staged by the Real Facebook Oversight Board (RFOB), a group of critics that have denounced the company for a number of issues such as the platform's practice of surveillance capitalism, the spread of disinformation on the platform, and its monopolistic role in the tech ecosystem.
It was named, sarcastically, after the Facebook Oversight Board, a company-appointed committee adjudicating on controversial content and account takedowns, among other content moderation issues, on Facebook.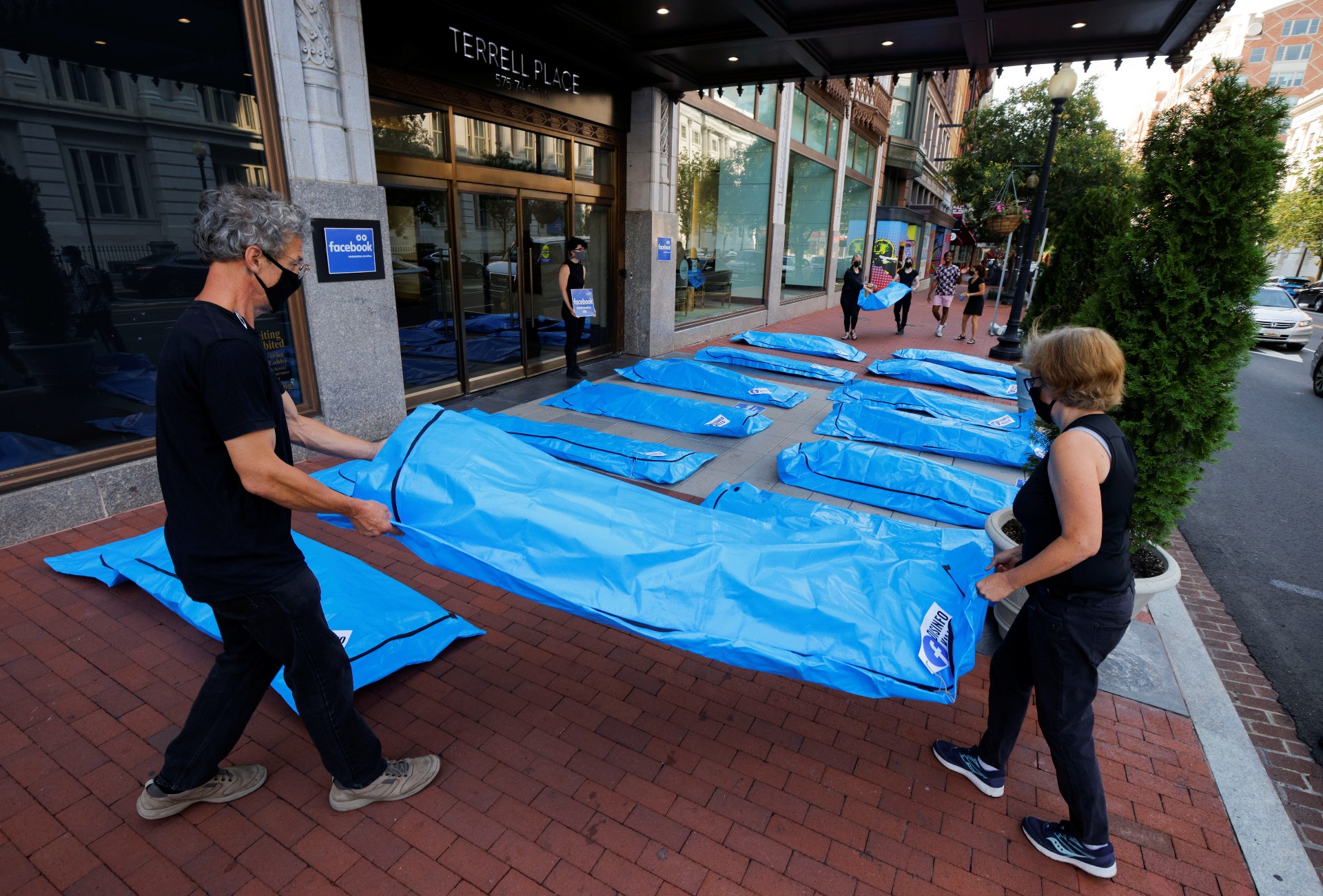 The RFOB includes critics such as Roger McNamee, Surveillance Capitalism author Shoshana Zuboff, former head of election integrity at Facebook Yael Eisenstat, and Rappler CEO Maria Ressa.
The group conducted the protest on the day of the release of Facebook's earnings report for the second quarter of 2021.
Facebook spokesperson Andy Stone on Twitter said, "Nothing if not consistent, the RFOB said they'd engage in cheap stunts and, lo and behold, they're doing exactly that. Here's the truth about the steps, not stunts, we're taking to address this serious issue." Stone linked to a blog post from Facebook executive Guy Rosen titled "Moving Past The Finger Pointing."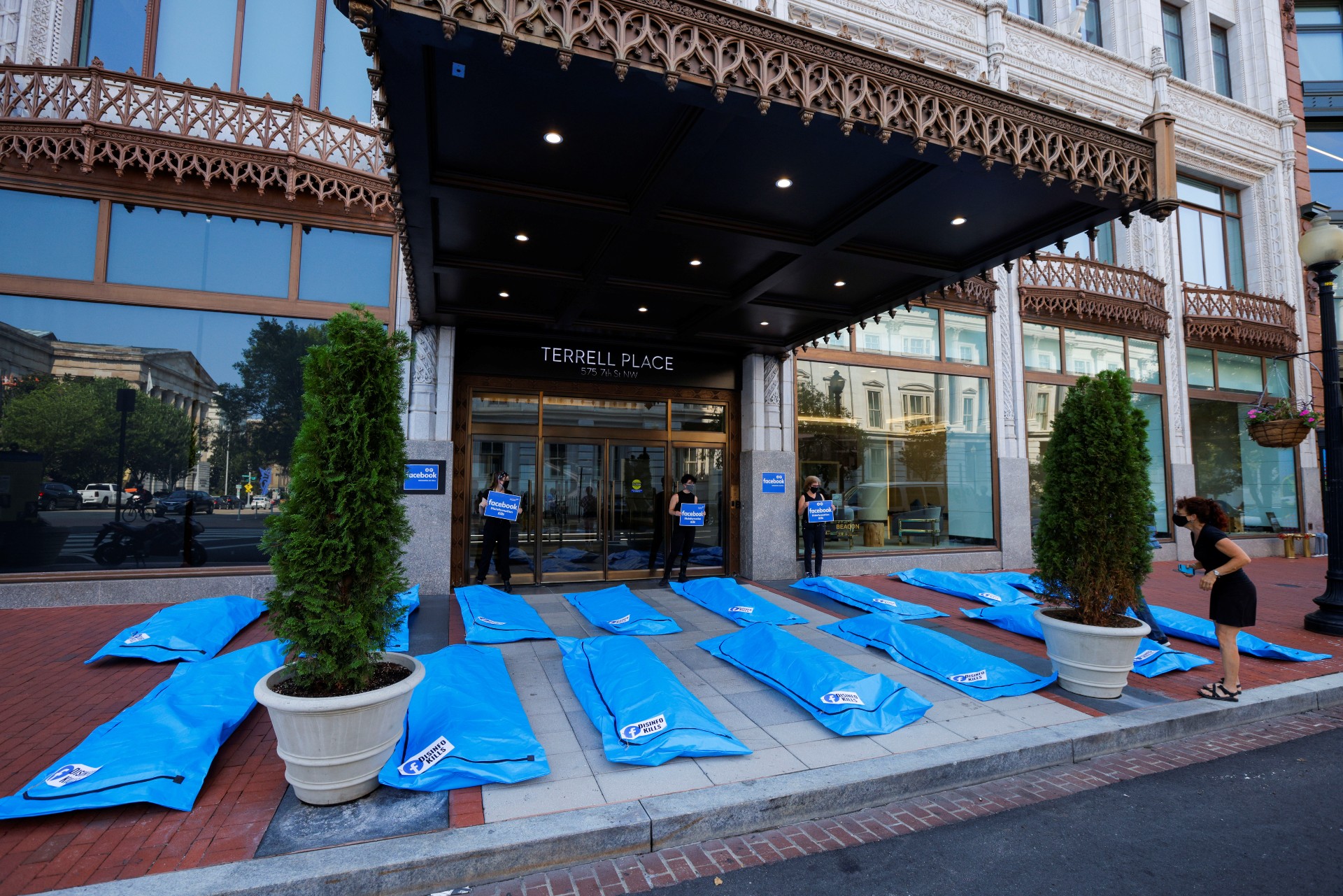 Shortly before the protest and before the release of Facebook's earnings report, the RFOB also released its own "Facebook Quarterly Harms Report" which documents "Facebook's harms around COVID-19, and human life, and democracy."
The harms report, found here, listed another set of five "disinformation superspreaders," not specific to COVID-19 or anti-vaccination topics.
"Allowing this deadly disinformation to keep flourishing on FB is dangerous. Disabling engagement for these users would result in a significant decrease in COVID-19 disinformation on Facebook, yet the company has done little to uprank reputable news sources. We demand action," the group tweeted.
The RFOB, in the report, demanded Facebook uprank quality news sources in its algorithm.
Upranking quality news sources can be done. Facebook did it during the US presidential elections in 2020, tweaking their algorithm to promote content more from trustworthy news outlets.
From November 7 to 10, reputable news sources such as CNN and the New York Times immediately gained higher circulation, and found their stories included in a top ten list of most shared stories on Facebook compiled almost daily by New York Times reporter and tech columnist Kevin Roose (@FacebooksTop10).
Facebook later reverted to its older algorithm. "Yet those four days confirm that Facebook is able to change its algorithm, which means that the decision to allow less reputable sources to dominate 'news' is an active business choice to maximize profits rather than minimizing societal harm," said the RFOB.
Since those four days in November 2020, less reputable news sources returned to dominate. In the second quarter of 2021, the RFOB aggregated Roose's data, and found the startling number that more than 83% of number one posts originated from just five known disinformation superspreaders:
Ben Shapiro – editor of conservative website Daily Wire
Dan Bongino – Fox News pundit and former Republican congressional candidate
Franklin Graham – American evangelist and son of Billy Graham, also an American evangelist
Sean Hannity – Fox News Primetime show host
Fox News – mainstream American right-leaning news channel
The RFOB also demanded that these five be downgraded in Facebook's algorithm.
The harms report follows an earlier study by the Center for Countering Digital Hate (CCDH) which found that about 73% of COVID-19 anti-vaccination content on Facebook can be traced to twelve individuals.
The "Disinformation Dozen," as the individuals are called, largely remained active on Facebook and Facebook-owned Instagram at the time of the study's publication in July 2021. The study was conducted on social media content posted between February and March 2021.
The top spreader, Joseph Mercola, a doctor-entrepreneur that has been accused of exploiting medical fears to sell his own products, has an office in the Philippines.
RFOB also calls for the ban of the dozen.
The CCDH report led to the White House slamming Facebook for the continued spread of COVID-19 disinformation. – Rappler.com