This VR demo at ESGS is for anyone who's ever dreamed of becoming an ace space pilot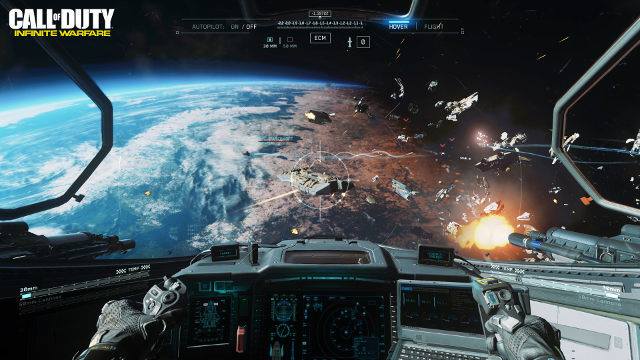 MANILA, Philippines – The beauty of virtual reality is that you get to experience your wildest fantasies without ever having to leave the comfort of your home. Soon, instead of the popular phrase "there's an app for that," people will be saying "there's a VR game for that." Any experience you can dream of will probably be developed for VR in the near future. 
And if you've ever wondered what it would be like to participate in a battle in space, you guessed it, there are VR games for that. 
One of which is Call of Duty: Infinite Warfare Jackal Assault, a VR game that we got to experience during a closed-door media session at the eSports and Gaming Summit (ESGS) 2016. 
Jackal Assault is a segment in Infinite Warfare that will have you controlling a fighter jet in space. The objective is to take down as many enemy aircraft as possible. Now while the mechanics are simple enough, those donning a VR headset for the first time may need a couple of moments to get used to the perspective. Luckily, Call of Duty's VR game has a way to ease you in the game to lessen your discomfort so you can focus all on the action.  
Here's what I thought about Call of Duty's quick take on VR:
A slow and necessary start
One thing that I appreciated for this VR experience was the ample time it gave players to get used to the visuals of VR. It starts out slow, showing you the detailed cockpit and guiding your aircraft out of the hangar, before giving you complete control. 
Even after it takes you out in space, it doesn't let you go full speed ahead immediately. You can move the aircraft but it gives you a path to follow, allowing you to learn how to pilot your aircraft while getting used to its movement in VR. It gives you the standard tutorials, showing you what buttons to press to perform certain actions, but the layout is simple enough that the average player will understand it in no time.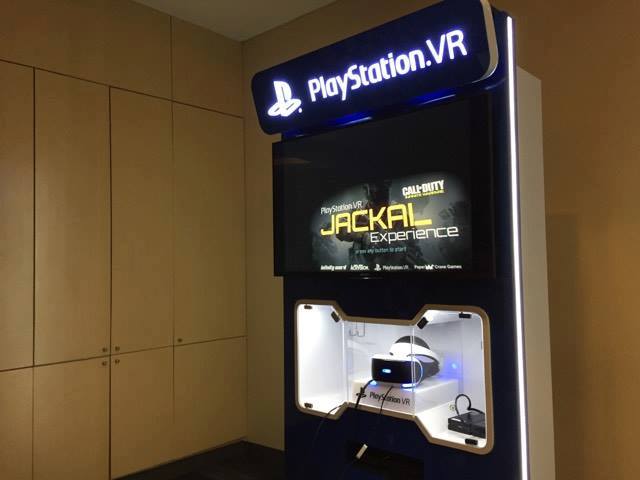 It's only when you successfully figure out how to target and use your weapons that the game allows you to let loose, unleashing a fleet of enemy aircrafts almost literally out of nowhere. 
Take some time to admire the scenery
All the intense action takes place in a beautiful and rich environment. You aren't just floating in the middle of nowhere. You can see stars twinkling and planets from the distance. The floating space debris spread throughout the map both enhances the visuals and serves as cover for when you're overwhelmed by enemies. 
Earth was such a wonderful backdrop in the game. The day and night portions of the Earth, as well as its atmosphere was so realistic that I was almost tempted to just leave the battle behind and see what it's like to enter the atmosphere. But duty called and alas I was unable to break the invisible walls and leave the map. 
Aside from the invisible walls that hindered me from coming home to my motherland or leave the battle behind, there were no other obstacles that stopped me from going where I wanted to go. The experience was off the rails and I could fly to anywhere in the map easily. I was almost too engrossed with the idea of going around space in VR that I almost missed the real objective of the game.  
A smooth and steady, enjoyable immersive experience
Surprisingly, despite the fact that this VR experience has you on a fast fighter jet with the potential to do barrel rolls, I had no issues with motion sickness. I think most of that can be attributed to the smooth controls and the steady glide of the aircraft. The graphics were also sharp and the frame rates felt steady throughout the entire experience. Even on turbo, there was little I can do to mess up the Jackal's flight and spiral out of control. 
And while I struggled for a while to take down enemies with my regular turrets at the beginning, I blame it more on my bad aim than the control's responsiveness.  It took a while for me to learn how to shoot accurately in this VR game because of all the fast-paced action going on around me. I was partly distracted because of my fascination for the jets suddenly zooming past my Jackal. 
Once I got my bearings I finally went all out. I activated my thrusters and shot and chased down every single enemy aircraft I could encounter. I could feel my adrenaline kick in and it took quite a bit of effort to stop myself from shouting out my delight.  
It was a truly immersive and enjoyable session that I wish lasted a little longer.  
Luckily for those interested in picking up this VR experience, it comes free when you buy Call of Duty: Infinite Warfare. So all you need is your PSVR and you're all set to go on space. 
Call of Duty: Infinte Warfare will be released on November 4, 2016.  – Rappler.com