Several individuals take it upon themselves to battle fake news appearing on Facebook's News Feed and external sites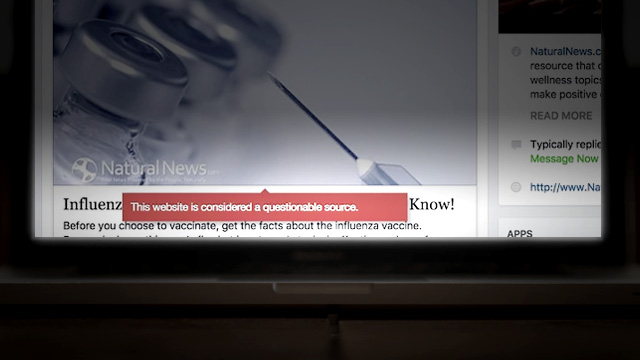 MANILA, Philippines – Even before the emergence of social networks as a big source of news, information on the internet hasn't always been 100% accurate. Anyone can publish a story online, but unfortunately, some of them may only be partially true, completely made up, or made to intentionally mislead.
Ideally, readers should analyze the veracity of a story by checking its sources, its author, or doing a search on Google to see if the story appears on other reputable news sources. These are just some of the basic ways to check.
Unfortunately, it's not what happens. A recent report revealed that on Facebook, hoaxes and fake stories get more traction than stories from credible news institutions.
This is a problem because many people now get their news on social media – in the US alone, it's 62% of the adult population according to a Pew Research study published in May 2016. What does this say? A rising majority are getting their information on social media – and the quality of the information that the public is receiving is questionable.
The recent victory of US President-elect Donald Trump – a campaign that had the world's media outlets closely fact-checking claims made by the candidates – put the issue front and center, with some claiming that the propagation of fake news on Facebook had swung the election to Trump. Facebook chief Mark Zuckerberg said it didn't, yet for some, the statistics mentioned above make it hard to believe that. 
Facebook, along with Google – which has faced similar criticism – have taken a step by banning fake news sites from making use of their ad networks. This cuts off some financial incentive, but there are other ways for these sites to make money. An individual with his own interests could easily swoop in and fund a site to continue spreading misleading information. 
To add to the baby steps taken by Google and Facebook, some individuals have recently taken the fight into their own hands by making extensions for Google Chrome that can automatically identify a potentially fake news source. See them below.
However, note that – as Facebook had found – people have a tendency to check out shared stories that line up with their own views. So while these new and relatively untested tools show us potential leads in exposing online fake news, be mindful that other behavorial factors are in play that shape the spread of information on social networks. 
1) BS Detector 
Mashable reports that this Chrome extension was made by Daniel Sieradski who said that he built the tool in about an hour after having read Mark Zuckerberg's "BS about not being able to flag fake news sites." He added, "Of course you can. It just takes having a spine to call out nonsense."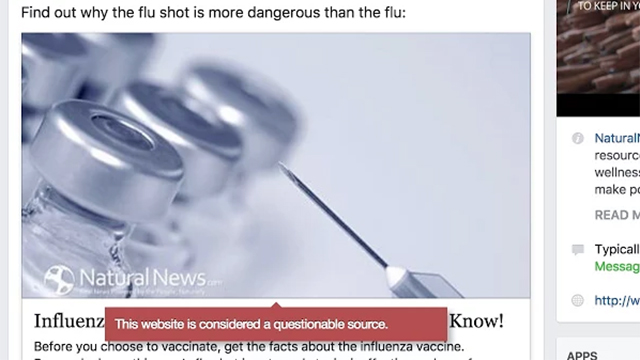 How it works: Once installed, a red warning appears over a post that links to a known fake news source. But the tool is only able to flag a site according to a list of well-known fake news sources made by Sieradski himself. That's one big weakness for the tool as false news sources can just easily make a new site to avoid detection. It's not the most sophisticated solution but at the very least, it delivers a message: false news sites can be labeled. The extension was released on Tuesday, November 14 (US time). 
Click here to download. 
2) Fake News Alert
A day after the release of BS Detector, Nymag.com journalist Brian Feldman released his own Chrome extension to label fake news sites. Like BS Detector, the extension makes use of a database of false news sites. According to Feldman, the database is based on media studies professor Melissa Zimdar's list of unreliable or misleading websites – a list that is "expansive, and includes everything from popular satire sites to strongly partisan blogs and aggregators to utterly false bottom-feeders."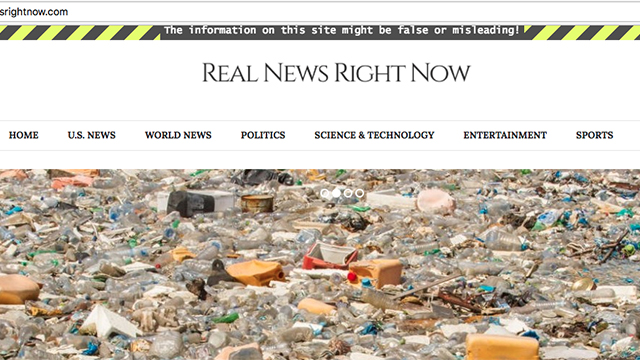 How it works: It works on sites outside Facebook, and gives you a pop-up warning when you're visiting a site that appears on its fake websites database. Like the BS Detector, it's limited to database cross-checking, meaning if a site isn't on the list, you won't get a warning. The code is open-source and can be found on Github for anyone to tweak or improve. 
Click here to download. 
3) FiB
This Chrome extension was made by 4 college students during a "hackathon" at Princeton University. Ironically, Facebook was one of the sponsors for that event, said Business Insider in an article called "It only took 36 hours for these students to solve Facebook's fake-news problem." Like the two other extensions mentioned above, it's a proof-of-concept showing that it can be done – especially if you're a company as big as Facebook.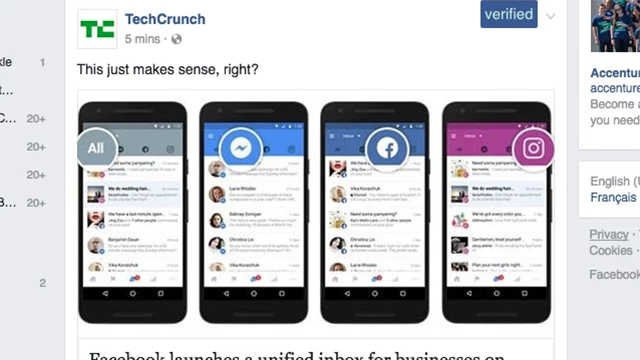 How it works: It marks a Facebook link, image, or status update as either "verified" or "not verified." Its automated AI-powered process performs "image recognition, keyword extraction, source verification and a Twitter search to verify if a screenshot of a Twitter update posted is authentic," according to its official page on Devpost.com. A "trust score" is then assigned; a high one merits the "verified" tag while a low one merits the "not verified" label. 
Click here to download. 
What other steps do you take to determine if a site is worth trusting? – Rappler.com