Average fixed broadband download speeds nearly triples from 23.46 Mbps in June 2020 to 66.86 Mbps in June 2021
Average internet speeds in the Philippines, both for mobile and broadband, have seen impressive growth since last year, according to the latest figures posted by internet speed analytics firm Ookla.
From June 2020 to June 2021, mobile internet download speeds, as measured by users on Ookla's Speedtest website, have risen from 16.17 Mbps to 32.84 Mbps, as seen in the image below. The figure represents a doubling of the speed, enough to propel the Philippines 40 rungs up, from the 115th spot to the 75th. Mobile upload speeds improved from 5.91 Mbps to 8.92 Mbps.
Global averages are 55.34 Mbps (download speed) and 12.69 Mbps (upload speed).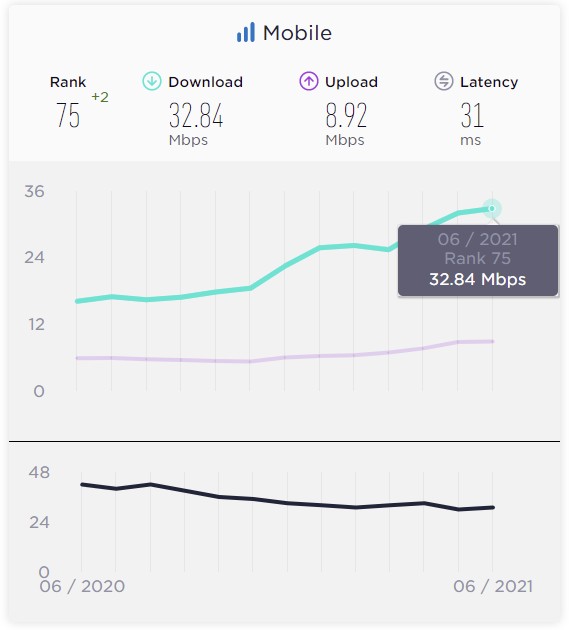 In the same time period, fixed broadband download speeds improved even more dramatically from 23.74 Mbps to 66.55 Mbps – a few figures away from a tripling – to push the Philippines 47 spots from the 109th to the 62nd, as seen in the image below. Upload speeds improved from 23.46 Mbps to 66.86 Mbps. Global averages are 106.61 Mbps (download speed) and 57.67 Mbps (upload speed).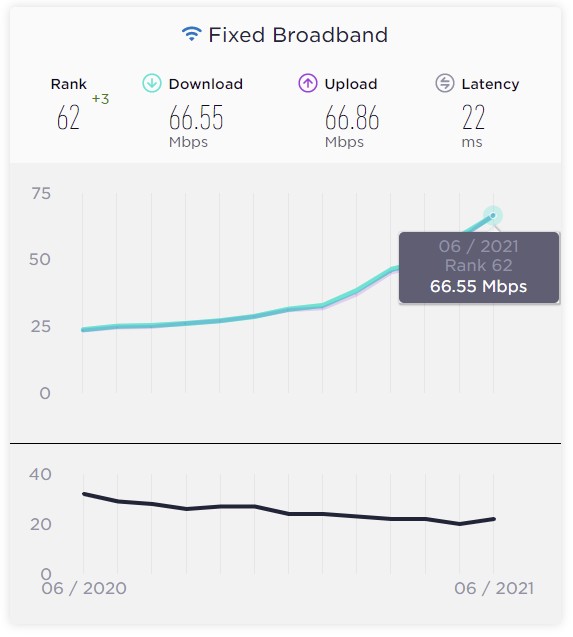 The rise this year has been impressive especially in contrast to previous year-over-year performances. From June 2018 to June 2019, growth was flat for average mobile download speeds, from 13.7 Mbps to 15.46 Mbps. In the time period, the Philippines dropped in rank from 99th to 107th because of the slow growth relative to other countries. 
From June 2019 to June 2020, average mobile download speeds barely moved as well from 15.46 Mbps to 16.17 Mbps, with the country further dropping from 107th to 115th before its recovery in the second half of 2020 and first half of 2021.
Average fixed broadband speeds went from 17.98 Mbps to 19.39 Mbps in the period from June 2018 to June 2019, which saw the Philippines drop 28 spots from 77 to 105. In the following period, from June 2019 to June 2020, speeds only rose from 19.39 Mbps to 23.74, causing another drop from the 105th spot to the 109th.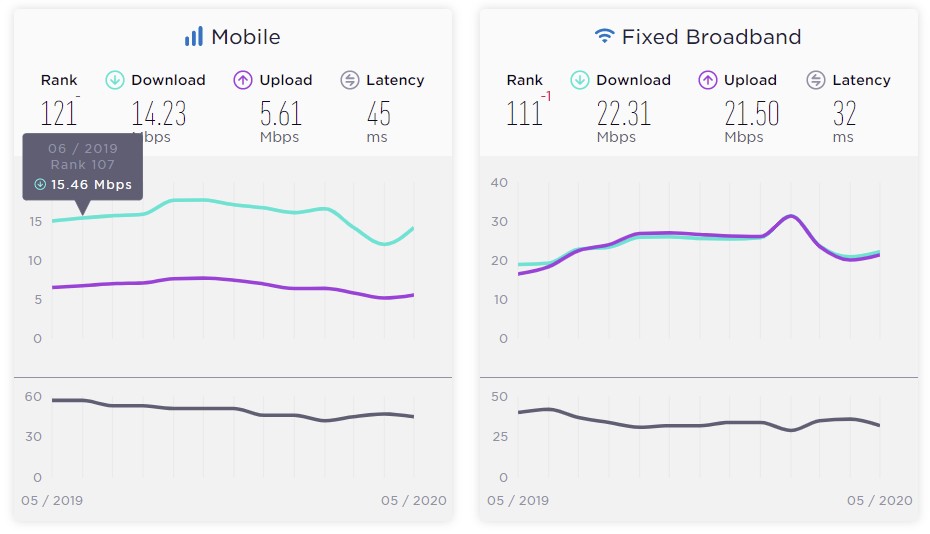 Ookla ranks a total of 181 countries in its fixed broadband list, and 137 countries in its mobile list. Topping the list for fixed broadband download speeds in June 2021 is Monaco at 260.74 Mbps, with Turkmenistan at the final spot at 4.49 Mbps. For mobile download speeds, United Arab Emirates is at 1st at 193.51 Mbps, with Afghanistan on the final spot at 7.37 Mbps.
Ookla's Speedtest index debuted in August 2017, with the Philippines landing at the 100th spot for mobile with download speeds of 10.29 Mbps, and the 94th spot for fixed broadband with download speeds of 12.43 Mbps.
Globe credited the growth to the industry's improvements in terms of network upgrades and infrastructure development.
"We are glad that overall, the country is making consistent progress in delivering world-class service to Filipinos. This shows how our collective efforts in battling headwinds from the pandemic are paying off for the benefit of all," said Ernest Cu, Globe's president and CEO, said in a press statement.
The "third telco" Dito also launched its commercial services in March 2021 in Visayas and Mindanao, as well as in Luzon and NCR in May. 
The telcos have also continued to roll out their 5G network, with Globe saying that they have about 700,000 subscribers on the next-generation communications standard as of the end of May 2021. PLDT has also reiterated commitments to aggressively rollout cell sites, saying they've tripled their fiber connection footprint since 2017.
5G – according to a June 2021 report by internet analytics firm OpenSignal – has been a boon to the Philippines, with the country's 5G download speed being 10.4 times faster than 4G. 
In terms of 5G download speed, the Philippines posted average figures of 141.7 Mbps, which is faster than Hong Kong (134.8 Mbps) and Thailand (122.5 Mbps) from March 1 to May 29, 2021. Ahead of the Philippines are South Korea (380.5 Mbps), Taiwan (353.3 Mbps), Australia (242.1 Mbps), Japan (180.9 Mbps) and Singapore (143.5 Mbps).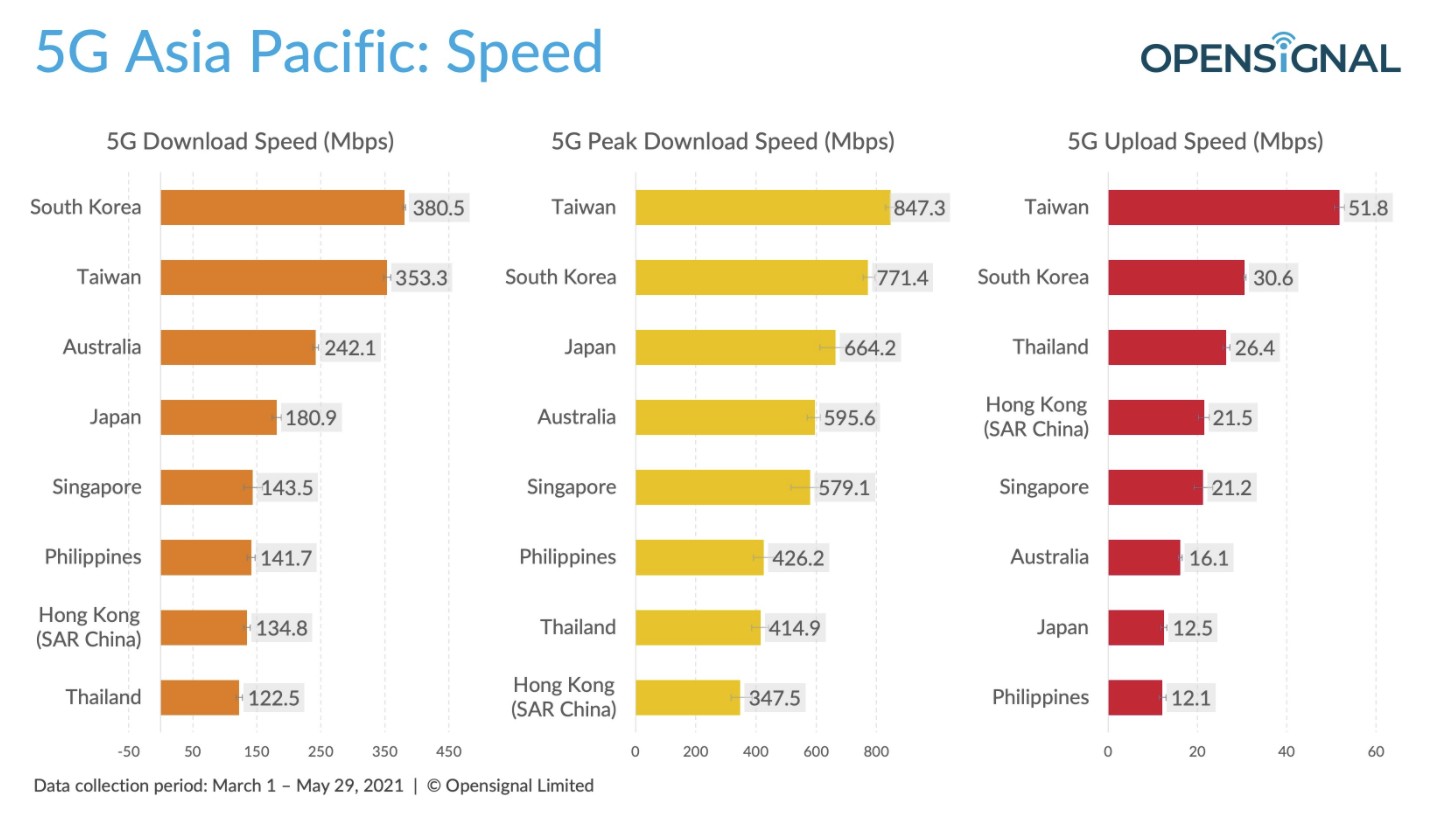 Indonesia and Malaysia weren't included in the study yet as the former has only begun to launch 5G services in June 2021 while the latter is expected to launch 5G services in Q4 2021. – Rappler.com