Filipina game creator Bianca Canoza, who designed, wrote, and illustrated ARC, talks about the tabletop RPG, which has been successfully funded more than 10 times over on Kickstarter
Live out your fantasies of becoming a hero on a quest to defy an impending apocalypse in ARC, a Filipina-made tabletop RPG which will very soon be closing its Kickstarter campaign, making more than 10 times its $7,000 base funding goal.
Bianca Canoza, ARC's creator, describes the game as a rules-light, tension-heavy tabletop RPG that leans towards tightly-paced stories running against a real-time Doomsday Clock system. It's not tied to any specific setting, letting players adapt stories in their favorite worlds or even their own creations.
Canoza, who also goes by 'momatoes' online, designed, wrote, and illustrated the game all on her own. We had a quick chat with her to talk about ARC itself, designing games, and the local tabletop scene.
For people who have never played tabletop games before, what is ARC all about?
Bianca Canoza: In tabletop RPGs, you and other players take on the role of heroes that you create and imagine in a shared world. That world is described and set up by one specific player, called the Guide in ARC, who will narrate what your heroes see, sense, and encounter.
The Guide can say, for example, "You are in a tavern and there is a bar fight breaking out between an elderly gentleman with a cane and a red haired warrior in a ponytail." It's up to everyone else to say how their heroes will react.
But with ARC, there's a twist: there's an amount of time before something big happens – something even catastrophic. So while you're exploring the world, saving people, or getting into fights, you're mindful of a real-time clock called the Doomsday Clock that ticks down to a Doom.
And to keep things challenging, you'll need to combine wits and luck; when your hero encounters a difficult task, you need to imagine or come up with a possible solution and roll dice to see it succeed – the better-thought the solution or the easier it is for your hero to do with their Skills and problem-solving Approach, the more chances it has of succeeding. Those interested in trying the game can already check out the Quickstart Rules for free.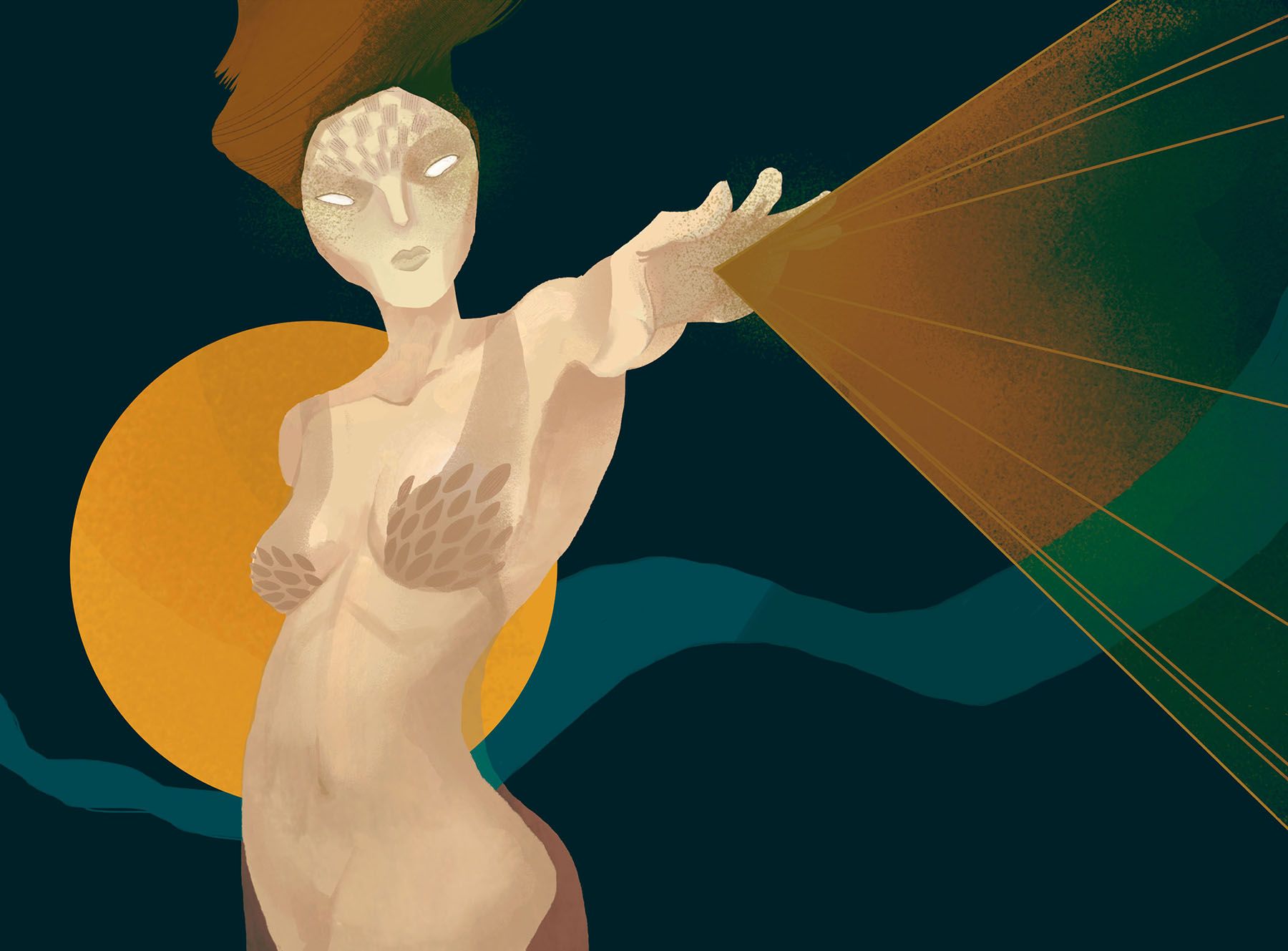 What can, say, a videogame player expect when they want to try old-school tabletop RPGs?
Bianca: The biggest difference is choice; there is a lot more freedom of choice, as in you can literally have your character do cartwheels in the middle of the town square if you want. But what makes it interesting is that there could be unpredictable consequences with every action.
Some rules and mechanics make it easy to guess what will happen: if you cast fireball for example, you need these requirements and as a result, this particular effect will take place on X number of people. But the most fun parts for me lie in the chaos; instead of casting fireball, maybe your character can shout "Huy, may sunog!" ("Hey, there's a fire!") to rile up passersby and distract the enemy so your ally can punch them. Who knows!
"When making art, I love teasing at a story without being explicit about what that story is about"
How did you get into tabletop RPGs?
Bianca: When I was young, I fell in love with this immersive feeling of losing myself in a story or even a sense of adventure – suddenly I wouldn't just be an 11-year old kid, but someone with sword and sorcery and a sense of destiny.
But it won't be until university that I joined a tabletop game. Most people's entries into the hobby is Dungeons & Dragons (D&D), but I was in a student org for Philippines-Japan culture and friendship, so I started with Legend of the Five Rings (L5R), a game with samurais and bushido.
D&D and L5R were only the tip of the iceberg, however. Around 2016, I learned about a local group that was hosting regular meetups where anyone can play games. That was a transformative moment for me, as not only did I try even more RPGs, but also met many friends that still remain close to this day.
That passion for tabletop RPGs eventually got you into designing some of your own games, right? So what is it like being a game designer? What is the process of designing your own game?
Bianca: Designing a tabletop game usually starts with inspiration and ideas. It can be as simple as exploring an interesting mechanic – what if you used a single coin instead of dice, for example – or trying to take a theme or concept in a new or fun direction. Game design for me always starts with "what if" sprinkled with a dash of "this seems cool."
What really helped me, starting out, was 'hacking' other games, which meant taking its core ideas and modifying it in interesting ways. So the first game I ever made was a hack of Honey Heist, a very short game about bears trying to steal honey. I turned it into Capybara Capers: a very short game about capybaras stealing a lemon. But I also experimented by adding a betrayal twist, which added a new, distinct flavor.

If I had to break down game design into components, it would be mechanics, aesthetics, and meta.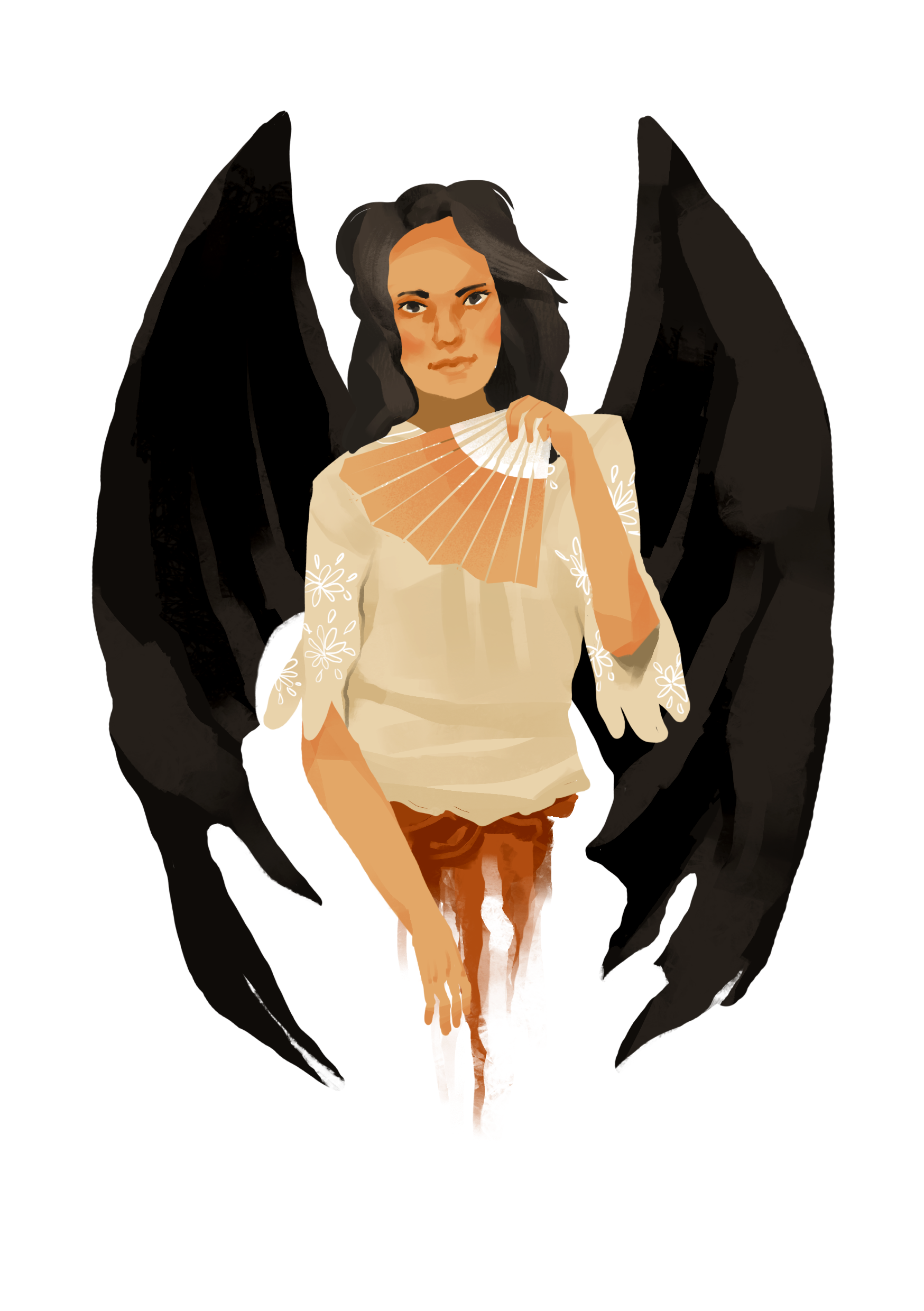 Mechanics is the "engineering" portion of game design, where you figure out how the rules work together and enable the sort of experience you want players to have.
Aesthetics is the writing, the art, the flavor, and concept that give your mechanics context.
Meta is everything technically outside of gaming: framework to allow others to easily hack or customize the game; being mindful of gaps that create opportunities for expandability; tools so people can play in digital as well as accessible ways.
Game design can start with just the mechanics, and in fact that's where most designers begin; but the fun and challenging part of design is that it doesn't have to be the end.
What brought you to the idea of having heroes fight the apocalypse?
Bianca: It was the concept of, "how can we have a real sense of urgency and stakes in a tabletop story"? Which prompted the idea of, there's this terrible event that will happen in a set amount of time, what can you do to stop it? And so ARC, and its pitch for heroes saving the world, came to light.
Was ARC inspired by any tabletop or video game in particular?
Bianca: Yes! ARC was inspired by a lot of old-school style RPGs called "OSR" as well as RPGs similar to Powered by the Apocalypse where players are encouraged to identify and interact as their characters. With ARC, I blended these two completely separate game movements and styles, and it was really cool to see how much people have liked it!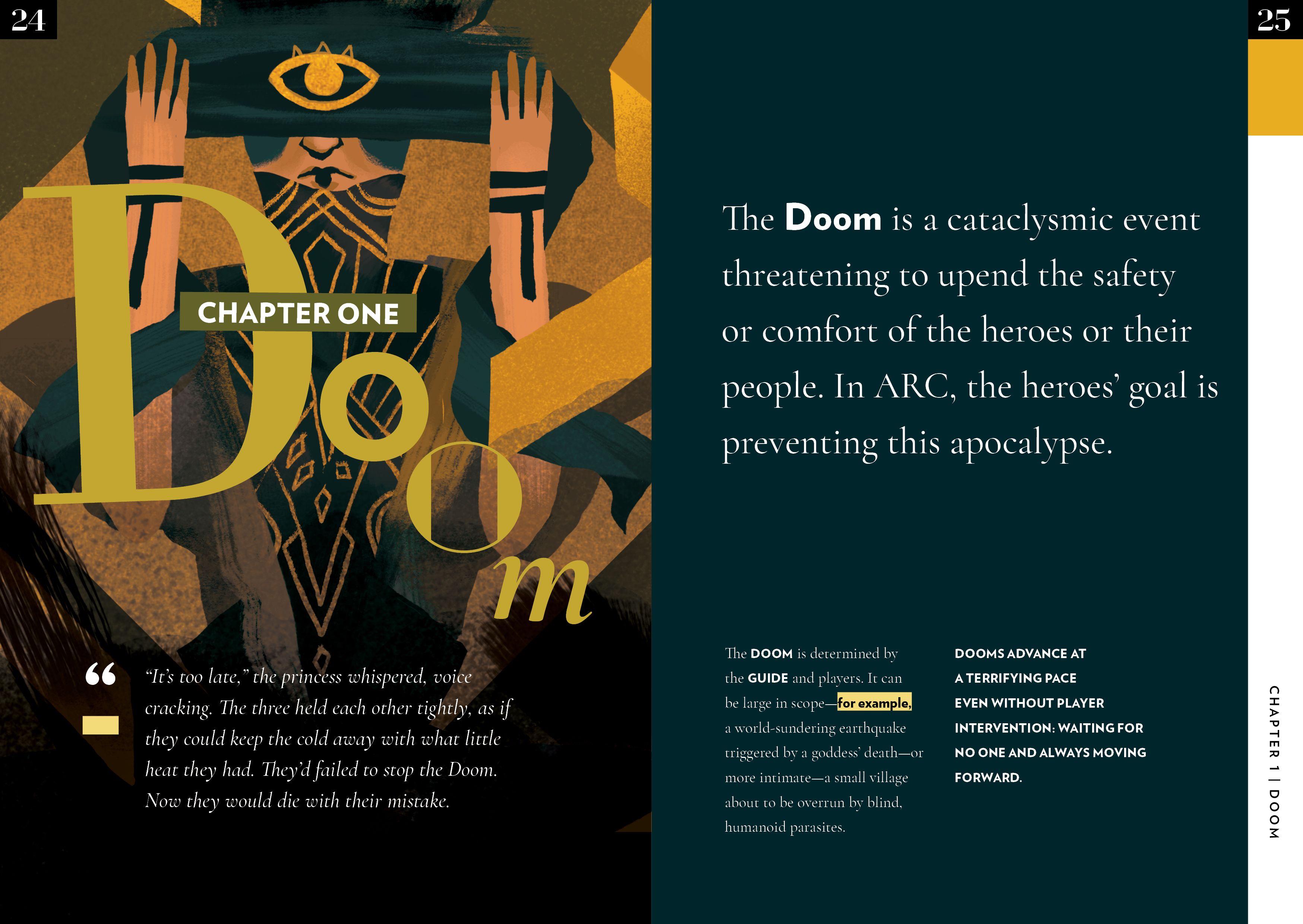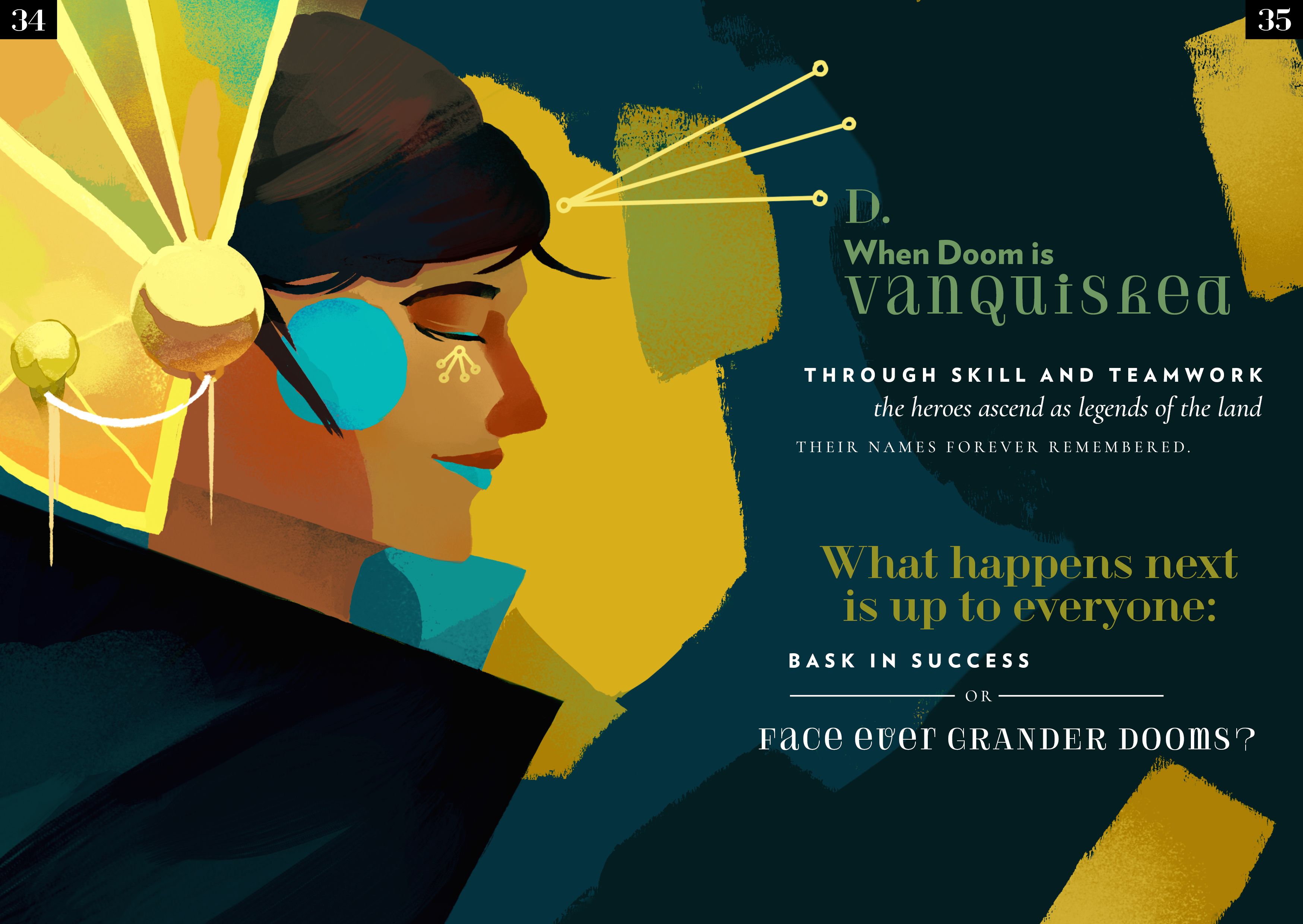 What about your inspirations for your art? Tell us about those.
Bianca: My brother introduced me to Magic: The Gathering in high school, and what struck me was the fantastic, possibly even macabre artworks of artists like Brom, Rk Post, and even Ron Spencer, and led me to discovering more speculative fantasy artists like Dave McKean.
But growing up, I also sought inspiration beyond fantasy artwork, and was really impressed at works by editorial artists, even children's book artists, who could transform difficult, abstract ideas into artworks that evoke feeling. I hope I've been able to blend these really separate fields in my art, and it's my journey to get to a point where I'm happy with my style.
When making art, I love teasing at a story without being explicit about what that story is about. It could be an unusual scene, a unique character dilemma, or something even otherworldly or fantastic. So I start with that idea: What kind of story is happening here? And then I try to draw it.
You're also working with other game designers as part of your stretch goals. How will they be involved in the game?
Bianca: I've asked talented local and international designers BJ Recio, Pam Punzalan, Shao Han and Caro Asercion to write short adventures for ARC. They'll be conceptualizing unique stories, supporting details for those stories like characters and locations, and writing it in such a way that anyone can run it using the ARC system. So players can explore, interact, and conquer these adventures – or perhaps, fall to the challenges that await within.
Another fantastic thing about these stretch goals is that they'll involve award-winning artists from Ang INK, which is the Philippines' first and only organization of children's book illustrators.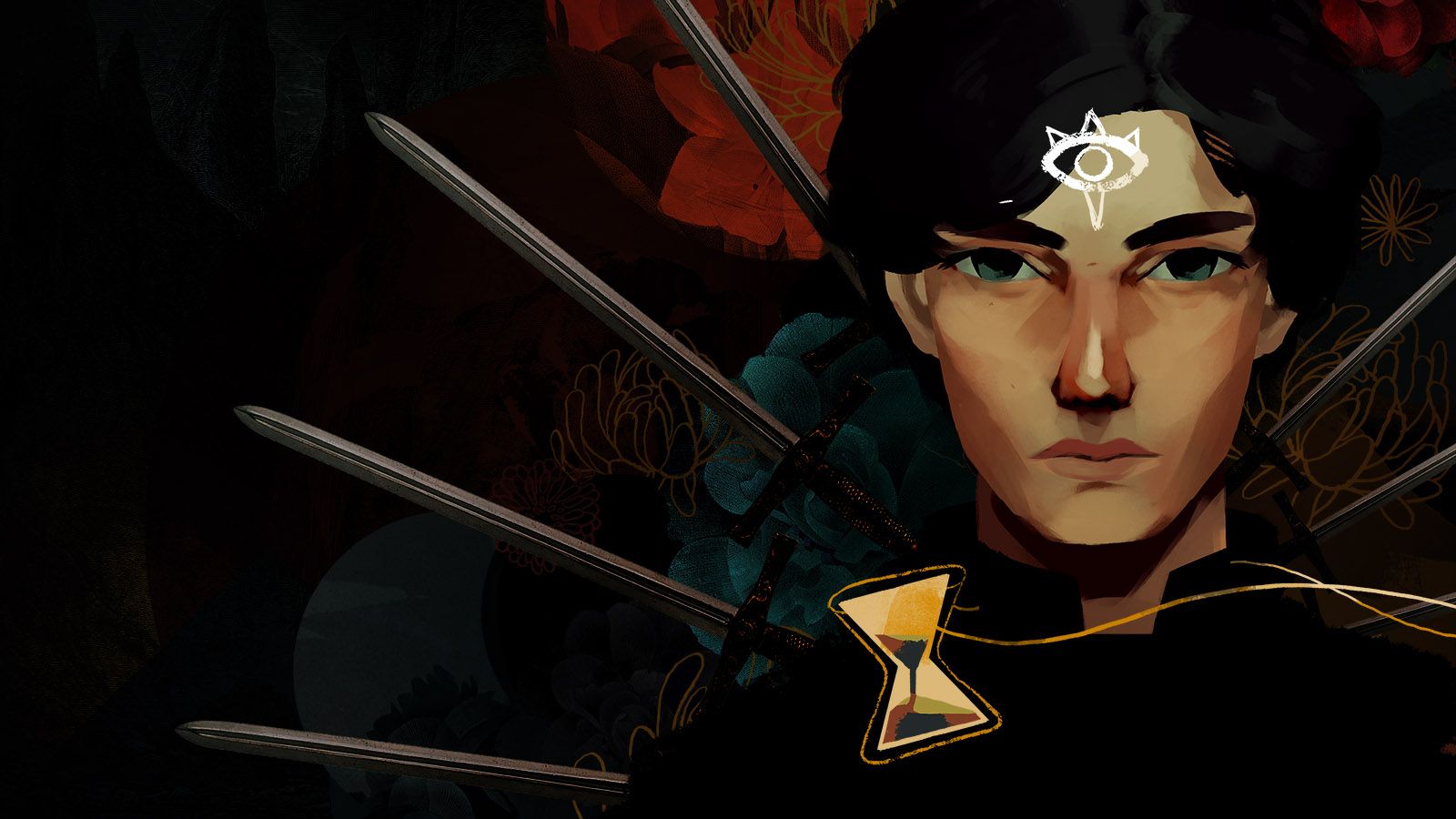 Speaking of other designers, tell us more about the local tabletop scene. Are there a lot of designers like yourself? What about players?
Bianca: Yes, there are absolutely many designers like me. In fact, over the past months there were two other Kickstarter campaigns involving Philippine designers. There are dozens of other designers, writing their own games, or adventures for other systems including D&D, or even expanding the very definition of "RPG."
As for players, there are thousands; the Philippine Tabletop RPGs Facebook group alone has more than 2,000 members, and I'm certain that's not even capturing the majority! So it's really a widespread hobby. That's why it's important for groups like the Manila-based Gamers & Gaming Meets (G&G) to create both local and international events to energize the scene. I've also heard of groups based in Davao, and it's my dream to get connected to more designers and players across the country to build a fun, inclusive hobby for everyone.
You have a website devoted to sharing and advocating RPGs made by designers in Southeast Asia. What brought you this cause? And tell us more about what you're trying to do.
Bianca: My website, Across-RPGSEA.com was created in February 2021 to sustain momentum built up at the start of the year with Session Zero Online Con, the first ever global convention celebrating SEA-made RPGs. G&G gathered over 80 designers, artists and merchants from the region, and it felt like a shame to let the event die down without a sustainable platform to continue raising awareness on our works.
That's why Across-RPGSEA was born. It's a simple website, but fantastically easy to use, as you can browse games, even randomly discover new RPGs that can be your next favorite. It's a one-person effort, so it's been a struggle to update, but hopefully after the ARC campaign I could focus on it again.
Across-RPGSEA is a simple idea building upon the hard work of others before me who established the #RPGSEA hashtag. Anyone Southeast Asian can join in and be #RPGSEA. #RPGSEA helps nurture an atmosphere of designers and creators uplifting each others' works, which is ultimately the goal of the website.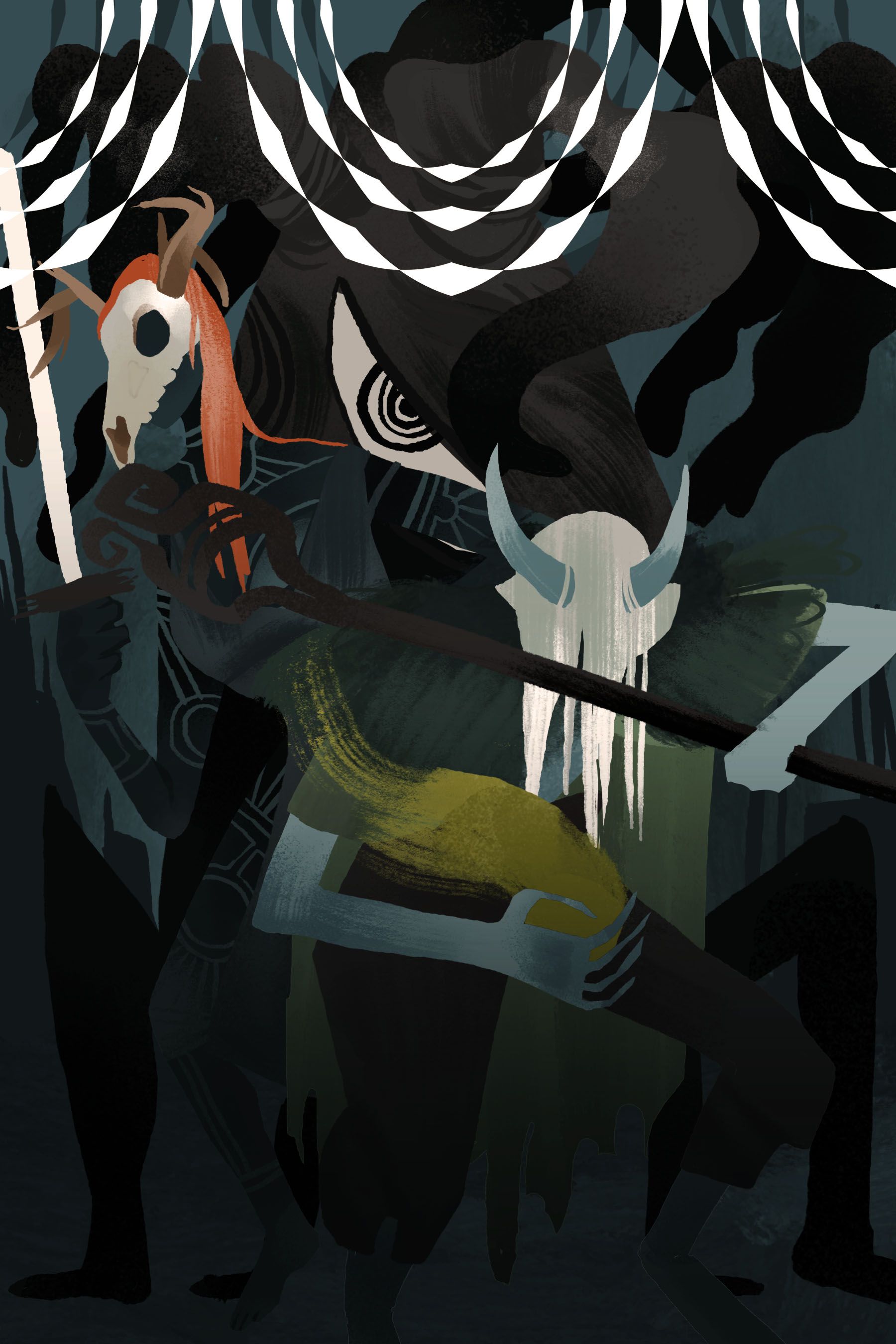 How do you think ARC, or any other tabletop RPG for that matter, can crossover to the mainstream?
Bianca: I think it's possible with awareness, and accessibility. The challenge is hitting a critical mass so people hear and learn about it, develop a curiosity to try it out. The power of really financially successful RPGs like D&D is the massive awareness they can generate with a lot of social media, marketing, and creating community initiatives.

Tabletop RPGs, especially local ones, can't quite achieve that same market reach – so we'll have to be a bit sneaky, building that awareness through word of mouth, local connections and so on.
Lastly, the important thing is making it accessible: easy to find, easy to buy, easy to play. ARC has actually succeeded in creating over a thousand community copy PDFs, which means, after the Kickstarter campaign and it's released to the public, over a thousand people can grab an online copy, for free. Many reviewers have also noted how easy it is to play, and how much of the game helps new players and storytellers run a game.
What advice would you give to someone who also wants to design RPGs?
Bianca: For anyone who wants to design RPGs, start small, find inspiration even outside of games, and don't feel pressured to come up with a perfect product. Like any skill, designing RPGs is a journey, and you can start anytime and take it at a pace you enjoy.
Success is difficult, because for many people that equates to financial security. [Tabletop] RPGs is a relatively young market in our country – Philippine game designers are literally pioneering the scene continuously. So the security blanket is not there yet.
It's very hard to say if it can be a viable 'career' based on those metrics. What I can say, however, is that the field is open for positive change, and the hard work designers do today means we create a better industry for future designers. It will be hard raising a family on a game designer's wage. But in five, ten years' time maybe that will change. – Rappler.com