This is AI generated summarization, which may have errors. For context, always refer to the full article.
You have a right to express your political opinion, in the ways you know how, simply because you are a member of the state. Don't let anyone tell you otherwise.
Toni Gonzaga's Bongbong Marcos (BBM) interview on her Toni Talks YouTube channel has people talking.
Her interview with BBM, published on BBM's birthday, Monday, September 13, dangerously played accomplice to the whitewashing of the history of the Marcoses. Toni Gonzaga-Soriano, although it wasn't a secret, failed to mention in the interview that Bongbong Marcos is her wedding ninong (godfather).
The failure to disclose the affiliation was among the mistakes made by Gonzaga-Soriano.
Prior, she had interviewed opposition figures such as Isko Moreno, Chel Diokno, and Leni Robredo, which gave her a veneer of neutrality.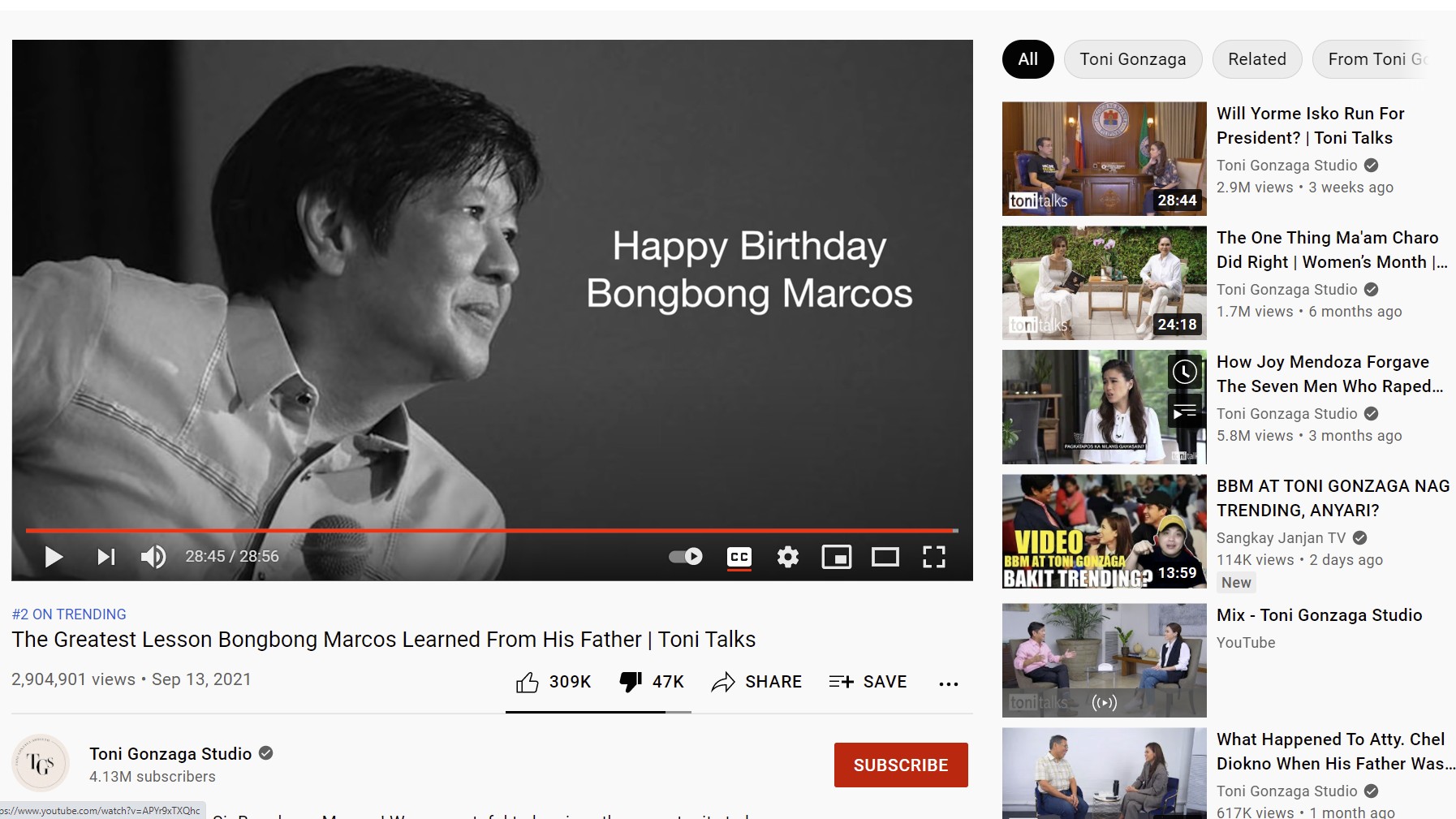 But with BBM as a godfather, there was certainly conflict of interest. On one hand, Gonzaga-Soriano was an interviewer with a responsibility to her 4 million followers, and to all Filipinos, to not allow the reframing of what was – on many, many accounts – a bloody part of Philippine history.
And on the other hand, BBM is, as one online commenter playfully jokes, her "nongni." Rare is the godchild who can come up to their ninong, and ask them, "Ninong, what were these crimes they accuse you of?"
And just as rare is the nongni or nangni who would be able to casually and so easily tell their godchild – if indeed they are godchild-godparent for no reasons beyond genuine familial connections – "Child, this is what actually happened," and for those accounts to be the complete, bloody, unvarnished, unwashed truth.
Interviewers who wish to have political credibility need to be aware of this. The BBM interview has 2.9 million views and counting, but exactly how many people actually took the hook, the line, and the sinker? 
Perhaps a lot, perhaps not a lot. All I know is I certainly didn't. I viewed the video one time so I'm one of those 2.9 million.
The people below, reprimanding Gonzaga-Soriano for the video, possibly contributed to the number of views as well.
But like me, they probably saw it for what it was, and swam away angrily.
1. Rae Reposar, lawyer
2. Bryan Ellis Castillo, IBC TV 13 news anchor/correspondent
3. Older posts from pages such as Philstar, Foundation for Media Alternatives, and The Torch Publications also resurfaced, finding relevance in the Toni-BBM snafu.
4. Along with articles, Facebook page We the Pvblic was among those who created art out of the interview.
5. GMA provided Ricky Lee, writer and martial law detainee, the space to voice his opinions on historical revisionism in a podcast with Howie Severino, and summarized in an article. "Para akong binubura," he said.
6. On Gonzaga-Soriano's IG page, a few people are calling her out on a September 5 post celebrating her 4-million YouTube subscriber milestone, and are also calling out to Angel Locsin and Bianca Gonzalez-Intal – two celebrities who have historically not shied away from political opinion – for their stand on the matter or to call out their industry-mate, Gonzaga-Soriano.
Gonzaga-Soriano, amid the backlash, has been pretty defiant. She has posted on her IG Stories twice in the past 24 hours, a screenshot of her YouTube interview with BBM. She posted one showing the video with 2 million views, but has since replaced it with a newer screenshot showing 2.3 million views, and no. 2 on YouTube's trending ranking.
This is the first: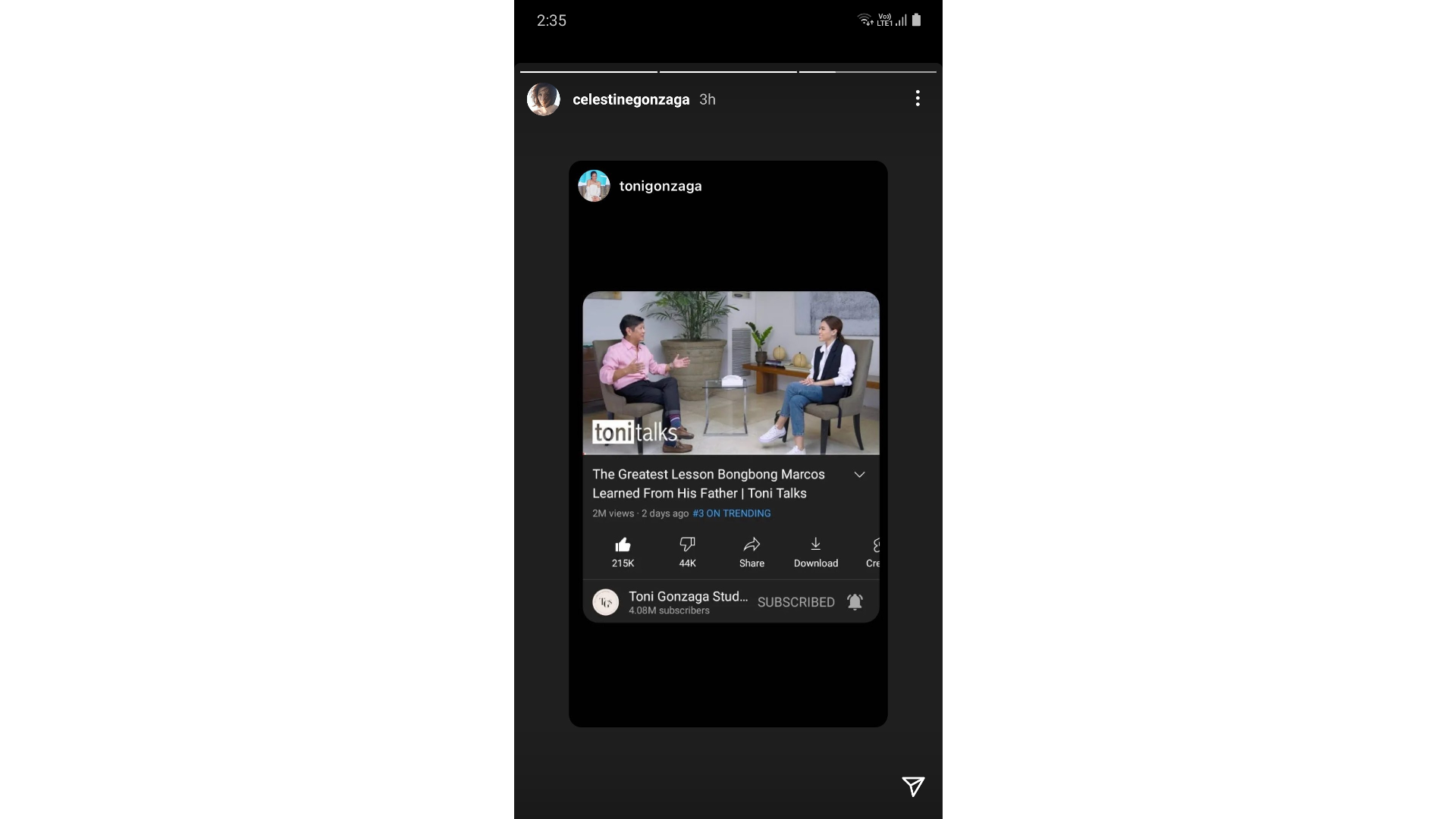 This is the newer post with 2.3 million views on the counter: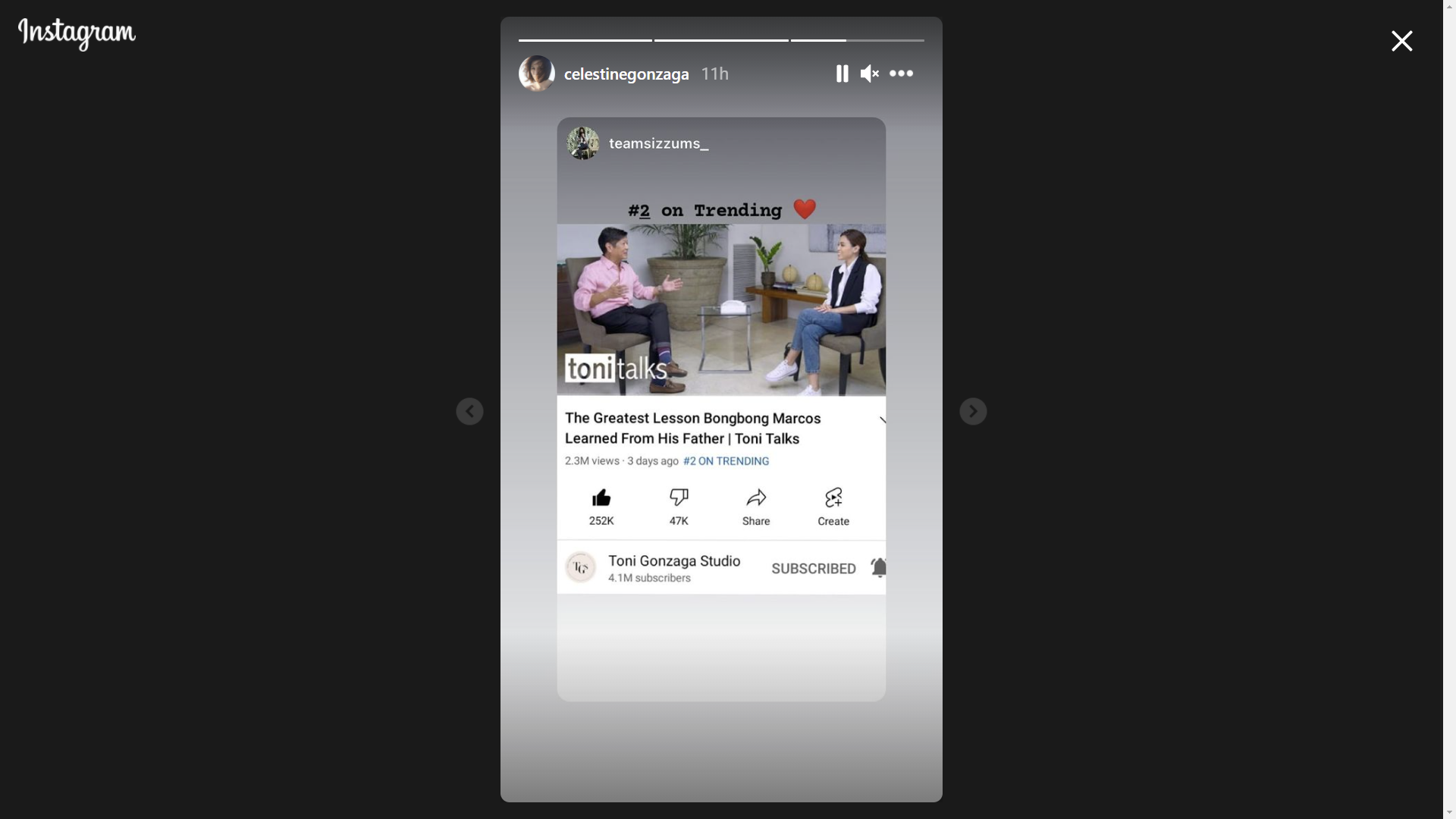 Amid the backlash, News5 also published an earlier July 2021 video of vlogger Wil Dasovich interviewing Toni Gonzaga, with the screen frame, "I don't categorize the people I interview" – a statement reinforcing her "neutrality" stance.
7. Ann Rodrigues
8. Some posts put in dictators such as Adolf Hitler and Kim Jong-un as interviewees, a biting remark on Gonzaga-Soriano's current disregard for our own history with dictators.
People in the comments pushed it further, joking that "Satanas" or Marvel supervillain Thanos could be the next guests:
Here's the post with Kim Jong-un:
9. Comedians such as James Caraan, who had also gone viral with 4.4 million views for his satirical take on the Nas Daily controversy, took it up a notch with the Hitler comparison.
10. Another comedian, Red Ollero, whom we have featured in Rappler, also had his bit, imagining what if there was just one bad guy from which the Marcoses, the Dutertes, the Roques, and "Secretary Warak" health secretary Francisco Duque III got advice from:
Ollero's impression oddly reminds one of Duterte and BBM propagandist Banatby with the shades and the demeanor. But Ollero said he has never really observed the person closely, and that his character wasn't based on him.
Ollero also earlier half-jokingly proposed that he will do the BBM interview – with the proper critical mindset:
11. Facebook page "The Scoop" also published on September 13 – the day of the publication of the BBM interview – a now widely-shared post showing a few netizens getting mad at the actress for being a Marcos apologist.
The same page, which describes itself as "Your go-to source of latest trending celebrity/entertainment news," also published a quote image of Gonzaga-Soriano a day later:
12. Kevin Mandrilla
13. Interaksyon wrote a piece on the reaction of a number of Filipino Taylor Swift fans on BBM's mention of a famous "Tay-Tay" lyric to defend his family's history.
14. The Martial Law Museum, which has invited Gonzaga-Soriano to interview Martial Law victims, also made a list of "Top 5 Proven Lies since 1986" surrounding the Marcoses:
15. We at Rappler also made a short documentary on the Marcoses' attempt to return to Malacañang:
16. Jules Guiang, head of community at Rappler
17. Ethel de Borja
18. Pipo Gonzales
"5 Reasons Why Pinoy Celebrities Need To Do Better"
"To knowingly promote lies through your platform is a crime to its message's potential, and existing victims."
"5 ways to responsibly share information and educate followers through our platforms"
18. Rappler artist Andoyman
19. Tarantadong Kalbo was among the first artists to express his view on the Toni Talks-BBM interview
20. Happy Feraren, membership program lead at Rappler
21. CinemaBravo, a Filipino movie page with 2.5 million followers
Interaksyon made a story on these Toni Gonzaga movie lines being used to satirically criticize her:
22. On Twitter, performer Tuesday Vargas had a September 8 tweet that found extra meaning after the BBM interview.
23. Writer Joel Pablo Salud on Toni Gonzaga interviewing Bongbong Marcos, as published on PhilstarLife:
24. ABS-CBN reporter Jervis Manahan
25. Jen Aquino, journalist, Probe Productions
25. Don Kevin Hapal, data and innovation director, Rappler
26. Fiel Pareja, priest, Archdiocese of San Fernando, Pampanga. Gonzaga-Soriano is public about her Christian faith.
27. Leonor Rivera
28. Incoming UP Diliman economics major, Enzo Lutero, in his "New School" piece for Rappler titled, "On Toni Gonzaga and misguided notions of neutrality. Illustrated by Rappler artist DR Castuciano.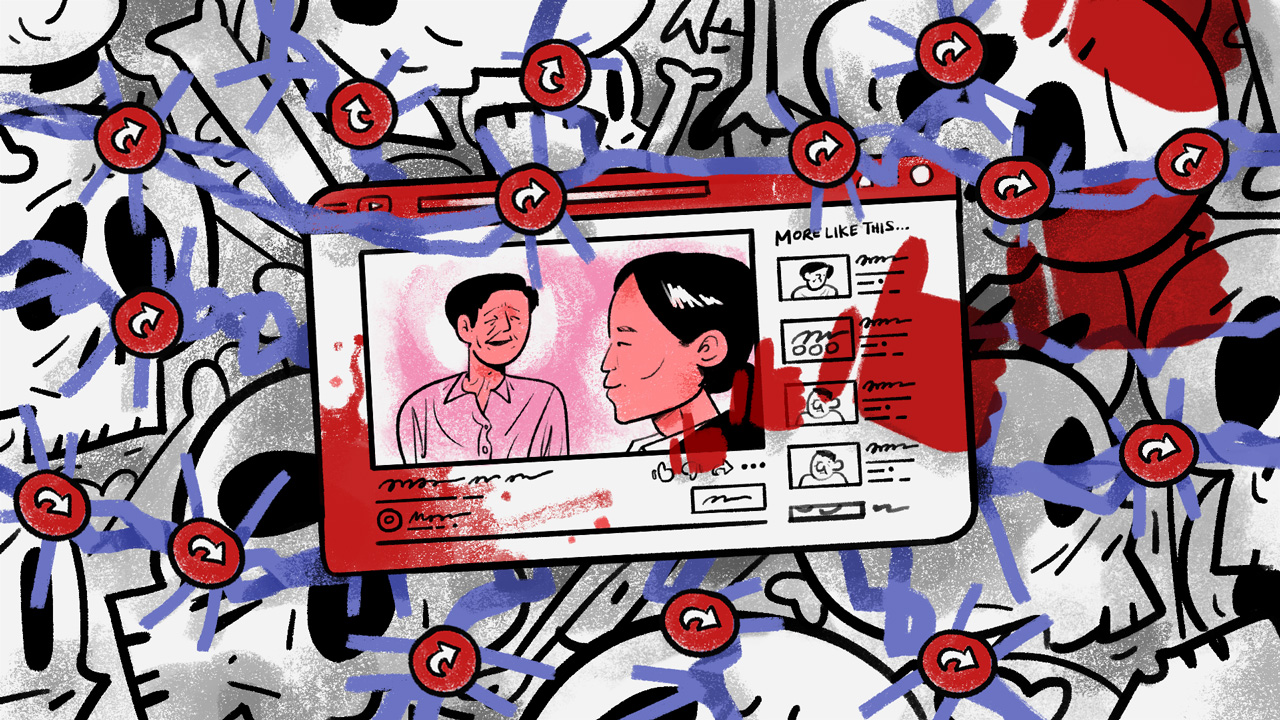 These posts show that a real-life political event can fuel and inspire one's creativity just as a Netflix or HBO GO show would, or, in some other people's case, a Radiohead videogame-type project would.
You have a right to express your political opinion, hopefully a properly informed one, in the ways you know how. And that's simply because you are a member of the state. Don't let anyone tell you otherwise.
Singers, painters, writers, poets, essayists, graffiti artists, graphic designers, web developers, guitarists, comedians, TikTokers, YouTubers, marketers, vloggers, bloggers, lawyers, teachers, performers, journalists, lifestyle writers – we are all parts of one another, and one is all of us, especially in collective experiences such as this one.
Have faith in your talent, create, strengthen your beliefs, and be kind in imparting your own. But just as well, be angry when the situation calls for it.
The Toni Talks-BBM interview called for it because it was a political event that has a big impact on that singular election date in May 2022.
The election is happening now, and it's not just when you physically cast your vote in May. The election is happening now because now is the time that people are trying to make up their minds on who they might vote for in May, even prior to the formal filing of candidacies for national positions from October 1 to 8, 2021.
Get mad, find your flow state, and let everyone know. – Rappler.com