BMW shows off a futuristic concept gaming chair at its esports event
German car maker BMW is turning its attention to gamers, showing off a concept gaming chair called the Rival Rig being designed by its subsidiary Designworks.
Announced at the BMW esports event, BMW Esports Boost, the chair has an extremely futuristic look, looking like a piece of furniture you'd most likely find in a sci-fi show. Gaming chairs aren't subtle in their design, but the Rival Rig is taking it to the next level.
Holger Hampf, president of Designworks, discussed some of the inspirations for the chair:
"We searched for inspiration in fields where humans have to take decisions in split seconds. Our design was influenced by the characteristics of spaceships and Formula 1 cars. If you think of spacecraft design and human spaceflight, you understand that astronauts have to operate very complex systems, and that they have to make decisions super quickly, often beyond what we call 'normal human capacities.'"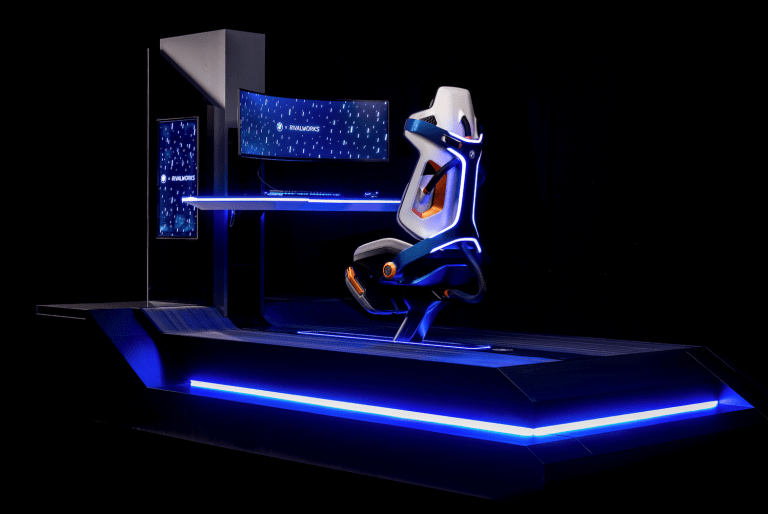 But more than the physical design, the chair has forward-thinking performance features. The Rig can automatically adapt using motors and sensors for the optimal seating position. A Micro Climate Control System features sensors monitoring temperature of specific body parts, and heating and cooling them as needed. Its RGB lights are also adaptive, adjusting accordingly to the in-game situation.
"What we wanted to achieve is a gaming rig design that takes both technology and aesthetics in this field to the next level. Our goal was to create the most comfortable seating, hand posture and head movement situation, that allow the gamer to fully immerse herself or himself and experience a sense of weightlessness," said Hampf.
Hampf explained how the cooling and the micro-adjustments would work:
"If, for example, temperature builds up in his or her back, the rig would provide cool air. If there is pressure on the armrests, the gaming rig would lower the armrest and eliminate these pressure points. It is a gaming rig setup enabled by AI."

Currently though, there are no plans for a commercial rollout for the Rig. – Rappler.com
Looking for gaming accessories? Use this Lazada voucher!