The problems cost CD Projekt Red founders over $1 billion in value
It has been a terrible end to the year for CD Projekt Red.
Sony on Friday, December 18, pulled the Polish studio's latest game, and possibly the most-hyped game of any genre, from any platform of the year, Cyberpunk 2077 from its online PlayStation store.
Sony will also be offering full refunds, as it said in its announcement on the US PlayStation site:
"SIE (Sony Interactive Entertainment) strives to ensure a high level of customer satisfaction, therefore we will begin to offer a full refund for all gamers who have purchased Cyberpunk 2077 via PlayStation Store. SIE will also be removing Cyberpunk 2077 from PlayStation Store until further notice.
Once we have confirmed that you purchased Cyberpunk 2077 via PlayStation Store, we will begin processing your refund.  Please note that completion of the refund may vary based on your payment method and financial institution."
In a statement, CD Projekt Red said the decision was based off discussions with Sony regarding a full refund "for all gamers who had purchased Cyberpunk 2077 via PlayStation Store and want a refund at this time."
It added, "All copies of the game previously purchased digitally on PlayStation Store remain available for use by their respective buyers. Gamers can still buy physical versions of the game in retail and mail order stores. All copies, whether digital or physical, will continue to receive support and updates from the Company."
As of writing, a search on the Hong Kong PlayStation store for the game pulls nothing but an outfit bundle for Killing Floor 2: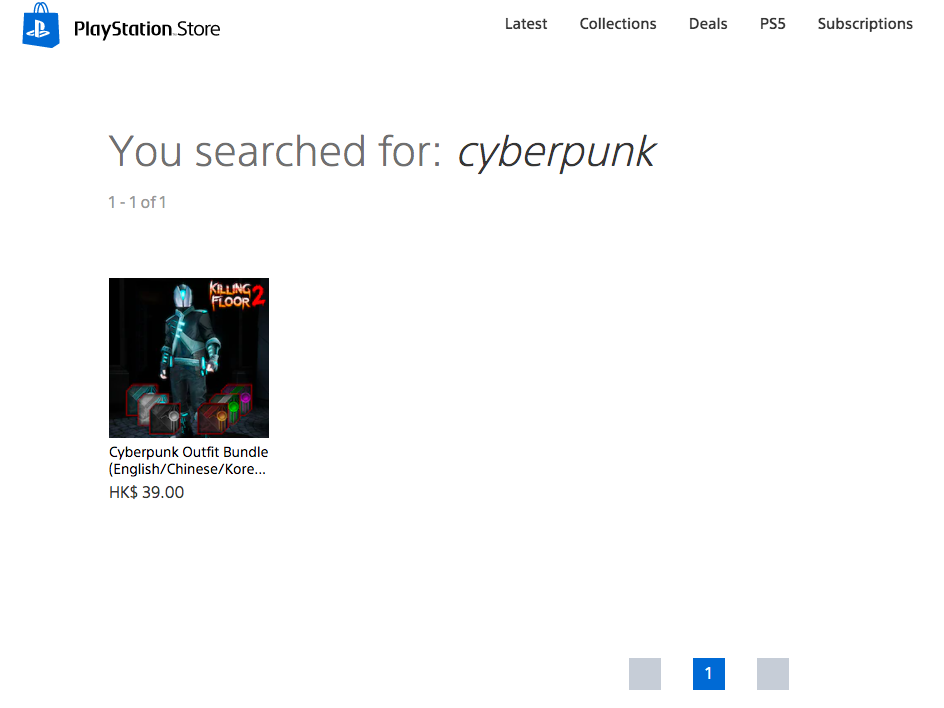 Sony's announcement follows CD Projekt Red's own refund offers. Southeast Asian customers can also try to contact Epicsoft Asia for physical copy refunds.
The demand for refunds come from Cyberpunk's awful performance on last-generation consoles, the PS4 and the Xbox One. The developers also mismanaged PS4 and Xbox One player expectations, failing to clearly indicate how the game would look on older consoles, instead heavily marketing the high-end visuals of the PC version.
PS4 and Xbox One gamers were not expecting the game to look as good as the PC version, but they didn't expect it to look and play as bad as this too.
CD Projekt Red has promised big patches, but that hasn't quelled some gamers who've paid full price for what's essentially a broken PS4/Xbox One game.
The game has received positive reviews for its PC version, but in polishing that version, there appears to have been a lack of quality control for the PS4/Xbox One versions. The business aftermath for CD Projekt Red has been brutal, devastating its market value, and costing its founders about $1 billion so far. – Rappler.com