'Ginamit ng likhang ito ang kwentong bayan (folklore) bilang talinhaga para sa mga naitalang extrajudicial na pagpatay at pagtorture sa mga libu-libong biktima ng Batas Militar sa ilalim ng rehimeng Marcos,' says the artist
Filipino artist Jap Mikel on Tuesday, September 21 – the 49th anniversary of Martial Law – was among the people posting about the Philippines' Martial Law years, the 20-year Marcos rule, and the family's push to get back to power through Ferdinand's son, Bongbong.
Mikel's contribution to the conversation? A GIF showing the San Juanico Bridge on a moonlit night, with Ferdinand Marcos and Imelda Marcos on the foreground. But what at first looks like a beautiful romantic scene – if you discount the history of the featured lovebirds – turns into a gut-wrenching one as the blue and yellow reflections on the water turn into ghastly, watery wraiths.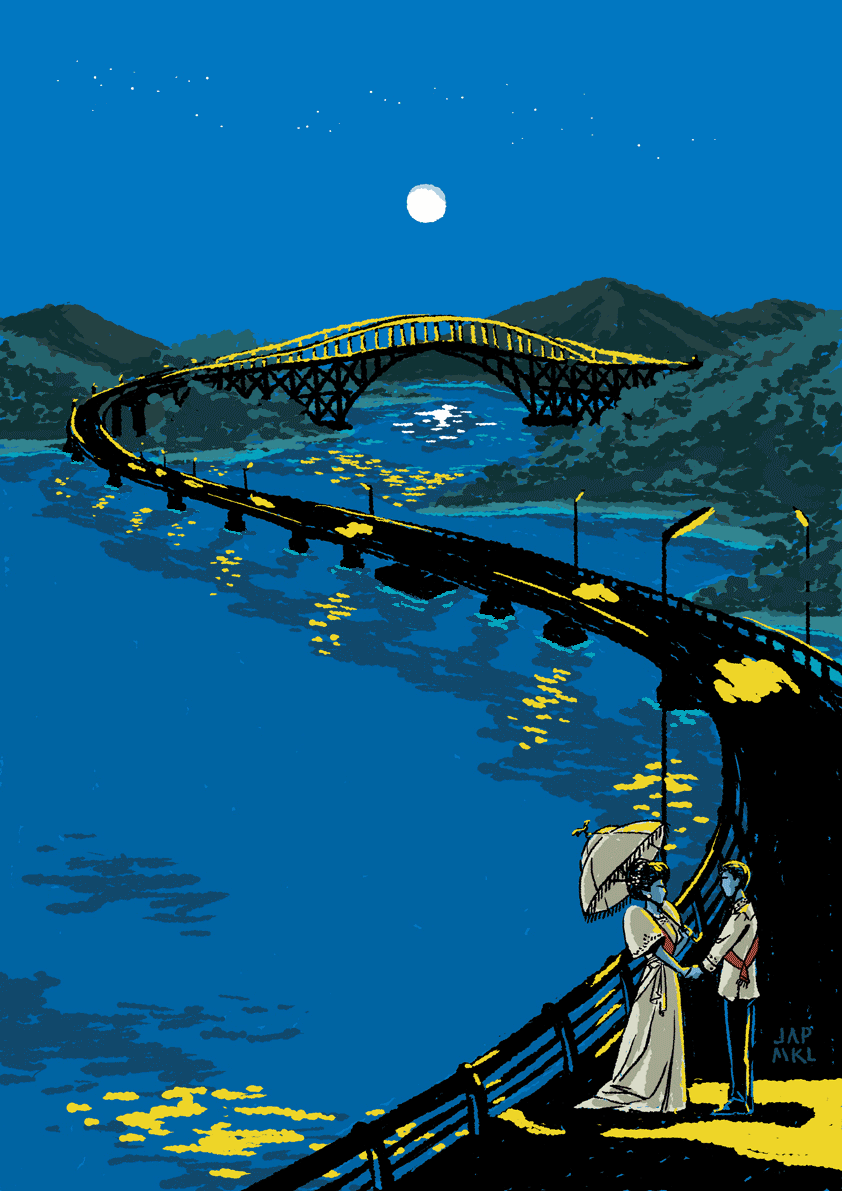 Mikel explains the piece in detail in his Facebook post. An English translation can be found below as well.
"Nagmula ang inspirasyon ng likhang ito sa lumang paniniwala ng 'padugo,' o ang pag-aalay ng dugo ng hayop sa mga anito. Ayon sa kwentong bayan [folklore], may mga nawawalang bata sa Samar at Leyte habang itinatayo ang tulay ng San Juanico. Iniaalay daw ang dugo ng mga bata upang tumibay ang pundasyon ng tulay.
Ginamit ng likhang ito ang kwentong bayan bilang talinhaga para sa mga naitalang extrajudicial na pagpatay at pagtorture sa mga libu-libong biktima ng Batas Militar sa ilalim ng rehimeng Marcos. Kung tatalikuran natin ang mga biktima ng Martial Law dahil lamang maraming naipatayong istruktura si Marcos, para na din itong pagsang-ayon sa pag-aalay ng buhay ng tao kapalit ng magagandang bagay.
Kung hindi ka naniniwala sa madugong bahagi ng Martial Law dahil nabuhay ka o ang mga kilala mo noon ng payapa, makipagpanayam ka sa mga mismong biktima o kapamilya ng mga biktima ng Batas Militar. Kung hindi mo naranasan ang isang bagay, hindi ibig sabihin ay hindi ito totoo."
(The inspiration came from the old belief of bloodletting or the sacrifice of animal blood for the spirits. According to folklore, there were children disappearing in Samar and Leyte while the San Juanico Bridge was being built. The story goes that the blood of the children were sacrificed to strengthen the foundation of the bridge.
This creation used the folklore as a metaphor for the recorded extrajudicial killings and tortures in the thousands during Martial Law under the Marcos regime. If we will turn our backs on the victims of Martial Law because Marcos was able to build many structures, it's not unlike agreeing to the sacrifice of human life for beautiful objects.
If you don't believe the bloody parts of Martial Law because you lived or people you know lived then peacefully, talk to the actual victims or family members of the victims of Martial Law. Just because you didn't personally experience something, that doesn't mean that it is not real.)
"Patuloy nating pangalagaan ang katotohanan sa kasaysayan upang hindi na ito maulit muli. #NeverForget#NeverAgain," Mikel says.
(Let's continue to look after the truth, so history won't repeat itself.)
The "San Juanico Bridge" was also the name of one of the Martial Law torture methods. The torture method is called as such because the victim is made to lie between two beds, and form a "bridge," and if their body falls, they will be beaten.
Jap Mikel (@japmkl) is a freelance illustrator whose works are inspired by Philippine cultures, history and folklore, and believes that "by sharing our culture and history through art, we are reminded of who we are, what we've been through and to not repeat the mistakes of our past." – Rappler.com