This is AI generated summarization, which may have errors. For context, always refer to the full article.
The Philippine office represents part of the infrastructure Joseph Mercola uses to maintain online operations, from backend support to graphic design and article and content creation
Joseph Mercola, a 67-year-old osteopathic physician and entrepreneur from Florida, was named in a recent report by the Center for Countering Digital Hate (CCDH) showing the 12 biggest proponents of COVID-19 disinformation on social media.
Called the Disinformation Dozen, the individuals were found to have been responsible for about 65% of COVID-19 disinformation spreading on Facebook, Twitter, and Instagram. The report attributed false content that has been shared or posted 812,000 times between February and March 2021 to these 12 individuals.
The 12 "have large numbers of followers, produce high volumes of anti-vaccine content or have seen rapid growth of their social media accounts in the last two months."
While the platforms have, over the course of the pandemic, made commitments to combatting COVID-19 disinformation, the study found the results to be unsatisfactory.
"Facebook, Google and Twitter have put policies into place to prevent the spread of vaccine misinformation; yet to date, all have failed to satisfactorily enforce those policies. All have been particularly ineffective at removing harmful and dangerous misinformation about coronavirus vaccines, though the scale of misinformation on Facebook, and thus the impact of their failure, is larger," Imran Ahmed, CEO of CCDH said.
Among the 12 is Mercola who, according to The New York Times, "has built a vast operation to push natural health cures, disseminate anti-vaccination content and profit from all of it" over the last decade, citing researchers who have studied his network.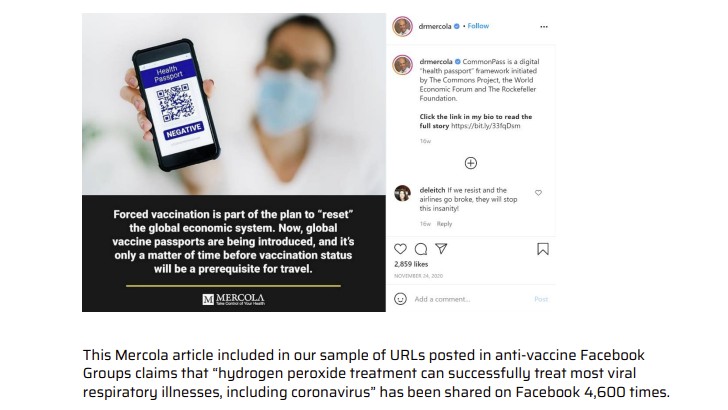 Part of Mercola's business model, according to the report, is to make unproven, sensational health claims, and then profit off of it by selling products and supplements as effective, alternative health treatments.
Mercola.com hosts the supposed health articles, and are promoted on Mercola's social media accounts that have a combined reach of 3.6 million users. Mercola sells products via Mercolamarket.com. Two former employees, anonymous due to NDAs, told the Times that Mercola routinely does A/B testing for content, wherein many versions of one story are published to see which one gains the most traction, demonstrating Mercola's savvy with social media.
The Florida-based Mercola also outsources work in the Philippines through Mercola Consulting Services (MCS), housed in Gil Puyat Avenue in Makati, with operations starting in 2009. The Philippine office represents part of the infrastructure that Mercola uses to maintain online operations, from backend support to graphic design and article and content creation.
"Mercola Consulting Services, LLC. is a consulting firm based in the US, with offices in Cape Coral, Florida and Manila, Philippines specializing in Internet Marketing, Software Development, and IT Infrastructure. We support Dr. Mercola's efforts to provide you with valuable health information, partner with like-minded health organizations and initiatives, and create a sustainable world for you and your family," the MCS site says.
The Mercola editorial team, seen here, consists of 16 individuals, including Joseph Mercola himself, and a number of researchers, writing assistants, and editors.
In an email to the Times, Mercola said it was "quite peculiar to me that I am named as the #1 superspreader of misinformation" and accused the White House of "illegal censorship by colluding with social media companies." – Rappler.com