'We're living in the matrix. We're feeding in the energy to the social media platforms and we're living in illusions. We're being manipulated'
Rappler CEO and executive editor Maria Ressa called for "emergency actions" and intervention to rein in big tech and social media companies, citing their negative impact on democracy.
Ressa said this in an interview with CBS News' Elaine Quijano at the 2020 Reykjavík Global Forum – Women Leaders event on Wednesday, November 11.
"We need to take emergency actions. It's an emergency intervention and we need to do this," Ressa said in the interview.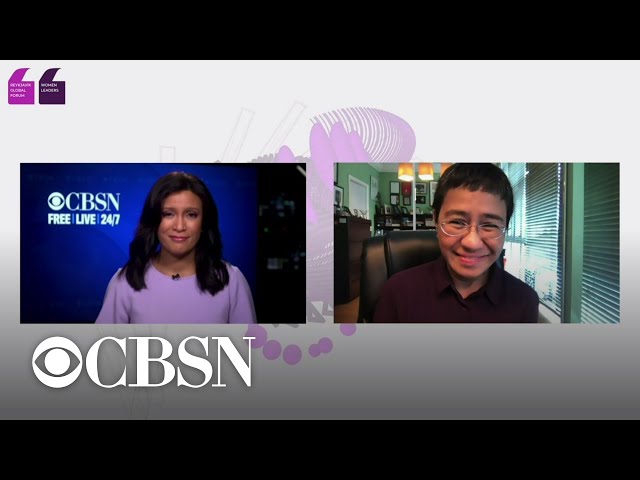 "We're living in the matrix. We're feeding in the energy to the social media platforms and we're living in illusions. We're being manipulated and this is untenable for democracy. I now call social media platforms behavior modification systems," she said.
Ressa, co-chair of the Forum on Information and Democracy working group to combat information chaos online, said "systemic solutions" are needed to address the problems.
"We are actually looking for systemic solutions but all of these mean that platforms will make less money and that is their individual battles for integrity," Ressa said.
FID has published a report on how to end disinformation, containing 12 main and 250 tactical recommendations on how to rein in technology to preserve democracies and human rights.
Ressa said tech companies' measures to control information chaos are not enough. After all, she said the ultimate problem is their business models, which ensure users' engagement and interest, via algorithms, to sell these "behavioral data" to advertisers and other groups.
"I mean, look, I give kudos to Twitter because they're more aggressive, but the problem with the platforms is their design and the business model…. This is an insidious manipulation," she said.
US, Philippines parallelism
With the continued rise of disinformation on social media, Ressa said she could see similarities between the Philippines and the United States, especially with the recent presidential election.
Philippine President Duterte has repeatedly attacked Rappler, with Ressa and several Rappler staff and officers facing multiple government-backed cases. In June, Ressa and former Rappler researcher Rey Santos were convicted of cyber libel but they are appealing the decision.
"Last year we talked about bottom-up lies, exponential lies on social media met by top-down mimic of those lies. That's what happened with me and President Duterte," she said.
Citing US President Donald Trump's false claims of electoral fraud, Ressa said: Look at the conspiracy theories that you're dealing with, and 'failure of elections'… what is being said by (Trump lawyer) Rudy Giuliani, top-down; President Trump, top-down, all to make you believe there was a failure in elections."
Despite this, Ressa said she still saw hope for the future.
People in democracies, she said, should ask themselves: "What are you willing to sacrifice for the truth?"
"You can't just vote. You have to do far more than vote. Every generation gets the democracy it deserves. We can't lose democracy under our watch," Ressa said. – Rappler.com