The site's title also shows 'OMBold Dealer'
The website of the Optical Media Board (OMB), online.omb.gov.ph, has been defaced with a photo of a penis, and a word spelled out using ASCII characters, saying "kontol."
"Kontol," according to online search results, is an Indonesian term for penis.
The site title had also been hacked to say "OMBold Dealer."
Attacks on the website were documented as early as Friday, August 6, when the founder of cryptocurrency exchange BloomX, Luis Buenaventura, wrote about it in a newsletter titled "The O.M.B.'s Porn Problem."
The cryptocurrency scene intersected with the OMB, as Buenaventura reported in an earlier newsletter on August 4, when the agency had begun "requiring permits from customers who were buying crypto hardware devices from overseas." The requirement led to a crypto wallet manufacturer, Trezor, suspending the shipment of products to the Philippines.
Buenaventura said he had then was tipped by a friend to do a Google search for "OMB." The search result showed the OMB, but with a curious subtitle: "Dubai escort porno izle sex hikayaleri seks hikayeleri seks izle paply.org." A Google search shows "izle seks hikalayeri" is Turkish for "watch sex stories."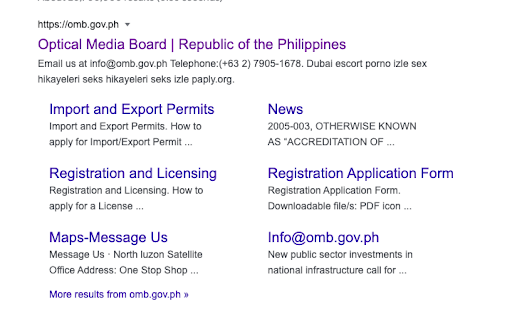 Further digging by Buenaventura revealed that the porn links were in the site's source code, and crawled and scraped by search engine bots. He speculated that it could have been the work of a disgruntled former employee or lapses in OMB's staff or processes, and its web platform. 
The site is down, as of publication, saying it is "under maintenance." – Rappler.com