The Philippines, while steadily increasing its fixed broadband internet speeds as well, is down one rank to Paraguay's developments
The Philippines goes up three ranks in a worldwide assessment of mobile broadband internet speeds by internet access performance metrics firm Ookla.
Based on Ookla's July 2021 assessments, the Philippines currently has a mobile broadband internet download speed of 33.69 megabits per second (Mbps), an upload speed of 8.83 Mbps with 31 milliseconds (ms) of latency.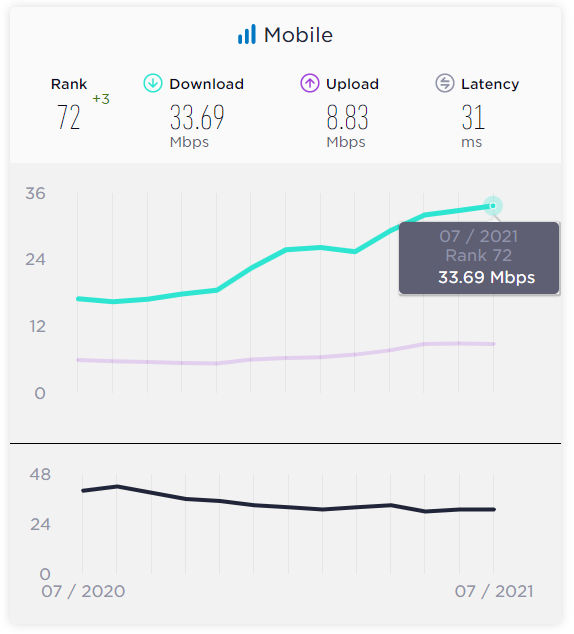 Compared to results from a year ago, when the Philippines was ranked 114th in July 2020, the country has gone up 42 ranks. We have also gone up 3 ranks from 75th place in June 2021.
The global averages for mobile broadband internet are download speeds of 55.07 Mbps, upload speeds of 12.35 Mbps, and a latency of 37 ms.
Fixed broadband internet speeds dip
Meanwhile, the Philippines' fixed broadband internet speeds, while maintaining a much higher average compared to last year, dipped in the rankings as Paraguay takes over 62nd place, leaving the Philippines ranked 63rd.
The Philippines' fixed broadband internet as of July 2021 has a download speed of 71.17 Mbps, an upload speed of 71.22 Mbps and a latency of 22 ms. Paraguay edges out the Philippines with a download speed of 71.86 Mbps.
Despite the ranking dip, the Philippines' average fixed broadband download speed improved from last month's 66.55 Mbps.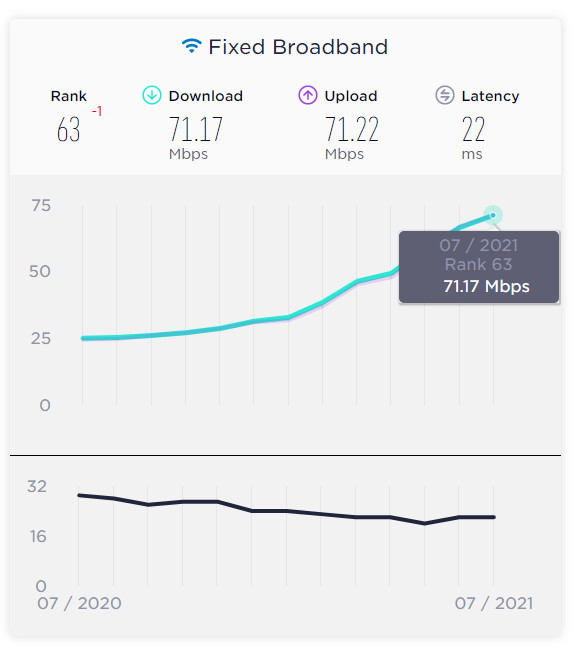 Global averages for fixed broadband internet are at 107.50 Mbps download, 58.27 Mbps upload, and 20 ms latency.
For July, Ookla looked at 130 countries for its mobile broadband internet speed rankings and 180 countries for its fixed broadband internet rankings.
More information on the world rankings is available here. – Rappler.com