Unsurprisingly, there's a clear difference in image quality between this Neo QLED set and standard 4K TVs
Disclosure: Samsung lent a review unit. We've used the TV for two weeks at the time of writing.
I made the jump to 4K last year: a 55-inch Samsung Crystal UHD TV (AU7000). It was among my favorite purchases as the difference between watching on a 1080p full HD set and a full-fledged 4K TV is night and day. It's the kind of resolution jump that made me want to rewatch my favorite movies and re-play my favorite console games to see the difference in visual impact. It was worth it. Especially with moviehouses locked for much of the past year, I yearned for a cinematic experience.
Now, I'm getting to check out a premium model in Samsung's 4K TV lineup. Whereas the 55-inch AU7000 is an entry-level model priced at about P27,000 last year, the 55-inch QN85A is around P100,000 to P110,000. That's because it has Samsung's flagship Neo QLED technology, which we can get into in another article. In simpler terms, it's a technology that allows for the best color richness, contrast, deep blacks, and finer color gradation, to name some of its benefits.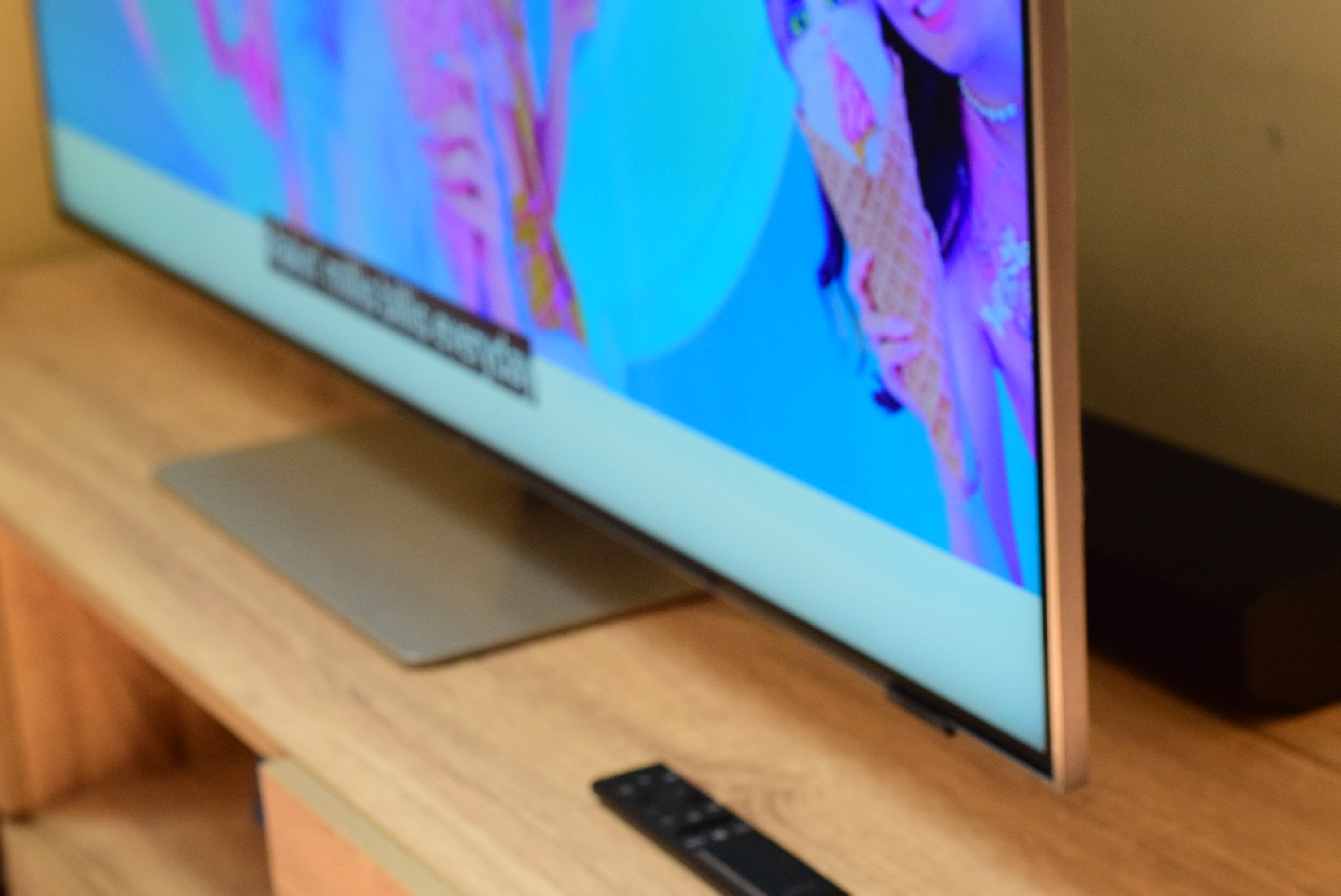 There is a clear difference in the image quality between the Crystal UHD TV and the Neo QLED TV, though I can't say that the difference is as big as going from a 1080p TV to a 4K TV.
On the Neo QLED, there is certainly a finer look to the overall image. I like testing TVs using Kpop music videos because they're so colorful and vibrant, and the colors on the Neo QLED just pop more, and there's more brightness without washing out the image.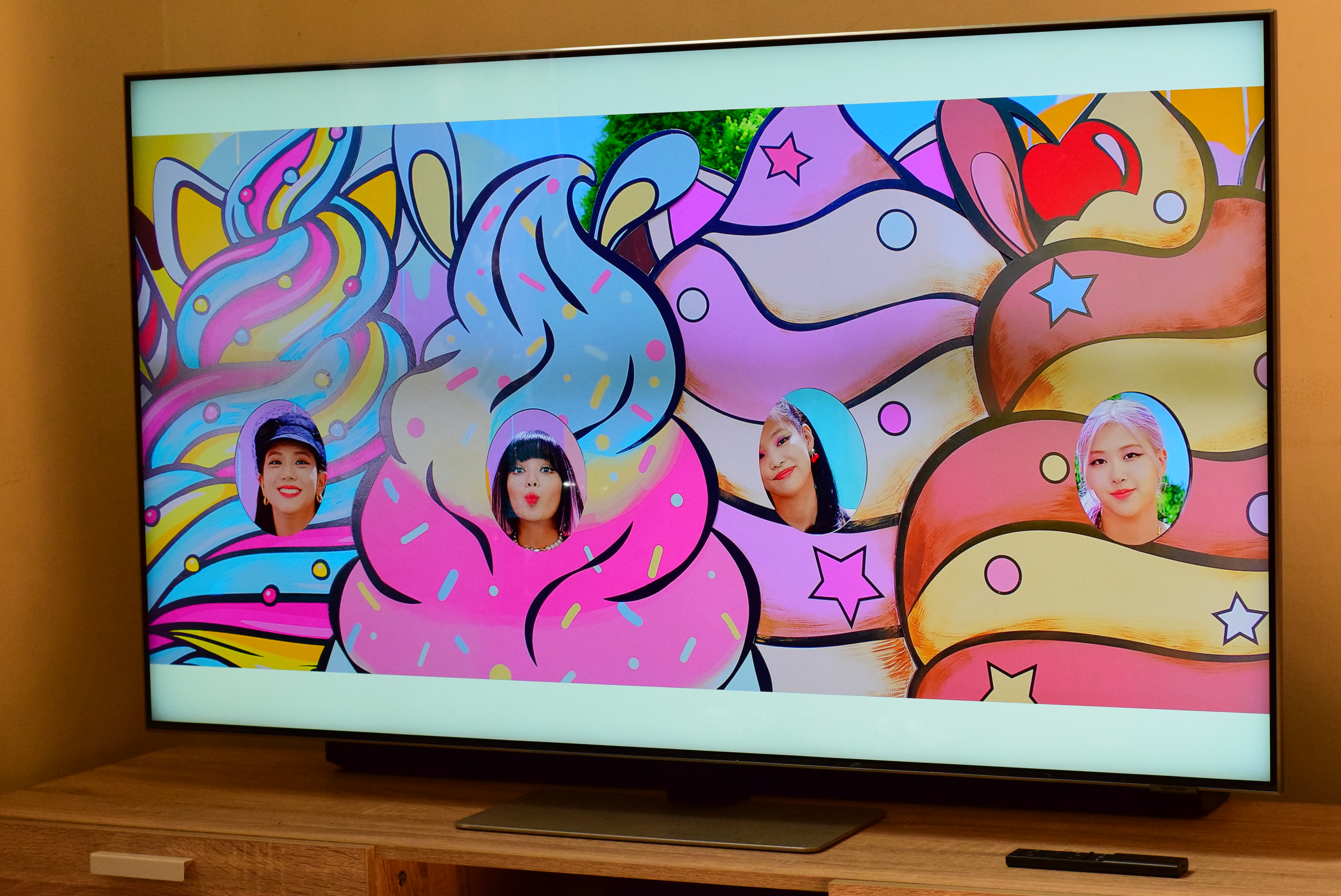 I tested the Neo QLED TV too by watching a 4K Blu-ray of Avengers: Endgame, played on a PlayStation 5 (PS5). I noticed that there were some dull blacks on the Crystal UHD set that look noticeably richer on the Neo QLED TV. These differences in color richness and contrast are also readily seen on streaming content such as Netflix and Amazon Prime. The keyword here is readily; you don't have to pixel-peep to see the difference in image quality. (If you do want to pixel-peep though, and want a more technical analysis, I recommend checking out the reviews at Rtings.com.)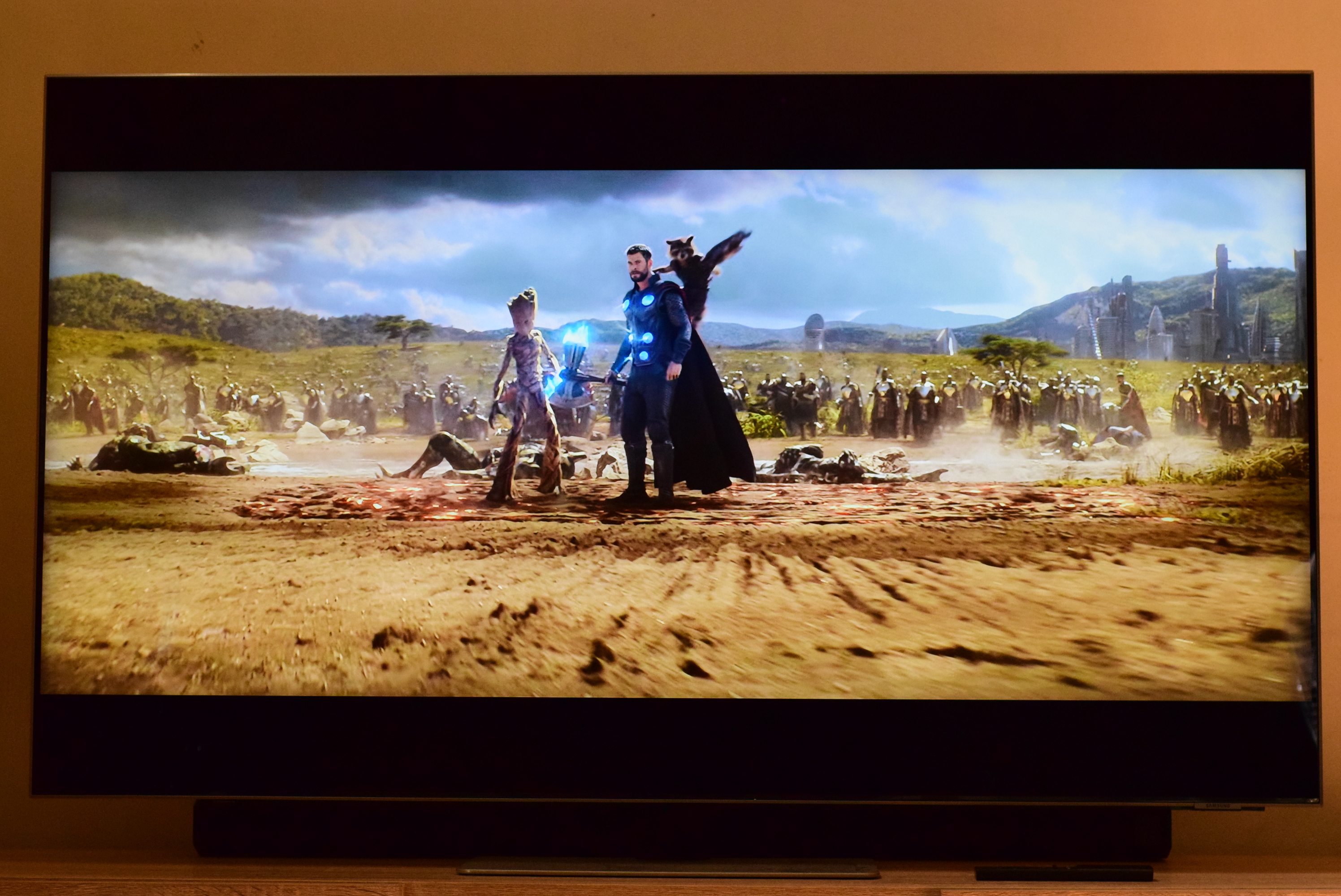 I tested a 1080p Avengers: Infinity War streamed from YouTube. I noticed the same contrast and color improvements as well. I enjoyed rewatching these blockbusters on the premium set, seeing and hearing it (we talk about the Samsung Q800A Dolby Atmos soundbar later in this article) rendered ever closer to the cinematic experience.
For PlayStation games, what I noticed the most is the overall image brightness. The QN85A seems to whip up a brighter but still detailed image overall than the Crystal UHD set. Of course, a key spec for gamers is the QN85A's 120Hz refresh rate. None of the locally available Crystal UHD sets currently have 120Hz refresh rates. The spec first shows up on the QLED Q70A, which is a cheaper model than the QN85A. The Q70A has QLED technology and not the newer Neo QLED.
I've so far tested the racing game Dirt 5 and Doom Eternal on PS5 on their respective 120Hz modes. I think I prefer the slower but still smooth 60 frames-per-second mode with better image quality. Those that play competitive first-person shooter games though will of course find the 120Hz appealing as it could be tied to better in-game performance. As for me, I think I'm okay with a regular 60Hz set for now until the price of entry gets lower for 120Hz TVs. 
One benefit that 120Hz TVs has for Netflix viewing is that it's less dizzying when you're scrolling through the Netflix catalog because the display refreshes faster to show smoother movement.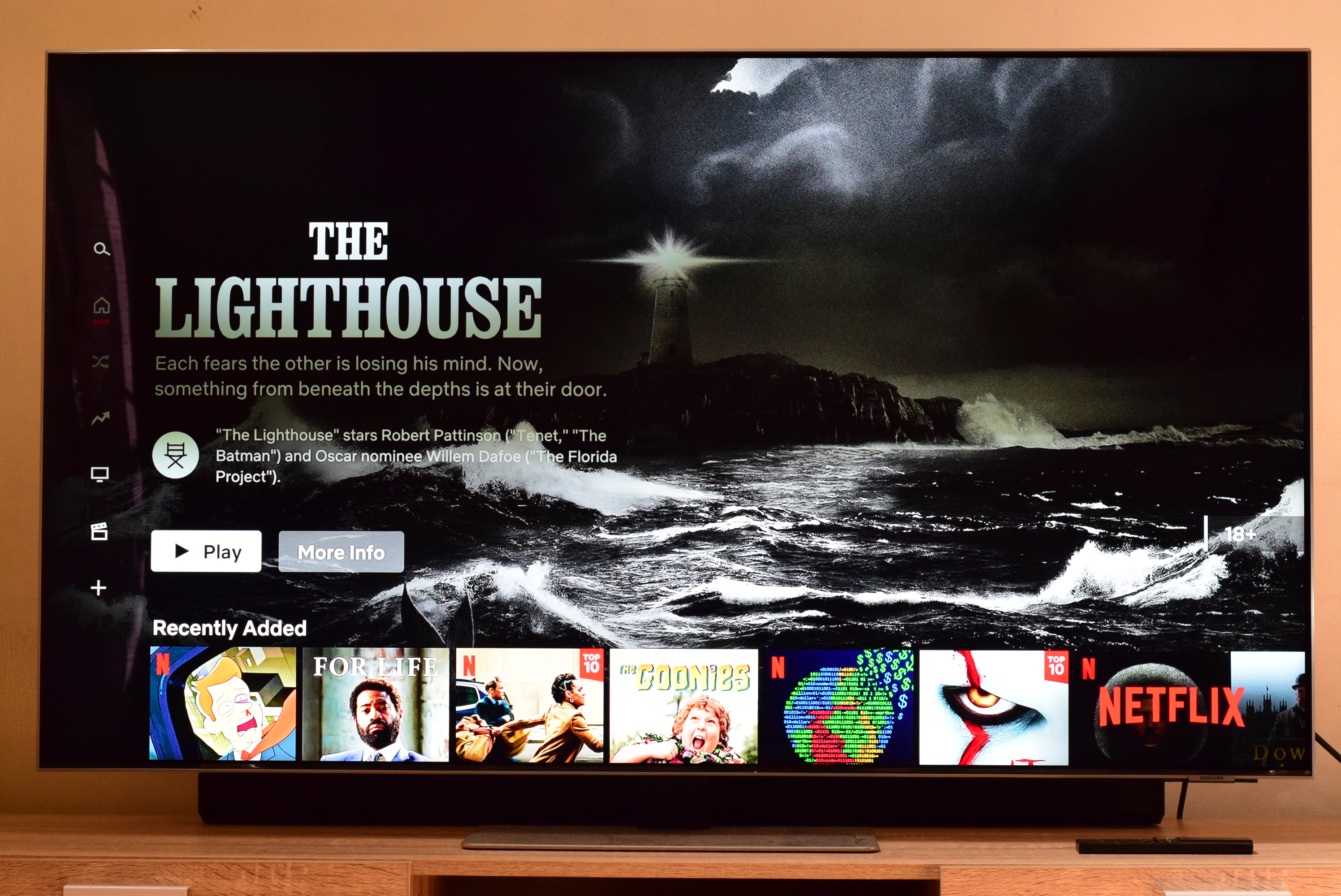 The QN85A is certainly for the more discerning crowd, and for those who are ready to graduate from more basic 4K TV sets to something nearer the cutting edge. There was a real jump in image quality. It's akin to using a flagship smartphone equipped with a premium OLED display as opposed to a regular LCD one. But as I've said, the difference isn't like going from a 1080p TV to a 4K set.  It's for those who want to bring their home viewing experience a little closer to the cinema experience. 
For the review, we also paired the QN85A with a Samsung Q800A Dolby Atmos-capable soundbar, which is priced separately at around P22,000. It's a great combo, and if you're going to own a premium 4K TV, you'll naturally want an audio system to match it. Do you know that big bass-y rumbling sound that you get in the cinemas? If you want that, the Q800A is something to consider. You can get a big bass sound from cheaper soundbars but you'll want one with Dolby Atmos to distinctly hear that positional audio effect.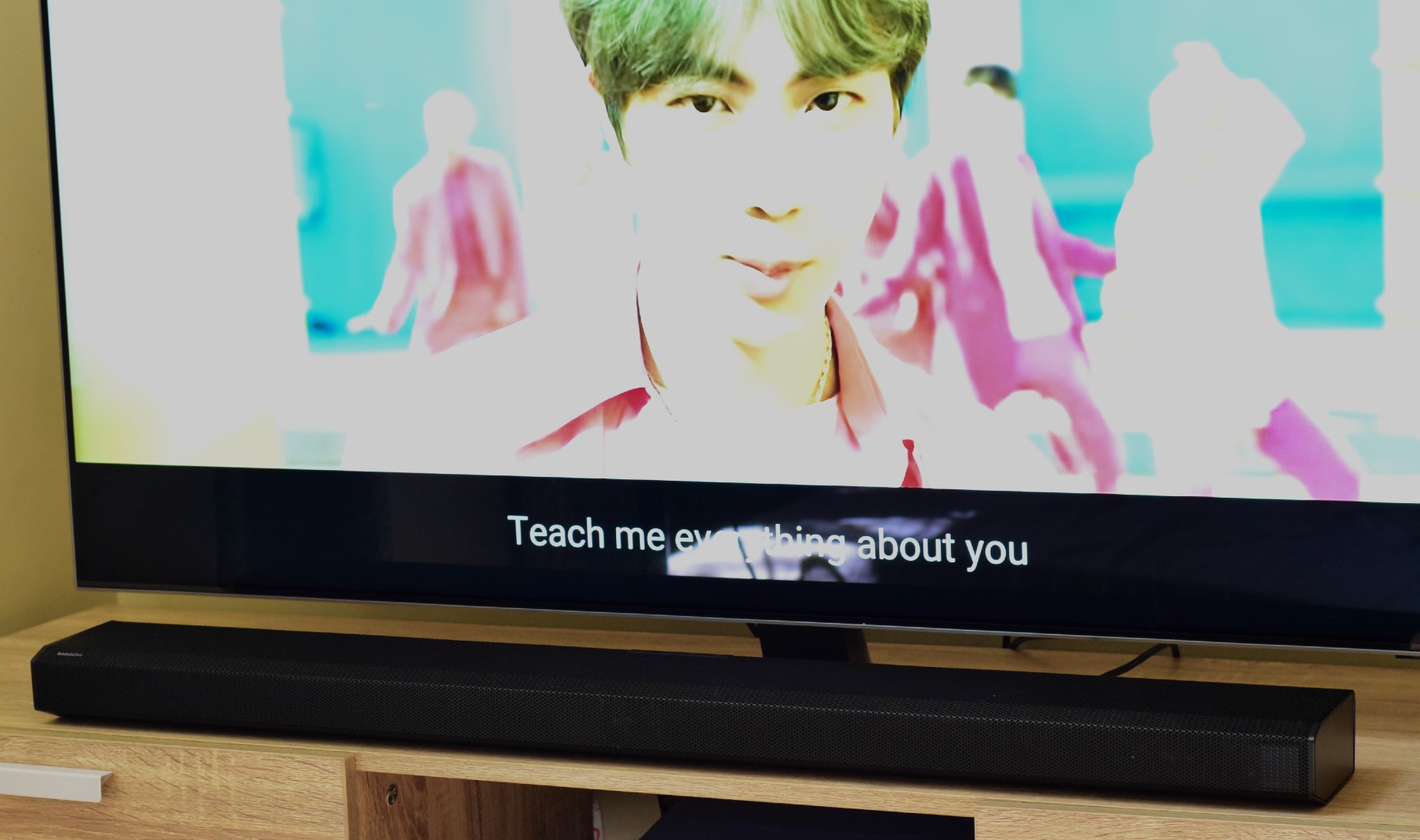 That tremendous sound certainly enhanced my home viewing experience. Personally, I would upgrade to a Dolby Atmos-powered soundbar system first than upgrading from a basic 4K TV to a premium one.
Other Samsung soundbars with Dolby Atmos include the cheaper Q600A with less powerful bass, and the more expensive Q900A and Q950A which is said to have better surround sound performance.
If you have the budget for home (theater) improvement though, and want premium image quality matched with premium sound, the QN85A TV plus Q800A combo is worth the consideration. For a more conservative upgrade and for those upgrading from 1080p TV, I can suggest a Crystal UHD paired with a Q800A soundbar. – Rappler.com