This is AI generated summarization, which may have errors. For context, always refer to the full article.
The controversy at the embassy brought out the online community's gut reactions for either side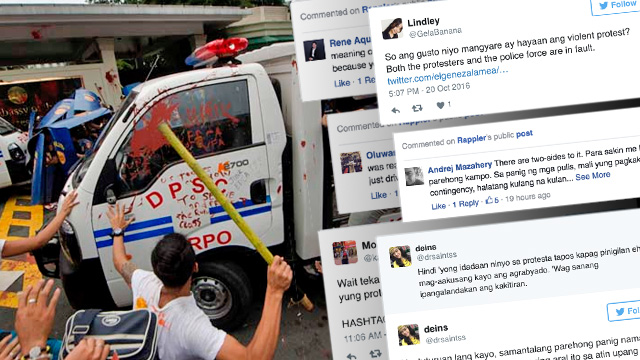 MANILA, Philippines – The violent clash between protesters from various minority groups and the police at the US embassy Wednesday, October 19, had everyone talking in recent days. Videos and photos of a police van plowing through protesters have gone viral, and many have condemned the violence, from students of the University of the Philippines-Diliman, to the communist National Democratic Front (NDF), to several senators and House representatives.
The ground commander and 8 other cops have already been relieved from their posts as they go through a police probe, though National Capital Region Police Office (NCRPO) director Chief Superintendent Oscar Albayalde refuses to label the incident "police brutality."
What does the online community have to say about the incident at the embassy?
Some say it was the protesters' fault for provoking the police in the first place, with a few even postulating that local communist groups were in on it in order to curry sympathy:
">
Others found it a clear instance of police brutality, and demanded that the cops be held accountable:
Wait teka so u guys are saying tama lang inararo nang pulis yung protesters kasi sinisira nila yung police mobile ????

HASHTAG INHUMANE

— Morela Kate Martin (@kateasstrophic) October 20, 2016
eto kelangan nung police officer na sumagasa sa mga protesters pic.twitter.com/ohRfSACYuX

— Patty. (@_merprincess) October 20, 2016
sinagasaan yung mga protesters dahil sa vandalism at pagsira ng police vehicle?????!?! BAKIT? KAYA NIYO BA PALITAN BUHAY KUNG MAMATAY SILA??

— maita angela (@reeeyees) October 19, 2016
Kung makita mo kung pa ano sinagasaan ng police mobile yung mga protesters mapapamura ka talaga.

— Macky (@ItsChili_Mac) October 20, 2016
Still others insist that both groups were at fault:
So ang gusto niyo mangyare ay hayaan ang violent protest? Both the protesters and the police force are in fault. https://t.co/kBy1BbS3s8

— Lindley (@GelaBanana) October 20, 2016
Nagtuturuan lang kayo, samantalang parehong panig naman ang may kasalanan. Nawa'y maging aral ito sa atin upang walang kaharasan ang maulit.

— deins (@drsaintss) October 20, 2016
How about you? What was your reaction to the incident? Share your thoughts on the matter on publishing platform X! – Rappler.com