#TayoSiPAB trends online as supporters rally around Jover Laurio after she finally comes forward as the person behind Pinoy Ako Blog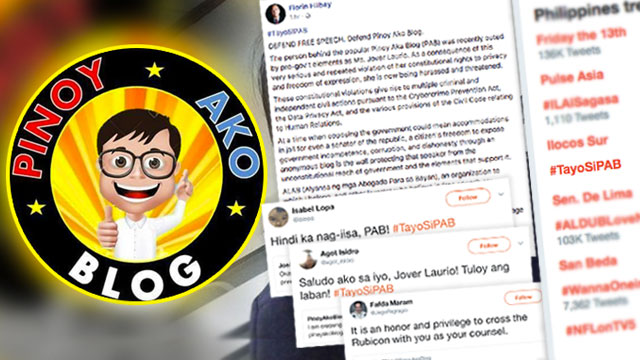 MANILA, Philippines – Jover Laurio faced an onslaught of threats and harrassment online after her identity and photos were revealed and spread online. Her blog, Pinoy Ako Blog, is known for its criticism of President Rodrigo Duterte and his supporters.
On October 13, 2017, she finally revealed her identity in a blog entry where she also said she will avail of legal remedies to fight back against those who attacked her. (READ: Who's behind Pinoy Ako Blog?)
As soon as her blog was published, several supporters took to social media to praise Laurio for her courage to speak up using the hashtag #TayoSiPAB. The hashtag eventually trended on Twitter.
"We benefit a lot from a speaker like PAB, who communicates our outrage in ways that make us laugh. Instead of us seething with anger, PAB provides the facility to dissent powerfully through magical instruments that meld logic and emotion – humor and sarcasm. Let's defend PAB," said former solicitor general Florin Hilbay.

Hilbay said the Alyansa ng mga Abogado Para sa Bayan (ALAB) will extend legal services to Laurio. 
– Rappler.com