Filipinos online mock the security drills for potential terror attacks or hostage-taking incidents in Boracay, calling it 'overkill'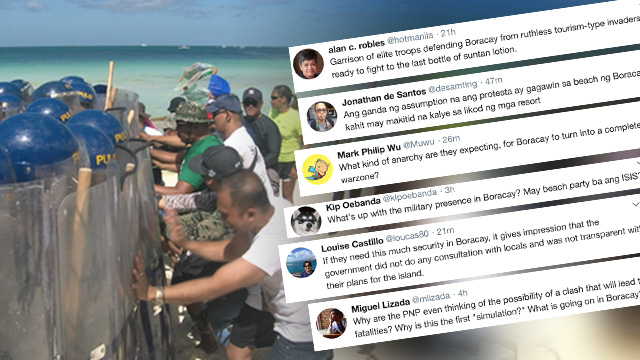 MANILA, Philippines – Filipinos love their action flicks, but the action-packed events on the shores of Boracay on Tuesday, April 24, failed to amuse local netizens.
Two days ahead of Boracay's closure to tourists, the Philippine National Police (PNP), Philippine Coast Guard (PCG), Philippine Navy, and Bureau of Fire Protection (BFP) simulated a protest, a terrorist attack, and a hostage-taking incident.
While authorities said they want to be prepared for potential "threats," online response has been mostly negative, with the simulations criticized as "overkill."
Netizens found it unlikely that such situations would occur on the island because of the closure, much less that these would happen right on the beach.
Others also lamented that much effort was put into the security drills, when the West Philippine Sea doesn't seem to be defended as fiercely, and when Boracay's closure was prompted by relatively benign environmental reasons.
Here's a sampling of the reactions:
Training in Boracay – Curated tweets by rapplerdotcom
What are your thoughts on the security drills? Share your point of view on publishing platform X! – Rappler.com