Watch the livestream of the conference on Rappler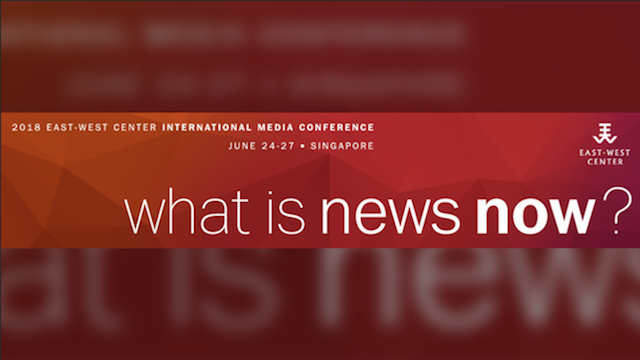 From eastwestcenter.org
The intersection of media, technology and social change has brought profound disruption to the business of news and storytelling. This East-West Center conference will bring hundreds of media professionals together to look at new-era trends and transformations in media and the news itself.
The conference will include speakers on transformative issues shaping today's world, particularly in the Asia Pacific region — artificial intelligence, digitalization, China's rise, populism and identity politics, future of trade, smarter cities, and emerging issues that may not have yet made the news.
What kinds of creative reporting and business models are emerging in the region to tell and deliver stories?
What is the level of trust between the public and media in Asia Pacific? How is misinformation being tackled?
What should be regulated on social media platforms in the region, and how?
Speakers:
Caitlyn Chen, vice president of Tencent, the world's 5th largest tech company and operator of WeChat, on technological innovation in China's media industry.
Maria Ressa, CEO and executive editor of Rappler, on undermining of the free press. 
Joshua Benton, director of the Nieman Journalism Lab at Harvard University, on transformations in US/global media. 
Coconuts Media founder & CEO Byron Perry on digital storytelling: YouTube to Facebook to Netflix.
Alan Soon, co-founder & CEO of The Splice Newsroom on transformations in Asia's media and journalism.
The Atlantic national correspondent and author Graeme Wood on the spread of ISIS in Asia.
Journalism initiatives across Asia: Anubha Bhonsle leads #GenderAnd, an initiative to cover gender across intersections at The Indian Express.
Saumya Khandelwal, award-winning Thomson Reuters photographer, on using Instagram to draw attention to underrepresented groups such as child brides
Kamal Siddiqi, director of the Center for Excellence in Journalism in Karachi, on enhancing the profession.
News on Facebook: Facebook's Jason White, Director of News Partnerships
Tackling "fake news" and disinformation in Singapore: Janil Puthucheary, Senior Minister of State, Ministry of Transport & Ministry of Communications and Information, and The Straits Times editor Warren Fernandez
Shaping stories through lens of identity and your mobile: Yusuf Omar, co-founder of Hashtag Our Stories and global trainer on mobile phone storytelling
Smart, livable cities: Kok Ping Soon, chief executive for Singapore's GOVTECH and Limin Hee, director of Centre for Liveable Cities
– Rappler.com