A video of two drivers in a heated argument along a flyover in EDSA has gone viral on Facebook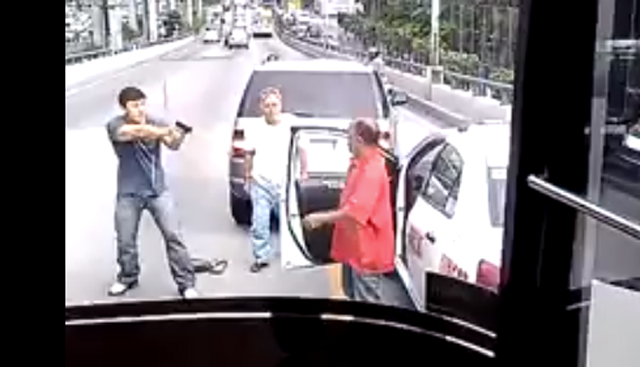 MANILA, Philippines – As if EDSA traffic weren't stressful enough, what would you do if you encountered this on the road?
In a video that made rounds on Facebook this week, two drivers were caught in a heated argument in the middle of a flyover along EDSA and near Camp Crame.
In the video, a man wearing a blue shirt, kicked the door of a white taxi and tried to stop its driver from getting out.
He pulled out a gun from a bag as the taxi driver, wearing a red shirt, emerged from his cab, himself holding a sharp-pointed object.
The gun was pointed at the taxi driver, who threw the sharp-pointed object back in the taxi. They argued for a while, but the man in the blue shirt eventually put away his gun and took the sharp-pointed object from the taxi driver.
The video was shot from inside one of the public buses plying EDSA. As the two drivers went back to their respective vehicles, a voice in the background can be heard noting their plate numbers: KDP 313 for the Mercedes-Benz and UVN 607 for the taxi.
But the scene did not end there. As the Mercedes Benz drove off, the taxi driver ran back to his cab and drove off as well, tailing the first car. A few meters away, the taxi cut off the Mercedes-Benz, and they stopped at another side of EDSA for another round of confrontation.
See the video below, as reposted by Youtube user cisconix:
Facebook user Mark Norman Mendenilla said after he shared the video on Saturday, July 26: "Dapat sa mga ganitong tao eh tinatanggalan ng lisensya ang baril. Paano ba 'to nabigyan ng lisensya eh sa ganitong sitwasyon lang bumubunot kaagad? There was never a threat to pull out his firearm."
(People like these should be stripped off their gun licenses. How did this man get a license if he takes out a gun just in a situation like this? There was never a threat to pull out his firearm.)
The Facebook video by user Naoj Ragiaba had 35,603 shares before it was taken down Saturday. – Rappler.com