This is AI generated summarization, which may have errors. For context, always refer to the full article.
#PaintTheirHandsBack sparks protests against the painting over of Bench's Love All Kinds of Love campaign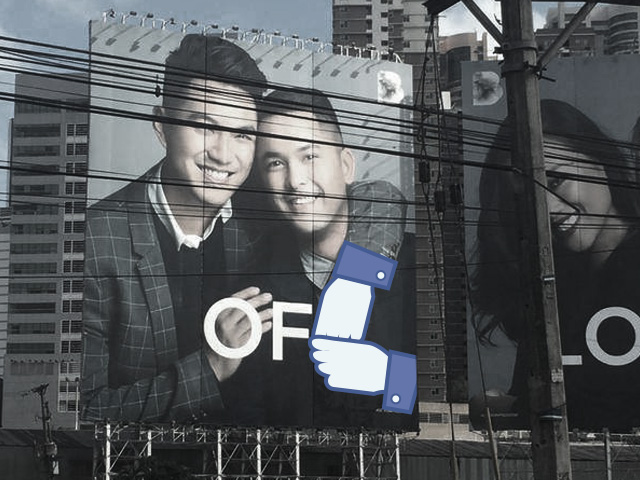 MANILA, Philippines – In a move that was lauded as monumental and progressive, Philippine retail giant and lifestyle brand Bench recently unveiled an ad campaign that showcased different kinds of love on February 11, 2015.
Sadly, however, not everyone seemed to be a fan of the campaign and its message. Two days after the billboards went up, a campaign on Facebook started, protesting the painting over of one of the billboards.
Love All Kinds of Love
The campaign, called "Love All Kinds of Love," showcased different couples: actress Gloria and grandson Chris Gutierrez, model and Survivor Philippines castaway Solenn Heussaff and fiancé Nico Bolzico, Preview creative director Vince Uy and boyfriend Nino Gaddi, makeup artist Ana Paredes and girlfriend, interior designer Carla Peña.
The beaming couples proudly graced the billboards along EDSA, receiving praise and an outpouring of love on social media.
Writes Vince Uy on Instagram: "I've always believed in equality and freedom, especially when it comes to love. That is why I'm so proud to be part of this mindset-changing campaign. It's about time we all #LoveAllKindsOfLove."
How the campaign started
Much like love itself, the campaign was serendipitous. 
Raymond Ang and Paolo Lorenzana met with Bench founder Ben Chan to discuss projects for Bench's print magazine and blog before the Christmas break.
"Ben Chan nurtures ideas and gives us a lot of creative reign. During this meeting, I thought it an opportunity to pitch a magazine for the thinking gay man. The discussion led to a few jokes about having a gay couple kissing on one of Bench's billboards," Bench's B/Blog online editor Paolo Lorenzana reveals to Rappler.
He adds: "Apparently, Ben Chan has been thinking of a campaign like that for a while now. He gave us the go signal to put something like that together but to include different kinds of love that would show that same-sex relationships are just as valid and substantial as those between heterosexuals or the love between family members." 
What did they think of the response?
"I am honestly just glad and grateful that those billboards are up. I expected them to be taken down but for me, as long as those billboards were up for an hour with people seeing those images, that was enough," shares Paolo.
#PaintTheirHandsBack
The celebration quickly turned to criticism when people began to notice a discrepancy between the campaign Bench visualized versus the actual billboards.
The day before Valentine's day, February 13, 2014, Thysz Estrada shared the photo on Facebook with the caption "What do they think they're painting over? #LoveAllKindsOfLove" pointing out the painting over of the hands of Vince Uy and Nino Gaddi.
"I hoped I could start a discussion because it really made me feel bad. Ang sakit sa loob (It really hurts my feelings)," confides Thysz.
"Then that thread took on a life on its own. Then comes Rob Cham with a brilliant idea. He made the first hand."
Illustrator and comics artist Rob Cham responded with his own take on the issue:
"It was like a plea: if you think what happened is unfair, put their hands back. That became the hashtag," says Thysz.
It didn't take long after Rob Cham's initial idea that the hashtag caught fire and sparked other artists and netizens to post their own takes on the billboard.
From hooks, to tentacles, and wire art, the outpouring of support for the campaign was rapid and contagious.
"While I am disappointed in the painting over, I am happy at its outcome. People are not stupid and Filipinos obviously want change," Paolo says.
"This (#PaintTheirHandsBack) is the creative community's ingenuity. It's great because what was an image that spoke pretty loudly is now echoing thanks to this meme that Rob's set off. I just hope a meme gets more people looking and discussing the issue. That everyone from colegialas (college girls) to Potato Corner attendants will talk about the whys of what's happened. So all for it, grateful, and overwhelmed," he adds.
In a comment made to Stylebible, Bench Advertising and Promotions Manager, Jojo Liamzon says, "The ad board thinks holding hands is too gay."
ASC 'not a censorship body'
The Ad Standards Council, however, maintains that they did not order the painting over of the billboards.
"We are always adhering to prevailing moral and social standards of the country. We believe advertisements should not be offensive, derogatory nor should [they] alienate certain sectors of the community," said Executive Director Mila Marquez.
"This particular series was not blurred by ASC. We were surprised they blurred it… Possibly because they think they will be given approval if they do that."
"We had discussion with them particularly because they put up the billboards without clearance to display. If at all, they were given approval to produce it. If ever there is violation, the violation is more procedural than conceptual."
"The ASC is not a censorship body. What we're promoting is self-regulation, meaning clients and ad agency are the ones who should also regulate themselves," she adds.
This isn't the first time a campaign by the brand has sparked controversy. In September 2014, Bench's billboards also received flak from the MMDA for their racy captions.
What do you think of the campaign? – Rappler.com