The advocacy group warns that upcoming elections in other countries continue to be at risk
Facebook's disinformation problem has only worsened, according to a new report by US-based advocacy group Avaaz.
The group found that Facebook could have prevented an estimated 10.1 billion views for top-performing pages that repeatedly shared false or misleading content over the 8 months before the US elections. Facebook did not act early enough, according to the report, allowing disinformation to flourish in the recent US election cycle even more than the lead-up period to the 2016 polls.
From October 2019, the report also said the top pages spreading disinformation were able to triple their monthly interactions from 97 million to 277 million in October 2020 – allowing these pages to rival the interactions being generated by the top 100 US media pages, such as CNN and MSNBC, on Facebook. This meant US voters were exposed in almost equal measure to both high quality information and disinformation. 
It wasn't until October 10, 2020 – less than a month before the November 3 polls – that Avaaz noted a decline in the spread of election-related disinformation when Facebook enforced its emergency policies, and changed its algorithm to prioritize high quality news sources, and push down pages spreading disinformation.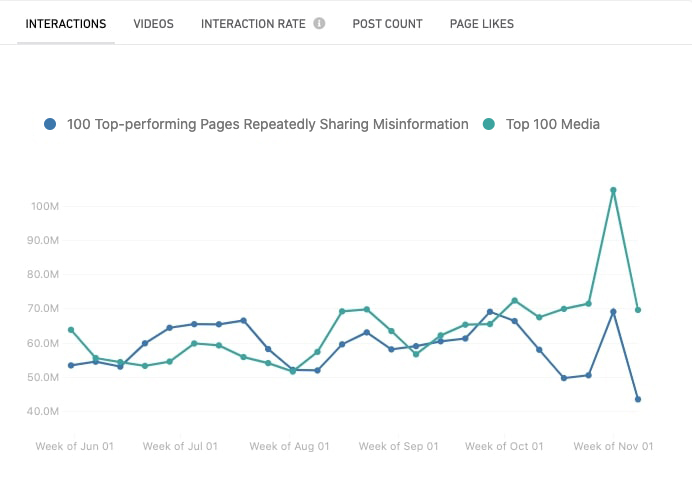 These emergency algorithmic changes have since been rolled back, but it showed that Facebook can fix the algorithm if it wanted to. Future elections could be in jeopardy as the algorithm has returned to its demonstrated fondness for fake news.
Avaaz's findings counter Facebook's self-proclaimed victories against false news during the US elections.
"Facebook only discloses the data it wants to disclose and therefore evaluates its own performance, based on its own metrics. This is problematic. Put simply, Facebook should not score its own exam," said the group. 
Avaaz urgently called for government regulation, saying, "If the administration and Congress do not prioritize fixing this issue, all of their other policy priorities, from the COVID-19 response to racial justice, could be sabotaged."
The group urged lawmakers to force social media companies to increase transparency, and undergo independent audits; to "detox the algorithm" and change the way algorithms incentivize and amplify content; and consistently "correct the record" and reach out to users who have been exposed to disinformation, among other changes.
It also called for an investigation looking into Facebook's role in the January 6 insurrection.
"Moreover, it is not only American democracy that is at risk. With important elections in Mexico, Ethiopia, Hong Kong, Germany, Iraq and elsewhere scheduled for this year, and increased economic instability due to COVID-19, the international community at large needs these democratic protections. The United States has a responsibility to the world to ensure that Facebook and other American-based tech platforms do not cause further harm," it added.
You can read the full report here. – Rappler.com