Google Search also shows that there were more than 500,000 searches for Diaz on July 26, the day she won the Philippines' first Olympic gold medal
Facebook in its Facebook Sports newsletter sent out on Tuesday, July 27, said that Olympic gold medalist Hidilyn Diaz was the most mentioned athlete globally, covering the previous 24 hours.
Simone Biles, the American gymnast who retired from the 2020 Olympics citing mental health issues, was second most mentioned on Facebook. Rayssa Leal, the 13-year-old Brazilian skateboarder who took home silver in the women's street skateboarding event, was third.
On Instagram, Diaz was third most mentioned, following Leal and Italo Ferreira, the Brazilian surfer who made history as well by taking home the gold in the sport's first official Olympic appearance.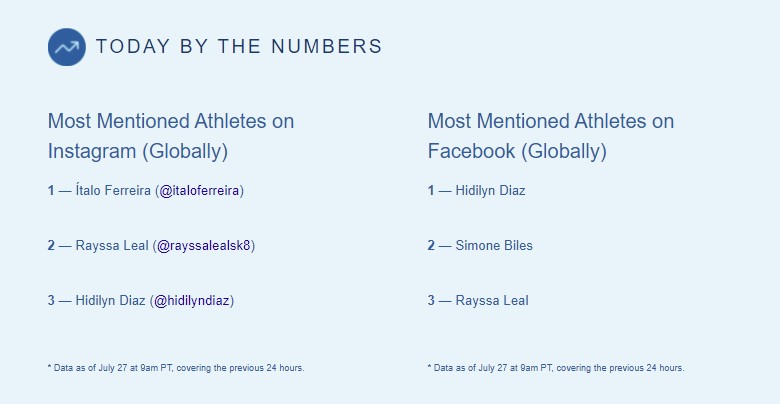 The Philippines, which has topped the world in terms of average time spent on social media for six straight years, made sure it was heard after Diaz's historic win. The country was the loudest country on Facebook, said the company, measuring the number of people talking about the Olympics on the platform.
The US came in at second while India rounded out the podium at third. The Philippine flag was the third most used emoji of the day on Facebook, along with the heart and applause emojis.
Facebook said that after her victory, Diaz was "the most-mentioned athlete on Facebook, and third most-mentioned on Instagram, over the past 24 hours."
"Over that same span, the Philippines is the country talking about the Olympics the most on Facebook. And the Philippines flag is the third most-used emoji on the app."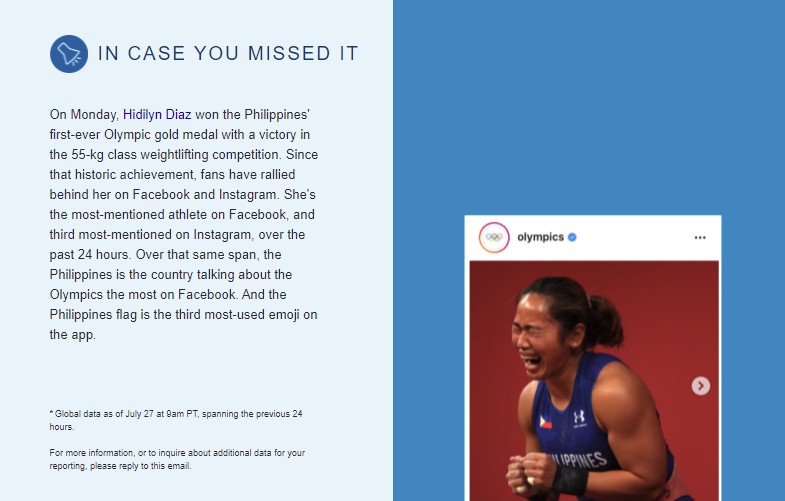 On Google Search, Diaz topped searches in the Philippines with over 500,000 searches on Monday. Majority of the related queries were naturally Olympics-related including weighlifting, the country's medal count, and Liao Qiuyun, but also included an outlier in Rodrigo Duterte.
Aside from the Philippines, where most of the search volume for Diaz came from, the four other countries in the top five for search interest are Qatar, Singapore, Laos, and New Zealand.

On Tuesday, July 27, people searched for the prizes that the weightlifter was receiving, with the topic coming in at top nine that day.
On Twitter, tweets about Hidilyn Diaz totaled at around 800,000 from July 25 to July 30, 2021, according to the company. The top 5 hashtags related to Diaz in that period, from top to lowest, were #weighlifting, #phi, #gold, #HidilynDiaz, and #LabanPilipinas.
The tweet with the most engagement came from the official Olympic account:
This was followed by a tweet by Gretchen Ho showing the hands of Diaz and the gold medal, and tweets from @krizzy_kalerqui, @theklmanuel, and @jihoonbabcola. – Rappler.com