Thank you for a year when you chose to stay honest, decent, and true!
In the bloodied streets of Metro Manila, or the flooded villages in Northern Mindanao, Christmas may seem like an unwelcome visitor today, bearing not gifts but bags of burden and bad memories. The past 12 months have not been easy for many of us here and in other parts of the world, that if only we could end the year soon enough and bury it.
Yet, the season is not so much about giving as it is about thanksgiving. It's not so much about the merrymaking as it is about celebrating what others have done for us to ease life a bit, to make things better, to give us hope.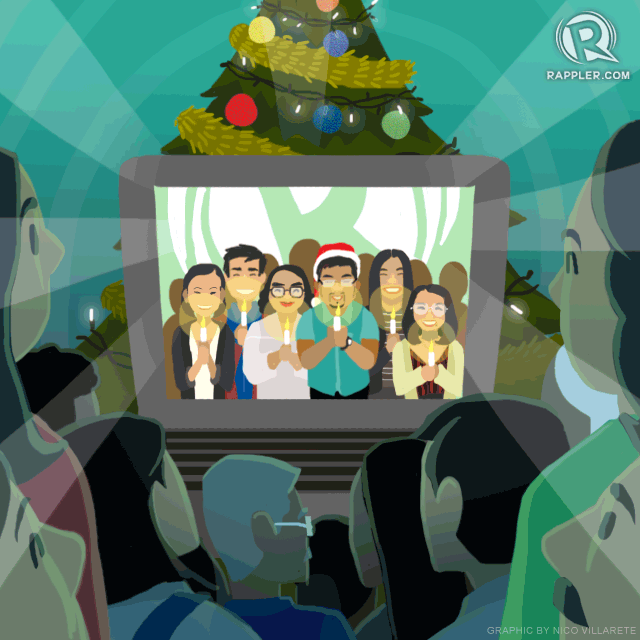 There's logic to why Christmas comes at year's end. It's an annual dose of cheer that we all need in a world made more complex and demanding by our wishes that no longer match its humble beginnings in a manger. It's a constant reminder of the reality that we often fail to see – that the intangibles are enough for Christmas, especially in the toughest of times: family, friends, community; a sense of purpose, a meaning to what we do.
At Rappler, we are grateful for many reasons this season.
For the days when you helped us survive the torrent of hate and scorn.
For the times when you exposed the lies and confronted the fake.
For the grief that you shared so that others may learn.
For the questions you never got tired of asking.
For the passion that you put in the work that you do.
For the acts of courage that you showed as they knocked on your doors.
For the peace that you built in the cities that they seized.
For the wars that you fought to defend the innocent.
For the money that you made that helped people's lives.
For the love that you expressed in small and big ways.
For the blessings that you spread with no expectation of returns.
For the little steps that you've done to make this a more caring world.
And for the year when you chose to stay honest, decent, and true.
Thank you, from all of us at Rappler.
May we all have a meaningful Christmas! – Rappler.com