The frontliners, professionals, and public officials who have a stake in public health are speaking up and must continue to speak up to fix an ambulance, so to speak, that's already running flat
It's not as if we suddenly woke up one morning to realize that the Philippine Health Insurance Corporation (PhilHealth) is corrupt or that billions in unused contributions have been diverted to fraudulent claims.
"The anecdotes behind these claims are both tragic and true," wrote Edwin Espejo in a Newsbreak investigative report on PhilHealth as far back as 2011. "In Iloilo, one eye doctor claimed to have performed 2,071 eye surgeries in one year, for a total of P16 million ($328,000) in professional fees that he collected from PhilHealth in 2006. When a PhilHealth inspection team visited a hospital in Davao City, it caught janitors in hospital beds pretending to be PhilHealth-accredited patients."
It's not as if we woke up one morning to realize that our public nurses and health workers are underpaid or that they often mistake hazard pay for a bonus – because that pay comes in trickles, if at all, despite the hazard they face most of the time.
"Registered nurses hired by hospitals commonly receive an average salary of P9,757 (about $193) a month," wrote Rappler reporter Bonz Magsambol in May. "In government, the average salary per month is around P13,500 (about $258)."
In this pandemic, anecdotes abound about many of them being unable to pay rent and drowning in debt as their salaries get choked in an inefficient, apathetic, and corrupt bureaucracy.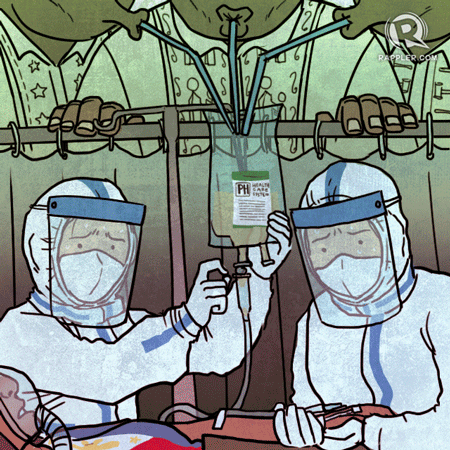 Our health care system was already in dire straits before this, prompting the United Nations to put us in the "red" category, along with Myanmar, as two countries in Southeast Asia that will likely limp their way to recovery.
The tragedy is that the coronavirus did not change the situation, it got worse under a government that had the temerity last week, 5 months into the pandemic, to hold a ceremony to beat its breast for its planned distribution of 30 million face masks.
From the top, this pathetic, inhuman obsession of leaders with self-promotion and self-defense streams down the line.
For just as we thought we'd been numbed by official callousness, we saw the Cainta mayor, aided by Duterte's troll army, gaslight the grieving daughter of a nurse who died due to COVID-19 and who exposed government neglect and failure to protect its own.
We also listened to PhilHealth officials nonchalantly explain away allegations of ghost claims, ghost patients, and ghost illnesses, even as the undefeated virus kills real people fighting this war in the trenches.
If PhilHealth truly needed to modernize and is run by so-called innovators, as its top-of-the-line IT shopping list shows, this cash cow of an agency should then have been modern enough to early on plug holes in its flawed insurance claims, tweak processes to favor those who needed help the most, and run in panic mode to inject aid to hospitals bursting with patients, old rules be damned.
But what did we see? An advance reimbursement scheme that followed, to the letter, the previous year's allocation, like this was normal times. The biggest beneficiary in 2019 was the Davao City-based Southern Philippines Medical Center (SPMC), and in the year of the pandemic, it got the same privilege – never mind that other regions needed more or failed to get what was promised them.
Truth is, the densely populated and landlocked NCR and neighboring regions, as well as Cebu, were hardest hit by the pandemic. In a crisis, PhilHealth should have known better and ditched protocol, for would they have been faulted for declaring in a congressional hearing that, your honor, "I short-cut the rules to save our countrymen"?
Waving the "imperial Manila" flag to protest the singling out of the SPMC, which claims to serve all the island regions of Mindanao, is a cheap shot to deodorize the stink of the Interim Reimbursement Mechanism (IRM), which the PhilHealth suspended on August 13. And it's made cheaper by the fact that Mindanao has, in reality, gotten so much attention – including from Rappler, for example – and resources, which it rightfully deserves.
Is there hope in a country where, in the words of economist Noel de Dios, the blind is leading the blind and where decision-makers cling to the fallacy that public health needs to be sacrificed for the economy?
The ray of light comes from the frontliners themselves – from the courage of doctors in forcing the hand of government to save us from hell; to the pushback of health workers who are now demanding more efficient, agile, and smart leaders – and exposing those who aren't; to the policemen and soldiers who quietly say, no, it doesn't make sense to impose distancing within homes.
What the last weeks tell us is that government actually needs our courage so it can move its ass. We should not wait for problems to simmer to the point of inviting congressional probes before we fix public health processes that no longer fit the pandemic environment.
The frontliners, professionals, and public officials who have a stake in public health are speaking up and must continue to speak up to fix an ambulance, so to speak, that's already running flat. – Rappler.com