For the Ombudsman to say that journalists and the public have 'weaponized' the SALN is to spin a hidden agenda: to scrap transparency and protect those who need to hide unexplained wealth
We join our fellow journalists, lawyers, and transparency advocates in denouncing Ombudsman Samuel Martires' proposal to amend the law on public officials' Statements of Assets, Liabilities and Net Worth (SALNs), or Republic Act 6713.
Martires wants further restrictions on how the public and the media could access officials' SALNs, and he acts as if there are not enough restrictions already in place. Let us name some of them:
President Rodrigo Duterte's 2018, 2019, and 2020 SALNs remain a secret. This is the first time since the fall of the Marcos dictatorship that a Philippine president has refused to release his SALNs.
Duterte can say he's not violating anything, because the Ombudsman himself – supposed guardian of the public trust and watchdog of public officials – has stopped issuing SALNs to the media since 2018.
An Ombudsman circular issued last year, stripped of legalese, means that public access to SALNs will depend on the willingness of the concerned government official to grant it.
The Supreme Court also used to release summaries of the justices' SALNs, but has stopped this practice since 2018. Rappler's requested access to the full SALNs of the justices for 2018 and 2019 were denied. A layer added to the process is for anybody who requests to submit a notarized form.
In 2012, the House of Representatives started refusing to automatically release its members' full SALNs once filed. Summaries of lawmakers' assets and liabilities are just posted on the House website, and requests for full access require notarized forms and can be denied by a lawmaker – such as when Rappler tried in 2012 and only five representatives agreed.
The Senate does the same – just posting summaries on the website.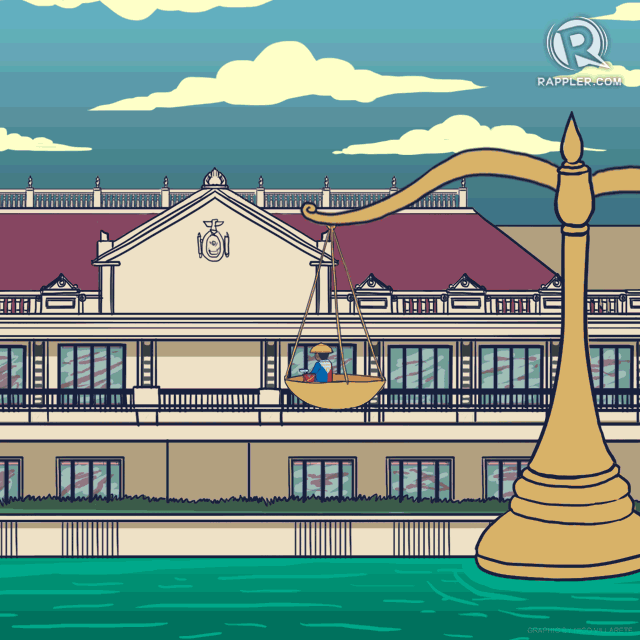 The Constitution and related laws require all public officials and employees to file every year a "true, detailed and sworn statement" of their assets, liabilities, and net worth, including business interests and financial connections to anyone or any group.
The key word here is "required." Disclosing one's SALN is an obligation of a government employee or official, because it's the only publicly available tool to measure a public servant's integrity and transparency.
He or she is mandated to disclose because the time spent with the government is time paid for by taxpayers, and any notable increase in wealth should be on account of idle income from assets acquired before joining government. There is a reason it's called "public service." (READ: SALN, the first test of probity)
Yet for years, the country's elected and appointed officials – led by the Ombudsman – have made a mockery of the spirit behind this requirement, acting as if they're doing the public a favor by releasing their SALNs.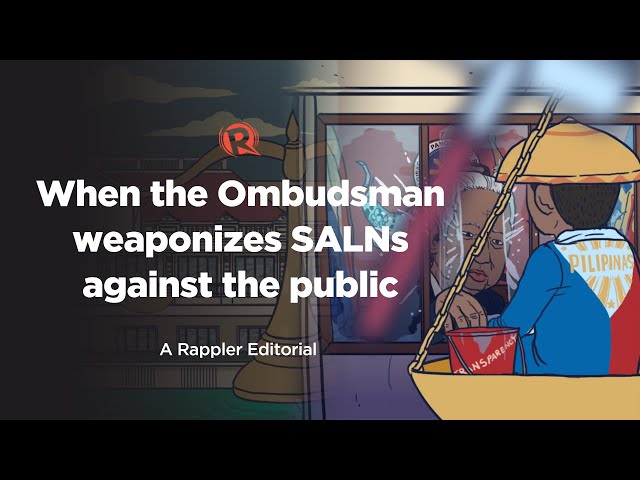 And now Martires adds insult to injury by seeking to further dilute the SALNs; he wants to jail journalists making "commentary" on the wealth statements, among other untenable roadblocks.
The Ombudsman borrows the language of dissent and argues that the SALNs have been "weaponized."
Well, he is correct: the SALNs have been weaponized against the public, because these documents are now housed in impregnable fortresses – provided with armor and shielded from scrutiny. Even if an official makes false declarations in his SALN, he can now take comfort in the fact that the annoying reporter or anti-corruption advocate would not discover it or eventually find out – but such would have been meaningless because he either just got reelected or has retired from government.
To put it plainly: even without Martires' unethical proposals, Filipinos today do not have ready access to information on the wealth and assets of the very people who are sworn to serve them.
If Congressman A lives in a 10-car garage mansion in Forbes Park and his family travels to Europe three times a year on business class and his three children are all studying in Ivy League schools in the US and he owns three beach resorts outside Manila, what gives? Does he have other legitimate sources of income that could afford such private luxury?
The public wouldn't know unless they saw his detailed SALN, which under the present circumstances could only be seen if the lawmaker volunteered it.
So for the Ombudsman to say that journalists and the public have "weaponized" the SALN is to spin a hidden agenda: to scrap transparency in public service and protect those who need to hide their unexplained wealth.
This is unacceptable, and we will count on the collective spirit of our communities to block it. – Rappler.com