So far, the candidate who has been able to connect and communicate with the Cebuanos the best has been Davao City Mayor Rodrigo Duterte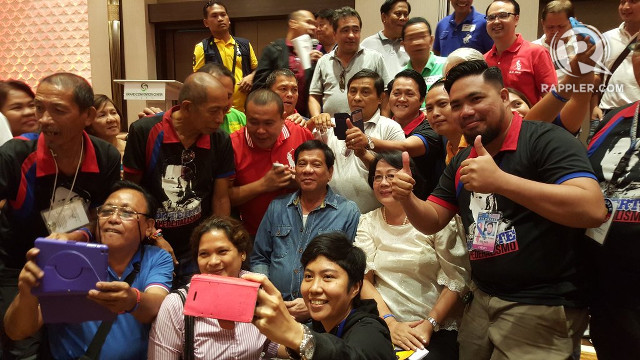 By now, all of the presidential candidates have stopped at the vote-rich province of Cebu. 
Cebu is an important province to win for the presidential candidates. 
Former president Gloria Macapagal Arroyo thanked Cebu for "making her president" in 2004, and held a separate inauguration in Cebu as president. 
Though accused of cheating, she won by 965,000 votes over her rival in Cebu, the late actor Fernando Poe Jr, who got 123,000 votes. 
As the reporter assigned to cover the vote-rich province of the now 2.7 million registered voters, I've had the chance to observe all of the candidates so far – from what they've said, how they've interacted with people, and the promises they've made to the people of Cebu.
And so far, the candidate who has been able to connect and communicate with the Cebuanos the best has been Davao City Mayor Rodrigo Duterte. 
Cebuano roots
Duterte speaks the Cebuano variation of Bisaya, his family hails from Danao City, north of Cebu City, where he lived until he was 5. 
His promises of peace, security and good governance are as easily sold here as in any province.
And while he is related to the Duranos of Danao, his opponent Grace Poe had already secured the support of many of the Duranos and their local Bakud party through her campaign manager, 5th District Representative Ace Durano.
So with very few options left in terms of aligning with dynasties and local parties who've already declared support for other candidates, Duterte had to take another route.
That first route was through his humor.
Bisaya humor
"Ang problema, sila napu'y mamili'g presidente sa Pilipinas. Ang gipili ra ba mga kawatan ug inutil (The problem is that the people will choose a president. And they want to choose a thief and someone useless)!" he said of of his opponents at a February 25 rally in Danao City, Cebu. 
"Mga pisot pa gyud (They're also uncircumcised)!"
Did he really have to make that uncircumcised comment? For those sold on a Duterte presidency, it doesn't matter.
Say what you will about his humor, it doesn't take away from the fact that Duterte can relate and communicate with the people in Cebu better than any of the other candidates. 
When Arroyo would visit Cebu during campaigns and her presidency, she would also speak in Cebuano. And it matters more than you think.
For example, when Grace Poe and Francis "Chiz" Escudero visit Cebu, they speak in straight Filipino. Escudero is especially fond of using words that are difficult for Visayan people to understand.
"Can he just speak in English?" I heard another reporter mutter under her breath during one of their press conferences in Cebu.
Common to Visayans
Going back to Duterte's jokes, they may be crude and crass, but these kinds of jokes are not uncommon in Cebu and across other Visayan-speaking areas. 
"Kung mo pildi gani ko, bantay mo tanan," Duterte said in Danao. (If I lose, you all better watch out.)
He said he'd go into the towns' infamous 'patalsiks' or gun factories, then he gestured at the crowd making a gun symbol with his fingers. 
Did he just threaten to kill all his kababayan in Danao? Yes, he did. 
But did this worry anyone? Nope, not one bit. In fact, they thought it was hilarious. 
I couldn't count how many times he said "patyon tika ron (I'm going to kill you)" and "yawa, pisti or puta" that day. 
But I also can't remember how many times Bisaya relatives or friends said jokingly (after irritating them or teasing them) "sumbagon tika ron" (I'm going to punch you) or "kusion nako imong lagay ron (I'm going to squeeze your testicles)." 
Duterte has been accused of overseeing and being directly involved in hundreds – if not thousands – of vigilante killings in Davao. So even if the threats are a joke, you better believe that his jokes are at least half meant.
But again, that doesn't bother the Cebuanos. This might be because drug raids, drug use and related crimes appear to be on the rise. Cebuanos are getting tired of hearing about grisly crimes, rapes and murders, which many believe were not as common a decade before.
Best product 
If the presidential candidates were salesmen, selling their platforms in exchange for votes, Duterte undoubtedly has, in my opinion, the most tangible product to offer: Davao. 
It is the peace and order situation he claims to have achieved in Davao, which makes his promise believable to many Cebuanos. 
A recent editorial in a Cebu newspaper, The Freeman, said: "There is a reason to believe that the violence of the past few days represents the first warning signs of an impending war." 
This was published a few days after two police officers were killed where their involvement in anti-drug operations in Lapu-Lapu City was the suspected motive. 
Duterte promises every province he visits peace and order, and that he would end criminality within 3 to 6 months. What he did in Davao, he promises to do for the Philippines.
So in Cebu, Duterte's Davao is not a hard sell.
His product is a city where peace and order reigns, where the man in charge is as funny as hell and tough as steel. But he is also a potential president Cebuanos can finally relate to. 
His advocacy for federalism is a song sung by many Visayans who feel neglected by what they call "imperial Manila."
On the ground support
Cebuanos, along with many Filipinos across the country – as displayed by the strong online presence of Duterte's supporters – believe that Davao City is the model the country should aspire to replicate. 
So they can let the crass humor, the cursing and the death threats go, as long as he delivers on his promises, which they are confident he will do.
The mayor's son Sebastian Duterte told Rappler that volunteers and local groups in Cebu are beginning to turn the online presence into on-the-ground support for the Duterte campaign.
But will Duterte's humor and promise of a peaceful and orderly province be enough to topple his rivals' alliances with the powerful dynasties?
Will Duterte's volunteers be able to match financial support of the dynasties? Will they be able to watch the votes come election day? 
Let's see what the next regional surveys say, and what happens on election day. Perhaps we'll be surprised. – Rappler.com
Ryan Macasero is covering the 2016 national and local elections for Rappler in Cebu. He was previously Rappler's #Balikbayan editor.