This is AI generated summarization, which may have errors. For context, always refer to the full article.
'When someone is trying to deter or blackmail you for 20 or 30 years and really hasn't done anything, you tend to really not care about it too much,' says one Taiwanese student
These days, Taiwan is often portrayed by international news as a chess piece between the US and China, a "vital" microchip making asset, a part of the "US first island chain of defense," and China's "rogue province" that the Chinese Communist Party (CCP) vows to take over "by at least 2027."
However, it is more than these. It is a country of 23 million people with its own culture, languages, indigenous nations, and thriving democracy. It is home to 150,000 Filipinos OFWs and students, as well as thousands of Filipino-Taiwanese and Filipino-Chinese. It is the first country to legalize same-sex marriage in Asia, enjoys much press freedom and rule of law, and has the most rigorous national healthcare system worldwide, where one can get a cyst operation and only pay P650 for the entire thing. Plus, awesome night market food.
In terms of Philippine-Taiwan friendship, I also recently found out during a community outreach that Taiwan's Tzu Chi Foundation also regularly collaborates with Angat Buhay to give relief goods to those affected by the severe storms that strike our country.
Recently, Chinese ambassador to Manila Huang Xilian has threatened the Philippine government: end EDCA now if they "genuinely care about the 150,000 Filipinos living in Taiwan." This threat has led to Senator Risa Hontiveros calling for this ambassador to be recalled and sanctioned. Again, China has unleashed its "wolf-warrior" diplomacy…and it has fallen on on deaf ears here in Taiwan. 
However, amidst the hysteria abroad over China's increased military drills and show of force near Taiwan, daily life in Taiwan and even in its outlying islands near China has continued uninterrupted, with most residents unbothered by Beijing's frantic threats.
When one goes around Taiwan at the moment, trains and buses are still packed to the brim during rush hour, people still flock to malls and scenic parks, school and work operate as normal, and daily news programs are mostly packed with the typical political gossip — mentioning China's incursions and provocations only once in a while. Fellow overseas Filipinos are also quite unfazed, continuing their daily work as normal, with not one OFW frantic to evacuate Taiwan. The majority of overseas Filipinos in Taiwan were in fact more confused as to why they have been singled out, rather than intimidated by Huang Xilian's words.
"Nothing to panic. It is not fair to single out just the OFWs. In case of conflict between China and Taiwan all of us will be affected because we are living here regardless of our nationalities or status", says Fr. Joy Tajonera, a religious community leader and migrant rights advocate in Taichung.
While these aggressive maneuvers by Beijing may seem like a recent development, my classmates and professors in National Chengchi University (NCCU), where I study, say Taiwan actually has a long history of dealing with threats of invasion from China ever since the end of the Chinese Civil War in 1949.
"I will say [my daily life is] not really affected. We have been threatened for so long. When someone is trying to deter or blackmail you for 20 or 30 years and really hasn't done anything, you tend to really not care about it too much.", says a classmate from NCCU.
In fact, one of my classmates recounts their father saying that the Taiwan Strait crisis in the '90s was far worse than today, when China fired missiles merely dozens of kilometers near Keelung and Kaohsiung in response to the election of Lee Tung Hui, who promoted more Taiwanese sovereignty and democratization. Taiwan's inching away from its "Republic of China" identity was seen as a violation of the "One China Policy."
Yet, the modern day People's Republic Of China (mainland China) has never ruled Taiwan for even one second. Taiwan was partly colonized by European powers, as well as a colony of the Qing Dynasty before it was annexed by Japan. After World War II, hordes of Kuomintang forces fleeing the advancing communists then took over the island, eventually establishing a 40 year-long martial law. For a large part of history, one could argue that Taiwan never got a say on its own statehood due to imperial powers both East and West.
The Philippines and Taiwan are more alike than we actually think. Aside from our indigenous groups having common roots and sharing a lot of customs and linguistic similarities, we both were subjugated by US-backed dictators throughout the Cold War and struggled similarly for decades throughout the '70s and '80s to restore our democracies. Additionally, we also face regular incursions from neighboring China, which wishes to establish dominance in the South China Sea – violating both of our sovereignties.
It is a bit upsetting to see that some in the international community and even a few Filipinos see us only as a "dispensable pawn of the US vs China, especially when so many of us rely on Taiwan for our livelihood and to feed family back home. There are in fact 10 times more OFWs in Taiwan than mainland China. While most of the time, the thought of invasion never crosses one's mind, when one roams the streets of Taipei seeing children happily strolling with their parents or the outskirts of Hualien encompassed by stunning wildlife, one could perhaps see that there is no such thing as a place "too dispensable" to leave behind.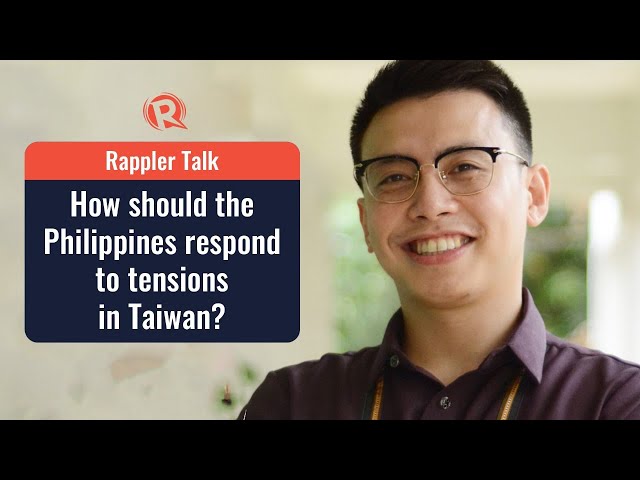 Beyond geopolitics lies the lives of actual people; fathers, mothers, toddlers, students, elderly of all nationalities, cultures, and backgrounds. Perhaps more than just seeing Taiwan as "strategic," we see it for the millions of people that make up its diverse nation – who have hopes and dreams like you and me.
Thus, it is vital that the whole world stands with Taiwan – not only because it manufactures the most advanced chips all of our devices rely on, not only because it is an affront to CCP's bullying, and not because it is an "allied-aligned" country. Taiwan deserves everyone's solidarity simply because it is Taiwan. Just like every nation, be it Ukraine, Hong Kong, Palestine, or even our own Philippines, it deserves to choose its own future. – Rappler.com
Girard Mariano Lopez is a 2nd year student at the International College of Innovation at National Chengchi University in Taipei, Taiwan, and a volunteer for Karapatan, Taiwan Stands With Ukraine, and various other human rights and environmental organizations in the Philippines and Taiwan.