A Filipino graduate of the Massachusetts Institute of Technology (MIT) rallies against those who belittle the achievement of UP's Tiffany Uy
Two things made me nauseous every time I looked at my newsfeed in the past few days: a Facebook post saying UP summa cum laude Tiffany Uy only got high grades because she's not Filipino, and the nonsensical ramblings of a UP professor questioning her achievement that I can't believe has over 1,600 likes.
Based on my newsfeed, I can see that people are incensed. And rightly so.
Be incensed.
If you are a Chinese-Filipino, be incensed. Because this questions our birthrights to be Filipinos. Because this insults the hardships our ancestors overcame to rightfully gain citizenship and bring us up in this land we call our home. Because this attitude discredits whatever we do as merely being a consequence of our race.
If you are a UP student, be incensed. Because this devalues your UP education. Because this insinuates that all your blood, sweat, and tears is immediately validated or invalidated by your race.
If you are a UP professor, be incensed. Because this denigrates your ability to teach. Because this calls into question the standards you hold yourself and your students to.
If you are a Filipino, be incensed. Because this exposes the mindset of a divided country not ready for progress. Because this crab mentality will time and time again, drag our country down.
If you are a decent human being, be incensed. If you are against bigotry and racism, be incensed. If you acknowledge the hard work, sleepless nights, and self-sacrifice necessary to achieve something over a 100,000 bright scholars tried to achieve over the course of 70 years – and failed to do, be incensed.
I am sharing the two posts in question, not because they contain any merit whatsoever, nor do I have the intention to raise anybody else's blood pressure. I am sharing it so that people are aware that in the 21st century, this kind of bigotry and narrow-mindedness still exists. People may be saddened by these posts, but it is not the time to stay sad or silent alone. In this day and age, silence cannot earn apologies from private clubs. Silence cannot get op-eds in the national dailies in your defense. Silence cannot get Supreme Courts to rule in your favor.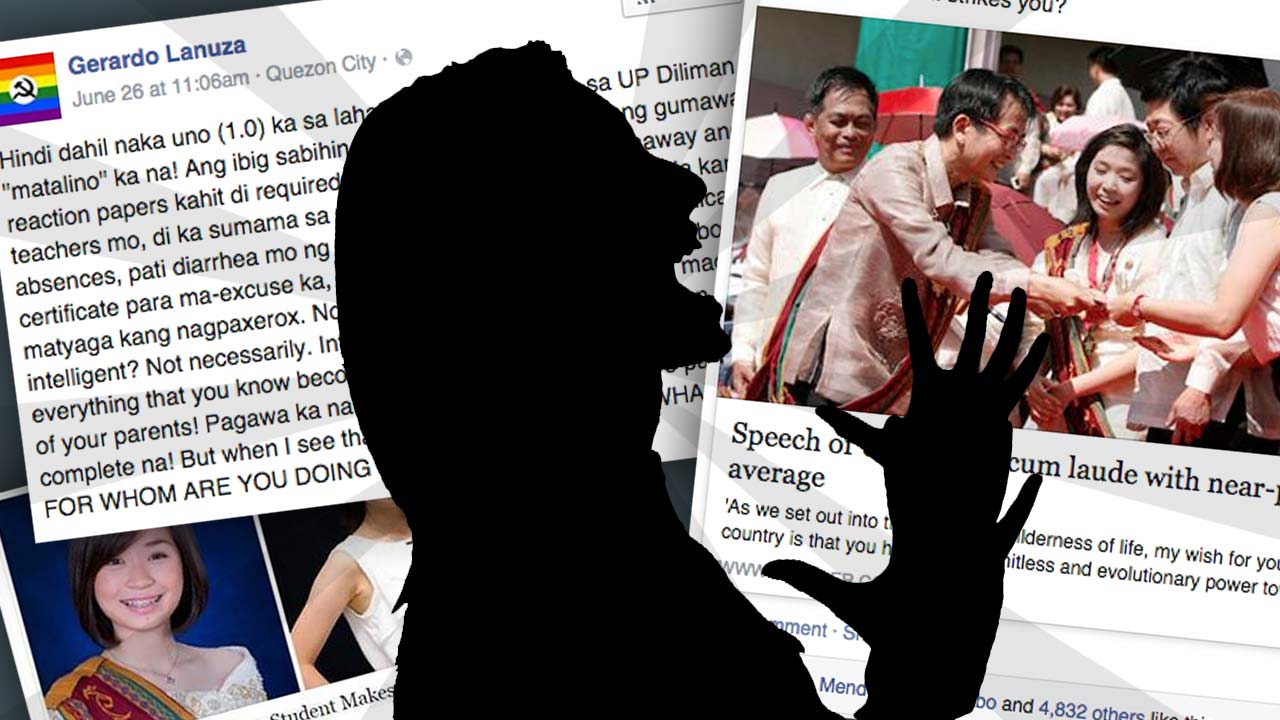 Since the 9th century, even before the occupation of the Spaniards, Chinese in the Philippines have been living silently and peacefully, preferring instead to convey their (I would like to use "our" but have done very little yet for our country) patriotism through hard work and action. But, at some point, we Chinese-Filipinos have to realize that no matter how little Chinese blood we have, no matter how many billions of pesos we generate for the Philippine economy, no matter how many awards we win for the Philippines on the international stage, these discriminatory ways of thinking will not cease unless we couple perseverance with our voices – voices that claim what is rightfully ours, our citizenship, our being Filipino.
Let us not be silent. Let us be incensed. – Rappler.com
Carmela Lao, 22, is a member of the Class of 2015 of the Massachusetts Institute of Technology in Boston, MA, USA. She graduated high school from Saint Jude Catholic School in San Miguel, Manila, and proudly won a silver medal for the Philippines in the 2010 International Math Olympiad.
This article was first posted on the author's Facebook page and is republished here with her permission.