This is AI generated summarization, which may have errors. For context, always refer to the full article.
This compilation was migrated from our archives
Visit the archived version to read the full article.
Before anything else, allow me to make quick corrections to last week's newsletter. One reader who is a member of the Manila Symphony Orchestra pointed out that they didn't have any engagement during the dinner reception for then-retiring Supreme Court senior associate justice Antonio Carpio, who thanked them at night's end during his brief speech. A check with Justice Carpio confirmed that yes, it was the Manila Philharmonic Orchestra that performed Friday night, October 25, at the Conrad Manila Hotel and that he had made a mistake. 
A second possibly confusing entry to some was my reference to a "mayor who was killed in Cebu City" when the story was about then-Misamis Occidental mayor David Navarro, who was killed in Cebu. Apologies for those slips!
Last Friday, November 1, while many were trekking to cemeteries, a group of us working on a traffic research project headed to a Makati cafe for a sit-down with someone who has studied mobility and traffic. It was, and continues to be, a very timely topic because even the October 25 trek to Manila for Justice Carpio's reception turned out to be an almost two-hour sojourn from our office in Pasig. The invitation was set for 5:30 pm and whoever organized the special event must have anticipated that invitees coming from different ends of the metro would be hours late. They were correct in their estimation and we were wrong in ours. We thought an hour-and-a-half would be sufficient but traffic-snarled Manila will always be unpredictable.
A very young man truly passionate about policies on traffic and mobility Elroy Rendor immersed himself in Japan and saw for himself how Tokyo has dealt with this typical big-city problem. But before I tell you about that in detail, we've done several reports on this issue, the latest of which is this story by researcher-writer Michelle Abad: FAST FACTS: State of Metro Manila's public transport system. Some interesting highlights from that report:
A 2019 Asian Development Bank study says Metro Manila is the "most congested city" among 278 cities in developing Asia.

As of August 2019, the National Capital Region accounted for over 1.6 million registered motor vehicles with the Land Transportation Office. This is equivalent to about 24% of the total 6.7 million registered vehicles nationwide.

In 2017, according to the Metropolitan Manila Development Authority, buses comprised 3% of traffic on major highway EDSA, compared to 67% of private cars.

A study by the Japan International Cooperation Agency has warned that the economic cost of gridlock in the metro can reach up to P6 billion (US$118.5 million) a day by 2030, a little over a decade away, if nothing is done.
Business reporter Ralf Rivas in October dared to walk 6.5 kilometers from his home in Quezon City to the Philippine Stock Exchange in Bonifacio Global City. Watch him document the experience in case you missed it.


The situation has not improved and given the anticipated Christmas rush (it's 49 days to Christmas), things will be much worse. Many will probably end up walking like Ralf. It wouldn't be such a dreadful thought if only EDSA were free of smoke belchers and deadly carbon dioxide. Filipinos are a patient race but I cannot truly understand why we tolerate what are clearly unacceptable health hazards. The health of traffic enforcers is most especially at risk.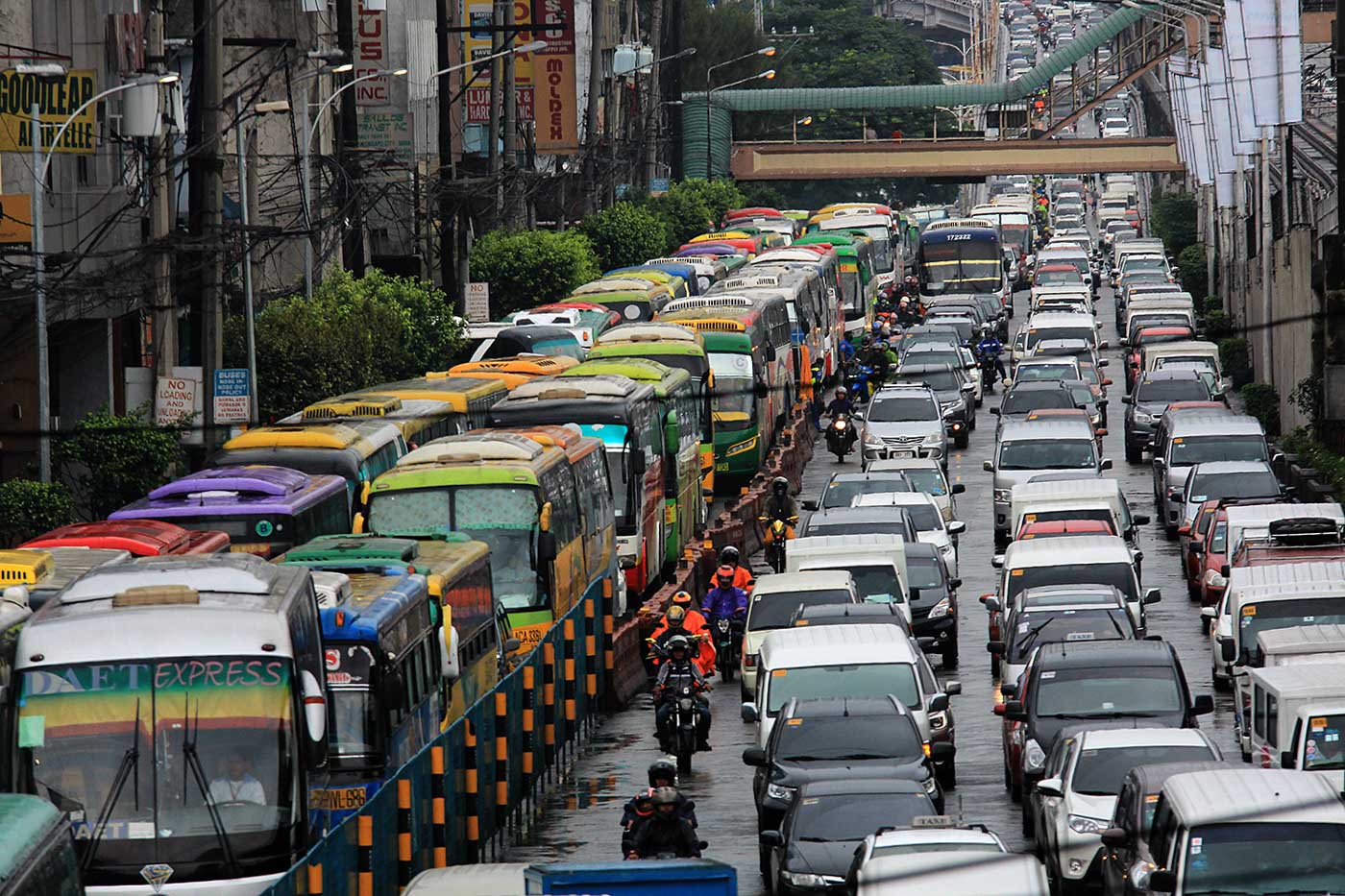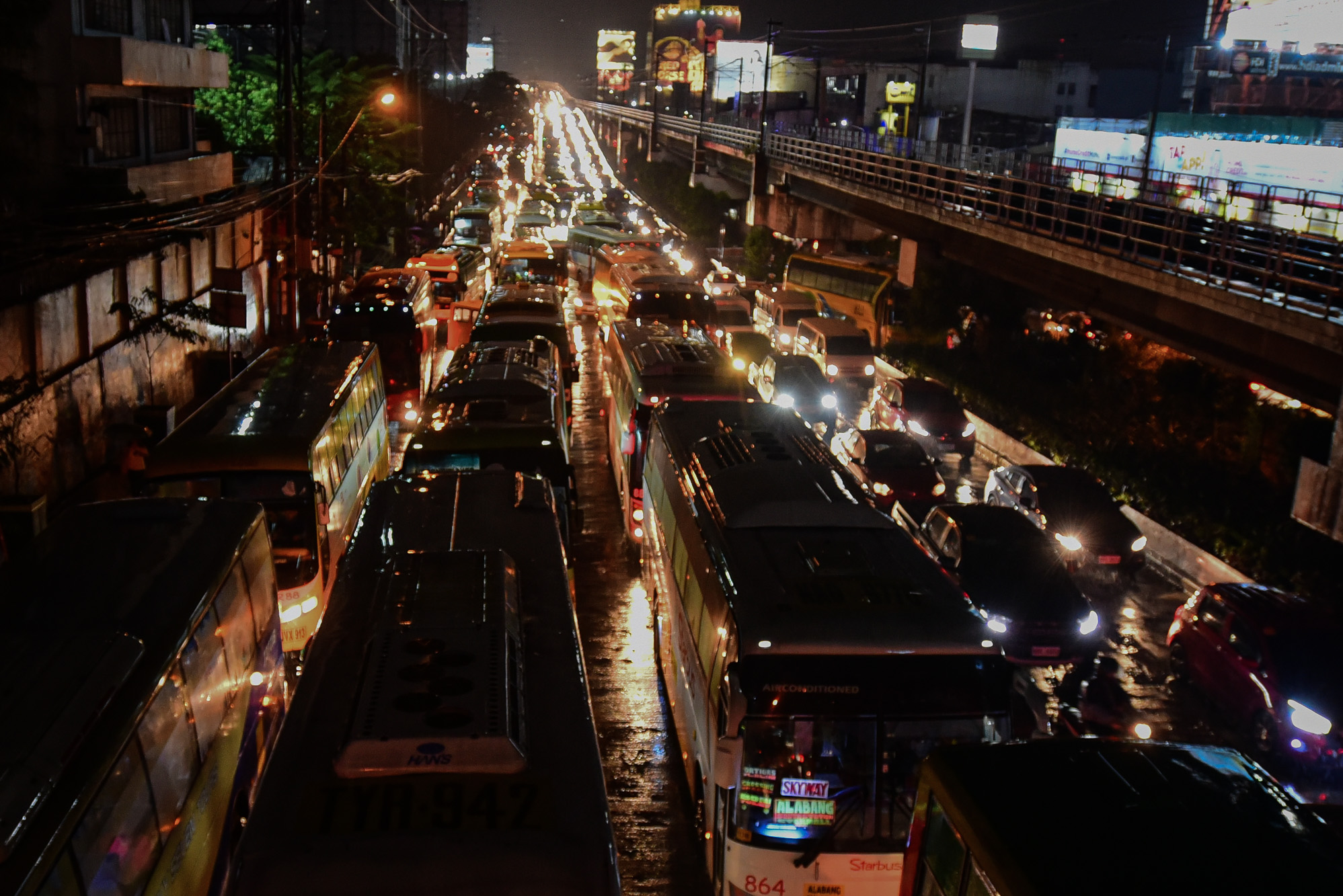 Elroy's Take. There's been enough said about the problem (as photos above show, there's not much difference whether it's daytime or nighttime during EDSA peak hours) so I won't go into that anymore. We relive traffic every single day and we know it's not gotten better. But Elroy had some ideas I can share with you: 
Transportation should dictate on townships, meaning mixed-use commercial development should complement transport. At present, real estate developers build where they want to and government plays catch-up, which is far from ideal.

The Land Transportation Franchising Regulatory Board (LTFRB) should be abolished because transportation should be viewed as a service and not franchise-based.

Tokyo has its Tokyo Metropolitan Government (TMG) headed by an elected governor, Yuriko Koike, who used to be a member of the House of Representatives and was environment and defense minister. Not just a technocrat, she is also politically savvy. TMG truly governs over the Tokyo metropolis. In contrast, we have the Metropolitan Manila Development Authority led by a presidential appointee who wields no real power over elected mayors of the metro. (READ: Belmonte, Moreno asked: Does Metro Manila need an elected governor?)

Decision-making should be data-based – not whimsical or merely intuitive – given what technology now allows.
These are just initial ideas. If you are a Rappler PLUS member, you will get an invite to our comprehensive briefing on traffic which we will be scheduling soon. This is an annual membership that you can sign up for here: Rappler PLUS. By being a member, you are also supporting independent journalism.
Important Newsbreak stories for you. 
Let me know what you think via chay.hofilena@rappler.com.

Newsbreak is where you'll find Rappler's investigative, in-depth, and data- and research-based reports. Be updated on the latest stories by liking Newsbreak on Facebook and following @newsbreakph on Twitter.