The cauldron is boiling and temperatures are rising as we approach the official opening of the 30th Southeast Asian Games which also coincide with National Heroes' Day on Saturday, November 30. The opening ceremonies will be held at the Philippine Arena in Bulacan.
Eleven countries are competing in 3 major categories: Compulsory sports, Olympics and Asian Games sports, and Regional and new sports. All the sports events listed under Team Sports (e-sports, floorball, netball, underwater hockey) and Combat Sports (arnis, ju-jitsu, kickboxing, kurash, and sambo) are new and would be exciting to watch.
By now you've probably heard about the numerous disasters that have plagued preparations that even foreign media couldn't fail to notice. Love of country and patriotism is one thing, reporting the truth is another. Surely, local media cannot be faulted for pointing out the obvious by now: organizers led by Speaker Alan Peter Cayetano (why a legislator is heading this is inexplicable) are doing a fantastically lousy job and are cramming when this sports event is not happening as a surprise to everyone. 
As early as 2015, the Philippines indicated it was interested in hosting the Games after Brunei withdrew, owing to lack of preparation time and venues. (READ: Philippines may host 2019 SEA Games as Brunei withdraws) Jasmine Payo, our sports editor, recalls that it must have been between 2015 and 2016 that we finally agreed to play host. Then in 2017 there were reports that we could be withdrawing as well because, according to Jas, "nothing was happening." Other countries even offered to take over, she said, vaguely remembering that Indonesia might have even been among them, but the Philippines stuck to its guns.
And this is where we are. In a truly embarrassing spot. Follow how the stories unfold in our special page on the 2019 SEA Games. Please remember it's a sporting event, not a parade of shame.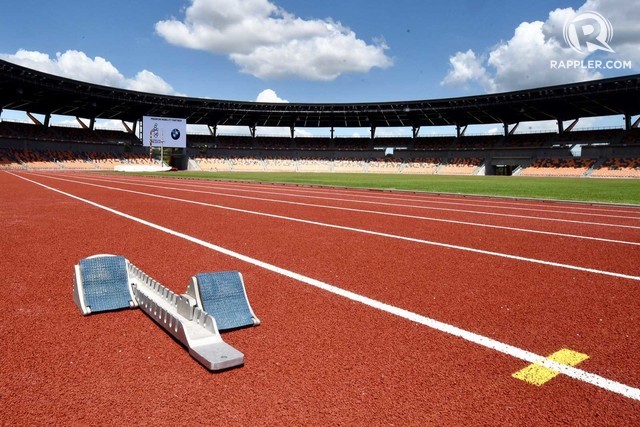 New Clark City. Speaking of controversy, another story that we've been following involves the Bases Conversion Development Authority (BCDA) and the New Clark City sports facilities in Capas, Tarlac. Why is this significant? Because it involves a huge P11-billion joint venture contract between BCDA and a Malaysian firm MTD Capital Berhad to build facilities for the SEA Games – a 20,000-seater athletic stadium, a 2,000-seater aquatic center, and an athlete's village. 
As it turns out, a favorable legal opinion from the Office of the Government Corporate Counsel (OGCC) must be secured first before any deal is sealed. This may sound all legalese to you, but it is critical to note that the joint venture agreement took effect first before the alleged favorable OGCC legal opinion was finally issued – contrary to the BCDA's own joint venture guidelines. Curiously, the Malaysian firm was also taking out a P9.5-billion loan from the government-owned Development Bank of the Philippines (DBP) to finance its part of the deal.
On February 22, 2018, months after there was talk of the Philippines pulling out as host of the Games, the agreement became effective. One might surmise that legal accommodations and adjustments were made because time was running out. Thus, a favorable legal opinion was issued 8 months later on October 2, 2018. BCDA has yet to make this public, by the way.
To make full sense of this, I suggest you read in installments this 3-part series by justice reporter Lian Buan, with able support from business reporter Ralf Rivas:
Part 1 | BCDA, Malaysian firm ink questionable P11-billion SEA Games deal
Part 2 | OGCC flagged non-bidding of BCDA's New Clark sports facilities
Conclusion | How BCDA's multi-billion New Clark deal slipped through
The agreement was signed by BCDA president and CEO Vince Dizon – a former consultant of Cayetano when he was senator –  and MTD Capital Berhad's Isaac David.
Marcoses. Another Newsbreak series you shouldn't miss is on networked propaganda – essentially how the Marcoses are using social media to turn things upside down. Tracked by Research head Gemma Mendoza and researcher Vernise Tantuco, the series shows how social media accounts and pages (some genuine, some fake) are spreading false narratives to rewrite history and further politically empower the Marcos family.
A fascinating and scary world this social media, where it could be easy to dupe those who don't know any better. Do spend time to digest this alter universe in these stories:
Part 1 | Networked Propaganda: How the Marcoses are using social media to reclaim Malacañang
Part 2 | Networked Propaganda: How the Marcoses are rewriting history
Conclusion | Networked Propaganda: False narratives from the Marcos arsenal 
This Thursday, November 28, I will be discussing on Newsbreak Chats the SEA Games debacle with reporters Bee Go (Sports), Mara Cepeda (House of Representatives), Lian Buan (Justice), and Ralf Rivas (Business). Join us as we trace where things went wrong and assess whether we can still make them right. Is there still time? Tell me what you think via chay.hofilena@rappler.com.
In case you missed last week's newsletter, you can catch up here: Do we need to die to do our jobs well?
Newsbreak is where you'll find Rappler's investigative, in-depth, and data- and research-based reports. Be updated on the latest stories by liking Newsbreak on Facebook and following @newsbreakph on Twitter.