Over the holidays, we published several stories which you may have missed when you took a breather from the internet and social media. But before we go into those, in case you missed my newsletter last week, you can still read it here: Time for change.
New beginnings are always exciting, but it's quite natural to also approach them with some trepidation. We worry, we fear the uncertainty and unpredictability of something we are not totally in control of. We expect the worst and sometimes allow our imagined fears to get the better of us, precisely because we don't relish surprises that show how unprepared we are for the unexpected.
What are some of the biggest fears for 2020 in relation to the Philippines, given what we know now? Here are some recent ones on my list:
Chinese espionage
More women participation in jihad
Further marginalization of farmers
Duterte's health
Chinese espionage.  In his two-part series, our defense reporter JC Gotinga reports about a Philippine military deal with a China-backed telco to build cell sites in its camps and bases. Purely a commercial transaction? Not if you consider China's reputation and track record in espionage. Just recently, for example, The New York Times reported about the secret expulsion of Chinese embassy diplomats, one of them believed to be an intelligence agent working under diplomatic cover, after they entered a US military base in Virginia. They claimed to have gotten lost.
Evan S. Medeiros, a senior Asia director at the National Security Council under former president Barack Obama, was quoted in that report as saying that Chinese intelligence had become "more sophisticated and more aggressive, both in human and electronic forms."
Yet the Armed Forces of the Philippines (AFP) has signed a deal with Dito Telecommunity in which China Telecom (Chinatel) has a 40% share. According to JC, the consortium includes Davao-based businessman Dennis Uy's Udenna Corporation and his Chelsea Logistics. (Read about Dennis Uy's growing empire and debt.) We of course know that Chinatel is state-owned and Chinese law requires such companies to provide intelligence to the government. JC also reports that the deal entails Chinatel building communication infrastructure and involvement in daily operations inside Philippine military camps.
What are the risks? Security experts whom JC interviewed spelled them out clearly: electronic eavesdropping, microwave signal interception, signal jamming, and radio frequency signal eavesdropping. Read the full report here: Military report confirms spying risks in deal with China-backed telco. In its own risk assessment, the AFP said the risks posed by these threats to the organization are low. Given the AFP's limited resources and capabilities, this is hard to believe. After opening its gates to an interloper, how could AFP data and software, and even data and information of those it is communicating with, remain secure?
Part 2 of the series (Will PH military be China's unwitting accessory to data breach?) warns that alliances with other countries like the US, Japan, and Australia could be jeopardized. Why would they share sensitive information with the Philippine military when its communications are compromised? It would be foolhardy to continue doing so.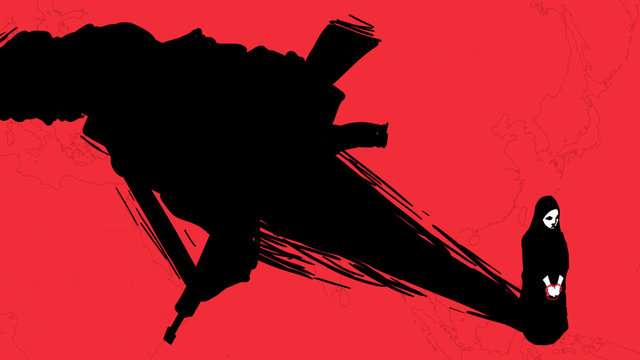 Women in jihad. Another security-related issue is terrorism. Of late we've heard of suicide attacks in Mindanao carried out by foreigners and one Filipino – 23-year-old Norman Lasuca is the first known Filipino suicide bomber who was part of the attack on a military camp in Indanan, Sulu,on June 28, 2019. But women are increasingly becoming more active participants in jihad or the "holy war" being waged by extremists. Ana Santos and Nikko Dizon spoke to intelligence sources, military officers, and terrorism experts in the Philippines, Indonesia, and Singapore and discovered that Muslim women no longer fit the stereotype of submissive, in-the-background wives or mothers. Read their two-part series on Women of the Eastern Caliphate to learn more.
Shielded by these very stereotypes, these women moved money that financed terrorist activities like the 2017 Marawi siege. They sired children who played roles in the war they are waging or married terrorists to cement networks, relationships, and ideology. It's a fascinating read. As one female intelligence specialist said: "We have only begun to scratch the surface of the role of women in jihad."
Filipino farmers. Not as high-profile as other personalities or issues in the news, Filipino farmers are at risk. Business reporter Ralf Rivas wrote recently about their deteriorating condition and how it is also affecting not just their own families but even the future of our nation as an agricultural country. Because farming has not been sustainable and financially rewarding, there is little reason to continue with it as means of livelihood.
For instance, according to Ralf, as of end-November 2019, farmgate palay prices were down to P15.55 per kilo only, 22% lower than prices for the same period in 2018. If production cost were at P12 per kilo, farmers earn a very measly P3 per kilo of palay sold. That amount cannot sustain a family of 5 or, worse, more than 5. The numbers below are telling.
Duterte's health. Finally, the health of President Duterte continues to be the subject of endless speculation. He declared recently, "Life has begun to take its toll on my health." The 74-year-old leader suffers from a rare muscle disease and a host of other illnesses that include Buerger's disease, migraines, spinal issues, and Barrett's Esophagus, which is a complication of GERD or gastroesophageal reflux disease. 
He has skipped events and recorded prolonged absences,which we have kept track of here: LIST: Duterte's skipped events, long absences. Political instability and continuity will always be a concern for a country seemingly trapped in a time warp and facing very real threats to its territorial integrity from no less than China. 
Let me know what you think viachay.hofilena@rappler.com.
Newsbreak is where you'll find Rappler's investigative, in-depth, and data- and research-based reports. Be updated on the latest stories by liking Newsbreak on Facebook and following @newsbreakph on Twitter.