These past few days, the Rappler inbox has seen a deluge of reports about requests to fact-check posts on social media, specifically Facebook, pertaining to the eruption of Taal Volcano. 
On the one hand, seeing citizens emailing our fact-checking team is heartening because it reflects a heightened awareness about the proliferation of "fake news" and its damaging effects especially in a disaster situation. On the other hand, you can't help but get infuriated by these seeming deliberate efforts to spread disinformation that clearly take advantage of people who aren't discerning enough. For what, you might ask? Just to grow an account's reach and engagement via shares and comments. Very enterprising even during a disaster.
Number One
In 2019, we were tops in terms of social media penetration, with almost 100% of Filipinos (99% to be exact) being on at least one type of social media platform – Facebook, Twitter, Instagram, LinkedIn, YouTube, among countless others. Worldwide, it was 58%.
In terms of social media users, an astounding 76 million Filipinos also in 2019 were users of social media – almost all of them on Facebook (75 million). This is out of a population of about 100 million. Remember too, that most Filipinos like you and me, have multiple social media accounts. I can't imagine handling this, but some Filipinos are said to have as many as 10 accounts each. Filipinos, according to the same report, spent the most time on social media in 2019, with their 4 hours and 12 minutes. Global average? Only two hours and 16 minutes.
As 2020 kicks in, it's good to be reminded of how vulnerable Filipinos are to false information online. Last year, we were known to spend at least 10 hours online, the highest in the world, according to the annual digital report of We Are Social and Hootsuite. In 2018, we were second only to Thailand as we clocked in 9 hours and 38 minutes. Worldwide average was only 6 hours and 42 minutes.
Dangers
You can imagine how quickly false information can spread like a virus when it's shared on social media – the panic and chaos it can create, even the upsurge of emotions it can trigger, the most dangerous being anger, fear, hate. And unfortunately, it's these types of emotions, too, that push people towards what can be irrational action and behavior, and it's these kinds of emotions also that quickly spread. So easy to stoke an uprising and quite dangerous too.
All in a matter of hours from Monday, January 13, to early Tuesday morning, January 14, our fact-checking team tagged some posts as either false or partly false. It's the partly false ones that can be tricky while the false posts are those that seem too incredible to be true. You might want to check your social media feeds and not share these posts that are rapidly spreading. You can also alert your friends who might be sharing them, unaware that they are false. Help us spread the word by tagging the following when you see them:
FALSE: 'Photo' of lightning streaks during Taal Volcano eruption
FALSE: 'NDRRMC update' on Taal Alert Level 5
FALSE: 'Magnitude 7.8 earthquake on January 15' after Taal eruption
FALSE: Kim Atienza, BBC 'reported about phone emitting radiation'
These posts contain some grain of truth but are not totally accurate and are misleading: PARTLY FALSE: Pacific Ring of Fire 'now active' and PARTLY FALSE: Mayon Volcano status 'raised' to Alert Level 2.
Does fact-checking help at all? Some journalists both here and abroad worry that it doesn't, yet they acknowledge the need to constantly and continually do it. Otherwise Facebook, which is the platform of choice of most Filipinos, becomes a total cesspool.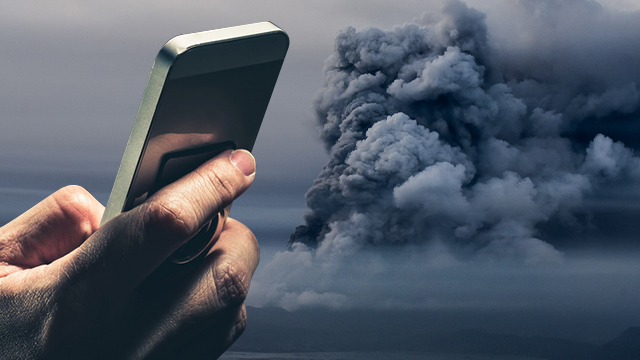 There are more credible sources of primary information than Facebook or social media itself. I'm listing some of them here, including some media websites that are known to vet information. Check these out instead of relying solely on social media for reliable information:
GOVERNMENT & ALTERNATIVE SOURCES
Philippine Institute of Volcanology and Seismology (Phivolcs)
National Disaster Risk Reduction and Management Council (NDRRMC)
United Nations Office for the Coordination of Humanitarian Affairs (UNOCHA)
NASA Earth Observatory
Japan Meteorological Agency
International Volcanic Health Hazard Network
United States Geological Survey (USGS) on the Ring of Fire
Smithsonian Institution's Global Volcanism Program
MEDIA
Rappler.com and its Taal reports
Inquirer.net
BusinessWorld
ABS-CBN News
GMA News
Let me know what you think via chay.hofilena@rappler.com. Support free and fearless journalism – specifically our investigative reports through our crowd-funding campaign. Listen to our Newsbreak: Beyond the Stories podcast on Spotify or Apple anchored by researcher-writer Jodesz Gavilan.
Newsbreak is where you'll find Rappler's investigative, in-depth, and data- and research-based reports. Be updated on the latest stories by liking Newsbreak on Facebook and following @newsbreakph on Twitter.