'Happy' and 'pleasantly surprised' are not emotions I associate with public transportation in Metro Manila, but Kuya Jhun Ochavo has convinced me otherwise
The first thing I noticed when I got into the cab was the discolored, worn interior near the door handle. It was a GrabTaxi cab, which more or less meant that I was paying a premium for safety. But I had lived in Metro Manila all my life, and warnings about the dangers of taking a cab alone had been hardwired into my system.
I mentally went through my list of next actions: send to my parents the car's plate number, the driver's name, where I was going – the usual security checks. But I wasn't able to immediately go through all of that, because the cab driver had two surprises for me.
Surprise number 1: After I had settled in my seat, he asked me to please lock the door "for safety." I wasn't even sure I heard him right, so what followed were 3 seconds of awkward silence before I finally understood what I was being asked to do.
Surprise number 2: After I locked the door, he handed me a slip of paper. "In case you forget anything in my taxi, ma'am, you can contact me on my phone," he said. 
He called it his "pamphlet" and "calling card," but I suppose you could call it a mini resumé of sorts. From that slip of paper, I learned that I had gotten into the cab of Mr Doroteo Ochavo Jr, nicknamed Jhun, the "most honest," "most promising, polite and kind" taxi driver of Metro Manila.
It was rush hour on a Thursday morning, and I was trying to get to Manila from Ortigas. It had taken me a while to get a cab willing to take me to my destination, and I thought I understood why: it was the day after the great traffic nightmare that was the EDSA anniversary, and no driver would have already forgotten those wasted hours of productivity.
So, after feeling like the odds were against me that morning, I somehow had the luck to get a ride with a driver who actually considered his passengers' welfare.
According to his pamphlet, he had been featured in a February 2012 episode of Jessica Soho's State of the Nation. He had also been recognized by Giordano Clothing and featured in The Philippine Star as a model citizen with a reputation for returning items his passengers forgot.
"Look," he told me proudly, pulling up a small tablet and loading YouTube. "I'm on TV."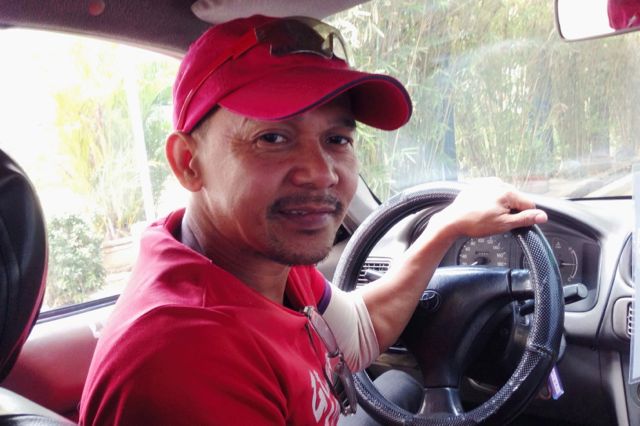 As we made our way into rush hour traffic, Kuya Jhun told me a little about his life. He had worked for a rent-a-car company before, and was so used to having foreigners as passengers that his English-speaking skills had become flawless, if a bit accented.
His easy-going manner had made him a favorite among his clients, who would personally request him to drive them to their appointments. Through word of mouth and referrals, Kuya Jhun has never been in want of work.
When he made the news, he said that he was just being recognized for practicing his own personal philosophy, his way of giving back, in gratitude for the good fortune he's had in life.
"Napag-aral ko ang mga anak ko. Marami nang magandang biyaya sa buhay ko, kaya sa sarili kong paraan, gusto ko rin iabot iyon sa kapwa ko," he told me. (I was able to send my children to school. A lot of good things have happened in my life, so in my own way, I want to share those blessings to others.)
It may sound like a cliché, but, coming from him, it rang with sincerity. He looked, and acted, like the kind of person who was truly grateful for what had come his way, and wanted to share that with others. 
When we pulled up at my destination an hour later, he smiled for the camera, bid me a good day, and even waited until I got inside the building before driving away – surprise number 3 for me.
"Happy" and "pleasantly surprised" are not the usual emotions I get whenever I try to navigate Metro Manila, but, once in a while, a decent person comes through in this maddening city with its traffic-clogged streets, and then I think there may be hope for our public transport system after all. – Rappler.com