We hold a mirror to society, bear witness and, in doing so, etch marks in our collective memory, so that we do not forget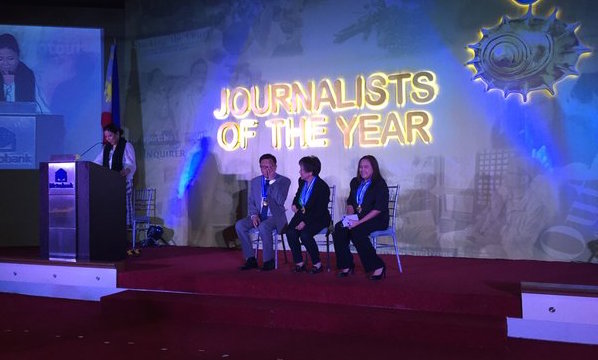 Editor's Note: This is the thank you speech delivered by Rappler editor-at-large Marites Dañguilan Vitug during the awarding ceremony of Metrobank Foundation's Journalists of the Year on October 22, 2015 at the Metrobank Plaza in Makati.
Good evening friends, guests, ladies and gentlemen:
I am thrilled and honored to be given this recognition, a wonderful gift on my first year as a card-carrying senior citizen. One is never too old for JOY.
Thank you to the Metrobank Foundation, the Probe Media Foundation, Dr Crispin Maslog for nominating me, and my two families, one bound by blood, Vet, Alab, and Marilen, and the other by work and friendship, Rappler.
Looking back on my more than 30 years a journalist, although it feels like a hundred years, here's the image that comes to mind: throwing pebbles into still waters, each pebble creating ripple upon ripple until it reaches the shore.
This is what happens every time we write a story. But many times, the ripples go unnoticed, quiet as a whisper.
No action, no reform, no change takes place even after we'd written consistently about malfeasance in certain institutions and by officials for whom integrity is completely alien territory.
Through all these decades in journalism, I've learned to take the long view. Change doesn't come swiftly and in dramatic ways. Change is incremental.
We hold a mirror to society, bear witness and, in doing so, etch marks in our collective memory, so that we do not forget.
All that we've written becomes part of our history, from which lessons can be learned, from which facts and stories can be unearthed to illuminate our national conversation, guide leaders, and help citizens make wise decisions not only during elections but also in supporting policy and legislation.
We are still a young nation and more journalists will come after us; they will continue to contribute to this rich repository of information and knowledge.
A recent trip to Istanbul gave me perspective. Our guide, who had the looks of a movie star, pointed to a mosque and said, nonchalantly: "That mosque is new. It is 350 years old."
A wave of hope swept over me. 
Turkey looks back to a history comprising thousands of years. This makes the Philippines a newbie in the community of nations.
We have time to learn from our mistakes, time to mature, time for the journalism profession to clean up and adhere to ethical standards.
During the final round of interview for this award, one of the judges, Father Jett Villarin, Ateneo University president, asked me: "How do you reform the media?"
I didn't say this then but it occurred to me that reforming the media may be as difficult as reforming the Catholic Church. I am exaggerating.
In so many words, I replied that reforms start in the newsroom, since we are a self-regulated industry. Publishers and editors need to cultivate a culture of integrity,  transparency and excellence – and apply rules rigorously.
Only when this is achieved can the media be faithful to the various voices in society, giving no one, not the powerful, not the moneyed, unfair advantage.
Only when this is achieved can the media be a true pillar of our democracy.
Thank you and good evening. – Rappler.com