Far from alienating foreign powers, Duterte seems to be at the receiving end of a proactive courtship by all major powers in the region
"The more it changes, the more it's the same thing," 19th century French thinker Jean-Baptiste Alphonse Karr once lamented. In the realm of foreign policy, observers do tend to adopt a similarly skeptical attitude when new leaders come into power on the back of bombastic campaign-trail statements and cliché promises of transformative change. Yet, since the election of President Rodrigo Duterte, there has been a perceptive, though liminal, shift in Philippine foreign policy.  
While Duterte's random rhetorical outbursts, most recently against the United Nations, have absorbed much of media attention, something more fundamental and strategic is actually at stake. 
With Duterte rapidly consolidating his position at the center of the Philippine political system, he is also, like none of his predecessors in recent memory, in a strong position to introduce a significant foreign policy reset, particularly with respect to China and the United States. 
Unlike his immediate predecessor, Benigno Aquino, he has extended an olive branch to China, deploying former president Fidel Ramos to conduct backdoor negotiations with the Asian powerhouse. He has also welcomed massive Chinese investments in the realm of public infrastructure and downplayed territorial disputes in the South China Sea, emphasizing the necessity of separating areas of conflict from zones of convergence in mutual interests.  
"I hope the Chinese may find a place in their hearts for the Filipinos. I hope you treat us [as] your brothers and not enemies and take note of our plight," declared Duterte, facing Chinese Ambassador Zhao Jianhua, during his speech at the Libingan ng mga Bayani. Now contrast this to how Duterte has mostly spoken vis-à-vis America and its highest representative in the country.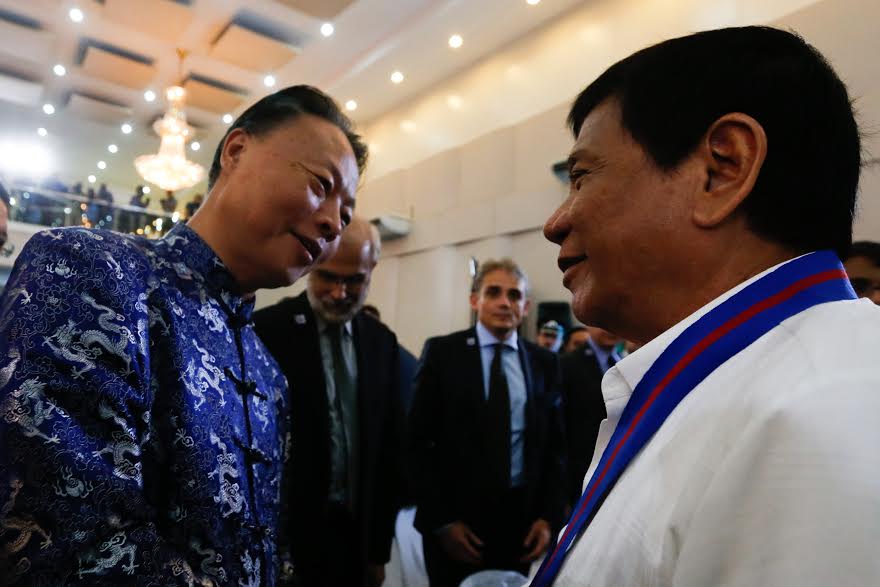 Time and again, Duterte has shown limited reticence with expressing discontent with perceived lack of American military support amid the maritime spats.  With respect to relations with America, Duterte has broken one diplomatic taboo after the other. At one point, Duterte went so far as stating: "I would only ask the US ambassador, 'are you with us [in the West Philippine Sea]?'"
His open expression of skepticism – a remarkable departure from his predecessors – seems to have gained growing support among the Philippine public as well as intelligentsia, even though America enjoys astronomically high approval ratings in the country. 
In fact, since the campaign period, Duterte, a self-described "socalist," has emphasized his preference for a more "independent" foreign policy, which effectively means less reliance on America. Shortly after his election victory, Duterte declared, "I will be chartering a [new] course [for the Philippines] on its own and will not be dependent on the United States." During the campaign period, Duterte called on both American and Australian ambassadors to 'shut their mouths' and threatened to sever ties if elected after the two Western diplomats expressed dismay over the Filipino politician's controversial remarks.  
For fiercely independent-minded Duterte, foreign powers were "interfering" in the Philippines' domestic affairs. More recently, Duterte's insulting remarks, during another off-the-cuff episode, about US ambassador Philip Goldberg provoked diplomatic censure from Washington, which didn't hesitate to also criticize Duterte's full-fledged anti-crime campaign. 
But Duterte has refused to apologize. Upon closer inspection, what one discovers is not only some ephemeral quarreling among old friends, but instead a steady and gradual recalibration in Philippine relations with both America and China. Duterte could very well become the most consequential president in Philippine foreign policy — and foreign powers and old allies should acknowledge it. The Philippines seems to have got its first truly 'post-American' leader. 
New strongman 
A month into office, Duterte has, in unequivocal terms, demonstrated his commitment to stand by his campaign-era promises – that he means what he says.
On the domestic front, we have already seen a dramatic uptick in state-led crackdown on organized crime and proliferation of illegal drugs. The country is in the midst of what Duterte has described as a 'war on crime', adopting a non-compromising approach to law and order challenges in the country, despite growing international outcry and criticism from human rights advocates in the country. 
Promising to also get rid of corruption, Duterte has even taken on alleged oligarchs, threatening to 'destroy' them lest they stop their rent-seeking practices and stop manipulating state institutions for narrow business interests.
Demonstrating his progressive bona fide, and willingness to confront abusive multinational companies, Duterte has also declared his willingness to end any large-scale mining in the country. Many mining conglomerates have seen their licenses either revoked or in danger of facing restrictions and heavy state scrutiny. Almost singlehandedly, Duterte has transformed the Philippine state into a pro-active agent, taking on organized crime, crony capitalists, and major extractive industries. 
To push ahead with his peace agenda in the troubled southern island of Mindanao, Duterte has considered controversial confidence-building measures (i.e., freeing key communist insurgent leaders), which has, so far, proven auspicious in terms of facilitating peace negotiations. Simultaneously, he has sought to win the hearts and minds of the armed forces by offering them constant moral support as well as the promise of increasing their paltry salaries. And the President is rapidly warming up to the armed forces. 
Though massively controversial outside the country, vast majority of Filipinos (91%) have expressed trust in and support for Duterte. Enjoying 'super-majority' support in the Congress, and set to appoint the bulk of the Supreme Court justices in coming years, Duterte is rapidly emerging as the Philippines' most powerful president in recent memory. And this gives him significant leeway to shape the country's domestic political landscape as well as foreign policy trajectory for years to come. 
Romance with Three Kingdoms
Far from alienating foreign powers, Duterte seems to be at the receiving end of a proactive courtship by all major powers in the region.
On one hand, the United States has indeed sought to gain the good will of the new president by deploying two of its most senior diplomats, Secretary of State John Kerryas well asState Department Counselor Kristie Kenney earlier this year. No less than U.S. President Barack Obama was the first foreign leader to congratulate and speak directly to Duterte upon his election victory.  
In response, Duterte has expressed gratitude to the United States, reiterated his commitment to honoring the Enhanced Defense Cooperation Agreement (EDCA) signed between his predecessor and the Obama administration, and has reassured "our [Philippine] strong alliance with America," Yet, it is unlikely that things will remain the same between the two allies. For Duterte, the priority is to expand Philippines' strategic relations with fellow Asian countries, particularly Japan and China. 
As the former mayor of Davao City, a bustling metropolis in the island of Mindanao, Duterte maintained robust commercial with Japanese investors as well as close diplomatic ties with the Japanese consulate. Based on my exchanges with Japanese officials, it seems that Tokyo has considerable confidence in the new Filipino president and is more than willing to expand already-blossoming strategic ties with the Philippines. Just recently, the Japanese Foreign Minister Minoru Kiuchi visited Manila, with Tokyo pledging more than $2 billion to infrastructure development projects in the Philippines.  
Crucially, Japan offered to also invest in Mindanao, Duterte's home island, which is in desperate need of infrastructure development. Japan also offered to lease a Japanese surveillance aircraft and promised two 90-metre (295-foot) long vessels for the Philippine Coast Guard.
Duterte's strategic compass will, however, largely point in the direction of Beijing in the meantime. 
The reason is because the Filipino president is concerned about a dangerous escalation in the West Philippine Sea, especially in light of Beijing's growing military assertiveness, footprint in contested waters, and diplomatic offensive after suffering a massive legal defeat at The Hague.  After a five-day 'ice breaker' trip to Hong Kong, where he met some senior Chinese officials and scholars, Duterte's special envoy, Ramos, has received an invitation to continue with high-level negotiations in the Mainland. This sets the tone for a potentially-rewarding meeting between Duterte and Chinese Premiere Li Keqiang on the sidelines of the ASEAN summit later this year. 
There are already discussions of Duterte choosing Beijing as his first official state visit, perhaps as early as next month. It is not clear whether negotiations could head towards any mutual-satisfactory deal in the near future, especially given China's intransigent territorial position in the West Philippine Sea, but for the Duterte administration the priority, for now, is to navigate ways to de-escalate tensions and bring about a semblance of normality to bilateral ties with Beijing.
He knows very well that there is no alternative to diplomacy. There is no alternative to peace. – Rappler.com 
Richard J. Heydarian is the author of "Asia's New Battlefield: US, China, and the Struggle for Western Pacific" (Zed, London). An earlier version of this piece appeared on The National Interest.