Alas, the world is confusing. All we can do is do our best to educate ourselves, keep our own biases in check, and maintain open minds.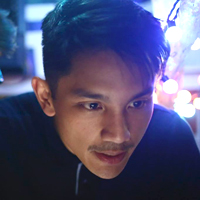 A symbol of the times confronts LRT riders who look right as they pass by Vito Cruz station: a black banner with the words "Stop the Killings. Start the Healing" hung on the Corinthian columns of architect Tomas Mapua's St La Salle Hall.
The sign is near but distant. De La Salle University pushes into the daily life of Manila City, its students and staff only needing to take a few steps to smell the jeepney fumes of Taft Avenue. But while those with DLSU IDs go in and out of the university and the "real world" as they please, most of the LRT riders will never see the inside of Mapua's masterpiece.
I still gaze at the banner sometimes; it makes me proud to be a DLSU employee. But I also know that it is symbol not just of our moral heft as a university, but also our isolation. Many of the LRT riders are surely pro-Duterte, and, while the banner is black, many of them only see yellow. The academic experts behind the gates are physically and intellectually isolated, pointy-heads in a neoclassical portico who have never had their lives threatened by an adik.
We live in an age of populism. And populist politics, contrary to facile interpretations, is not about politicians doing popular things. Rather, it is a view that separates the world into suffering ordinary people and elites who neglect their suffering. Populism surges when experts fail us, leading people to seek alternative sources of knowledge and authority. People believe fake news, not only because they are gullible, but also because they are critical of mainstream news.
What happens to experts in times of great disillusionment?
I am a professionally trained historian, so I have a vested interest in saving the reputation of experts. I do not deny that I resent people who believe conspiracy theory-oriented blogs about the Marcos golden era over peer-reviewed articles that prove Apo was a crook. I also dismiss as fantasy the belief that piling bodies solves the deep-seated roots of narco politics. These views may have traction in online spaces, but I insist that we not confuse virality with quality. Pace Sass Sasot, thank god the BBC doesn't pick its interviewees based on their social media following.
Many times, experts are experts, because they've put in the work. We trust doctors to heal, journalists to tell the news, pilots to fly planes, etc. And we trust institutions, like universities, that train these experts. This circle of trust often holds, but it can break down when the experts take for granted the perpetual probity of their beliefs. In these cases, intellectual insurgencies are necessary. And, indeed, it does help that there are now numerous sources of information that allow us to challenge them.
My own experience of such an insurgency has been, oddly, in the area of diet. For most of my teens and twenties, I took for granted that reducing fat intake results in better health. The experts, from the US government to your statin-peddling cardiologist, tell you that eating a lot of saturated fat "clogs" your arteries and leads to heart disease – a view of the human body that reduces its complexity to that of your kitchen sink.
Almost 5 years ago, I started hearing about paleo and ketogenic diets on health and fitness podcasts. These diets are like mainstream health recommendations in that they advocate whole food diets. But they reverse conventional knowledge by advocating eating more polyunsaturated and saturated fat, while avoiding eating refined sugars and grains.
Since discovering low carb/high fat eating, the staples of my diet have been sticks of butter, rib eye steaks, various incarnations of the pork belly (bacon and chicharon), avocados, and leafy greens. And I am the healthiest I've ever been: my blood sugar and triglycerides are low and my HDL (good) cholesterol is high. Most of my aches and pains from my late twenties are gone, and my kind wife says I have abs (she lies?).
My hatred for the anti-fat experts peaked when my diabetic mother, a physician, was confined after palpitations and high blood pressure two years ago. After stabilizing her blood pressure, the doctors refused to release her until her blood sugar had dropped to a relatively normal level.
The problem was that the low fat, "diabetic" food the hospital was feeding her had white bread, rice, and a milk supplement with high fructose corn syrup (the crap they mix into soft drinks). After two days, there were no significant improvements in her blood sugar. Incensed, my brothers and I bought her sticks of barbeque and some chicharon, and we threw away the expert-sanctioned food. As we predicted, not only did she enjoy herself, her blood sugar also dropped, and she was out of confinement in 24 hours.
Because of the high fat diet insurgency, many experts have come to re-evaluate their positions. And mainstream institutions from academic journals, media outlets like the New York Times, and reputable universities like Duke University have discussed the benefits of ketogenic diets. Like populist publics, therefore, I know what it's like to suspect that professionals have pulled a fast one on you. And I thank the netherworlds of the internet for helping me.  
So what am I saying? Trust experts when they tell you that Marcos was a crook and that killing users does not solve a drug problem, but don't trust them when they tell you to avoid bacon? To some extent, yes. But what I'm really saying is that there are never any fixed answers. Many times the experts are right, but they can also be very, very wrong.
Alas, the world is confusing. All we can do is do our best to educate ourselves, keep our own biases in check, and maintain open minds. It would also help if our conceptions of truth were based not simply on what we want to believe, but what we can, to the best of our capacities, verify through research. For in an age of populism, as with any age, people cannot afford to export their minds. – Rappler.com
Lisandro Claudio (@leloyclaudio on Twitter) teaches history at De La Salle University. He is the host of Rappler.com's video series Basagan ng Trip.