Cristina has consolidated her hold over the family corporation after a series of victories in the courts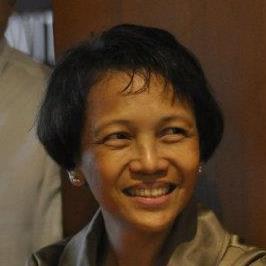 Lead defense counsel Serafin Cuevas has confidently told reporters that Cristina Corona, wife of impeached Chief Justice Renato Corona, would testify before the Senate. So far, this hasn't happened and it looks like the idea, like soufflé, has slowly collapsed.
Perhaps, Cuevas's initial burst of enthusiasm came from the fact that Cristina has many years of experience as a witness in various court cases which she filed versus her uncles and aunts to gain control of Basa-Guidote Enterprises Inc. (BGEI), the family corporation.
For over 2 decades, she has lived the life of a litigant, appearing to be comfortable in courts, and more importantly, winning almost all of her cases.

Since the late 1980s, she has filed the following:
2 cases with the Securities and Exchange Commission which stopped the majority of the Basas from reorganizing and running the corporation (these have been transferred to the courts and are still pending);
3 libel cases (2 in Quezon City and 1 in Manila) which have all been resolved in her favor and which led to the purchase of BGEI's majority shares of the corporation by her daughter, Carla Castillo;
1 or 2 reconveyance cases (to return land titles), one of which she has won and one is apparently still pending;
1 case to settle the authenticity of her grandmother's will which led to her appointment as "special administrator" of the Basa estate by a probate court. She is applying to be made "regular administrator" (this is still pending); and
About 5 cases of ejectment against tenants of the BGEI building before the property was bought by the city of Manila in 2001.
That's about 13 cases and you can imagine the time, energy and expenses involved in all these. Appearing as witness in court is not a usual activity and it's not something many take a liking to. And, as we know, our judicial system moves painfully slow and cases take several years to resolve.  

For their part, the majority of the Basas, led by Jose Ma. Basa III (Cristina's uncle), struck back. They filed an estafa case against her and alleged that she collected rent in her name—checks were issued to Cristina and not to BGEI—and did not account for these. They then placed ads in 3 newspapers, with Cristina's college photograph, announcing that they had filed an estafa case against her and she was not authorized to collect rents.
Cristina's victory
They lost at the first step; the prosecutor dismissed the estafa case.
An angry Cristina was not going to let the newspaper ads pass. She sued the Basas for libel. (See copies of the ads below)
She sued Jose Ma. Basa III, his wife, Raymunda, Jose's employees Felix Carlos Vicentillo and Virgilio Macaventa, cousin Betsy Basa Tenchavez, aunts Cecilia Henson Basa and Sister Flor Ma. Guidote Basa for libel.
 
And the Basas lost again, big time, in the libel cases.
The court convicted Jose Ma. and his wife, Raymunda, and ordered them to pay Cristina a total of P400,000, apart from P100,000 in lawyers' fees. By this time, in 2002, Jose.Ma. had died. (Cecilia Henson Basa, Sister Flor, and Betsy Basa Tenchavez were acquitted.)
But still, the court went ahead and had Jose Ma.'s and Raymunda's shares in BGEI—they  owned a majority—garnished through a public auction. The lone bidder was Carla, Cristina's daughter, who bought these for P28,000.
At that time, Cristina had already sold BGEI's 1,000-square meter property in Manila for P34.7-M.
Still on a winning streak, Cristina got more from the libel case a few years later. The court, in 2005, levied a 104-sq-meter Sampaloc property of the deceased Jose Ma. (Raymunda was living in the US at this time.)
Cristina has consolidated her hold over the family corporation after a long battle. Through these weary years, her parents, uncles and aunts passed away, except Sister Flor, who is now 90 years old. Cristina has outlived them all.

Articulate, testy

In court, Cristina was an articulate witness but testy, at times, and argumentative, as transcripts show. She underwent a series of direct and cross examinations for the libel cases as well as in the probate court.  

A few times, the judge in the probate court (1997-1998) admonished her when she was evasive. Here's a sample:

      Cristina to opposing counsel: "I cannot even remember your recitation of the  
      entire question but I really do not see the point of this questioning."

      Judge: "Do not argue with the counsel, do not argue with the court. Just answer  
      the question of the counsel."

Cristina's confidence may have sprung from her earlier legal victories and her husband, Renato, who wielded influence and power from his office in Malacañang and later the Supreme Court.
Cristina's high point came in 2003 when she gained control of BGEI through the public auction of shares, though questionable. During this time, Renato was already in the Supreme Court.

But appearing before the impeachment court will be different. She will not be able to snap back at hostile senators or at prosecutors who will ask tough questions. The cameras will be there to record these moments for posterity.

The stakes are much higher now: her husband, who has been the wind beneath her litigious wings, can lose his position as the country's top judge.
And the Basas can now pursue the pending cases, armed with new information on the corporation. – Rappler.com