This is AI generated summarization, which may have errors. For context, always refer to the full article.
'In a sociological sense, crisis does not make people deny God's existence or benevolence. On the contrary, it fosters higher religiosity.'
There's something about crisis, whether individual or collective, that fundamentally challenges religion.
David Hume, the Enlightenment philosopher, is known for "the Problem of Evil." In his view, an all-powerful, all-knowing, and benevolent God — the very premise of Christian faith — cannot coexist with the reality of suffering in the world.
Thus, if ever a divine being existed, most likely it is indifferent to life as we know it.
It is in the same spirit that questions about God and religion have been raised again as humanity is confronted with the "evil" that is COVID-19. Articles abound online that ponder on the "crisis of faith" it purportedly engenders. Sociologists have also wondered whether the closure of religious places around the world has made a dent on religious practices.
In the Philippines, we now have empirical evidence to assess the state of Filipino religiosity in the midst of COVID-19. In this short piece, I will spell out some salient findings from Pulse Asia's Ulat ng Bayan in September 2020. In the survey that was administered to 1,200 respondents around the country, questions on different aspects of faith including prayer and the role of religious organizations were included.
Worth noting is the timing of the survey. Administered in the middle of September, the survey in effect documented the attitudes of Filipinos 6 months since the first lockdown was implemented.
This is the first time these findings are being reported to the public.
Religious change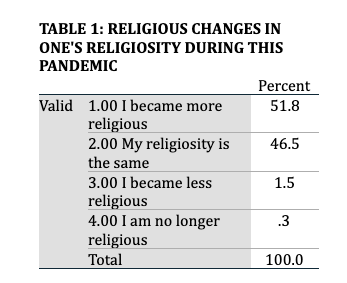 Respondents were asked to describe their state of religiosity during this pandemic. Majority (51.8%) declared that they became more religious. By contrast, only 1.5% stated that they became less religious.
In a way, this finding is not surprising. There are two important considerations here.
The first is that the Philippines has long been among the most religious societies in the world. This is a consistent observation made by Pew Research Center every time they conduct global surveys on belief in God, religious practices, and morality. In fact, their latest report reveals that for 96% of Filipinos, it is "necessary to believe in God in order to be moral and have good values."
To overturn this religious reality is going to take generations.
The second is that faith is the immediate resource for Filipinos in times of crisis. In June, the Veritas Truth Survey, initiated by Radyo Veritas, revealed that for 89% of respondents, faith is "very important" in the fight against COVID-19.
This finding only validates much that has been claimed by social scientists about the role of religion in vulnerable social and economic contexts around the world. Specifically, low-income countries tend to have higher levels of religiosity as opposed to their developed counterparts, which are mostly in the Global North.
Given their social conditions — inadequate health care, high incidence of conflict, and unreliable state agencies — people in these countries feel that they can turn to nothing else but their faith in God. What this means is that poor countries are not religious just because they have lower levels of education.
Therefore, in a sociological sense, crisis does not make people deny God's existence or benevolence. On the contrary, it fosters higher religiosity.
Does sex matter?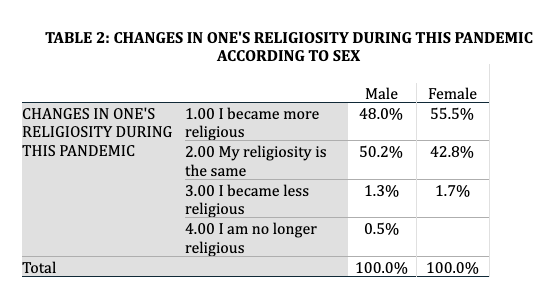 In analyzing religious change, it matters to disaggregate the data to discern other patterns.
The table above shows that sex does matter. Women (55.5%), in contrast to men (48%), are more inclined to say that they became more religious during this pandemic. For those who are interested, the difference is statistically significant (p < 0.05).
What accounts for the difference? We do not have enough data to explain the reasons, but we can come up with grounded speculations.
In many societies around the world, evidence shows that women are more religious than men. In fact, an entire book has been written on this matter by sociologists Marta Trzebiatowska and Steve Bruce. In the literature, there are many explanations for it, including emotions, community, and the recognition that women get from religion.
In the context of this crisis — and this is where the speculation comes in — women might carry the heavier burden. This much is true for mothers who are in charge of maintaining the household. Now that everyone must "stay home," the burden must be heavier.
This of course is not to downplay the religiosity of Filipino men. Based on the table above, almost half of male respondents acknowledged that they became religious. Why and how are questions that other social scientists might consider in their own research.
What can religious groups do?
The findings above must be reassuring to churches and other religious groups. In other words, they still have their numbers and they can expect them to return to their respective physical services once the pandemic is over.
But perhaps there is so much more that congregations can do in times like these.
Part of the survey was a question on roles that religious organizations could play during this pandemic. Respondents were asked to rank their top 3 based on a list of items that included the delivery of material relief, the provision of psychological help, and the continuation of religious services.
Respondents chose the following top 3 roles: "continue to hold religious services" (73.2%), "provide material relief" (48.7%), and "express concern about the government's response to the pandemic" (43.6%).
Of these 3, the third one seems most counterintuitive. This is because previous studies pointed out that Filipinos tend to be apprehensive whenever pulpits are used to make political commentaries. (READ: The privatization of the Catholic faith)
Although a far third, it is indicative of an opening among Filipinos today about the role of religious organizations in discussing the political state of affairs. Inasmuch as many Filipinos have approached faith as a private and deeply personal matter, this opening could be the very religious significance of a crisis like COVID-19.
In other words, this pandemic, in the eyes of the public, is a social problem that renders everyone vulnerable. Filipinos are thus (slowly) realizing that religion is a social institution to which they can turn to make the state accountable. (READ: [OPINION] Should Christians protest?)
Indeed, as these survey findings have revealed, there is so much more to COVID-19 than simply challenging the core of people's religious convictions. In the end, it's not just that Filipinos have become more religious because of this crisis.
They are also beginning to seek something "more" from their faith. – Rappler.com
Jayeel Cornelio, PhD is Associate Professor and the Director of the Development Studies Program at the Ateneo de Manila University and an Honorary Research Associate at the Divinity School of Chung Chi College at the Chinese University of Hong Kong. A sociologist of religion, Dr Cornelio's work is on religious change in the Philippines. He is the lead editor of the Routledge International Handbook of Religion in Global Society (out in November). Follow him on Twitter @jayeel_cornelio.