'Despite the continuing threat of COVID-19, public elementary school children are to start blended learning by October. Yet, these children's stomachs are growling louder than ever due to hunger.'
The COVID-19 and hunger nexus
The country's 2018 poverty statistics indicate that 16.7%, or 17.7 million Filipinos, live in poverty. The situation is expected to worsen in light of the government's announcement that the country is now in an economic recession with the record lowest quarterly GDP contraction of 16.5%, the lowest since 1981. The most recent employment data further reflects the dire situation of the country. This April, the unemployment rate rose to 17.7%, roughly accounting for 7.3 million unemployed Filipinos. The current figure is more than triple the 5.1% registered in April of 2019 (Philippine Statistics Authority, 2020). With no employment and income, these developments will naturally result in higher poverty levels, and consequently, more hunger, in the remaining months of 2020.
Hunger and food security have always been the problem of many vulnerable groups worldwide, COVID-19 further exacerbated the problem. According to the State of Food Security and Nutrition in the World, published by the Food and Agriculture Organization that came out in July 2020, an additional 83 to 132 million will go hungry in 2020 due to the COVID-19 pandemic. These figures are still on top of the 690 million already hungry people. The ballooning of hungry people is similarly taking place in the Philippines.
While self-reported, the July 3-6, 2020 National Mobile Survey of the Social Weather Stations (SWS) illustrates the intensity of hunger in the country. The results indicate that 20.9%, an estimated 5.2 million Filipino families, or roughly 30 million Filipinos, mostly children, reported experiencing involuntary hunger due to lack of food to eat at least once in the past 3 months. The July 2020 figure was up by 4.2 points from 16.7% in May 2020, and by 12.1 points from 8.8% in December 2019.
Visible hunger is evident and easy to spot. Still, authorities often neglected the attendant issues of malnutrition and recurrent food insecurity that carry a long-term developmental impact. A significant portion of stunted children means a considerable diminution in the succeeding generation's overall performance and economic productivity. At the beginning of the crisis, the Asia United Nations Network on Nutrition estimated 10.5 million children under 5 in Asia were suffering from wasting, and 78 million children were stunted (UNICEF South Asia, 2020).
Widespread hunger and food insecurity among Filipino children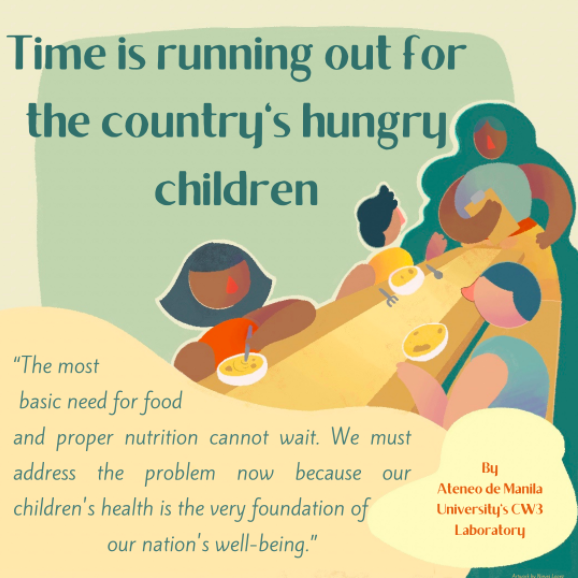 Although much media coverage has focused on access to Filipino children's education in these times, little is mentioned about much bigger crises: hunger and malnutrition. Another condition that is closely related to these crises is food insecurity. A food-insecure household experiences hunger or does not have regular access to nutritious and sufficient food. In a study conducted by the Ateneo's CW3 Team, food insecurity was found to be more prevalent among the households of public school children than among the average Filipino households. As of September 2018, it was already 17 points higher in a Metro Manila City than the same year's national food insecurity level. Alarmingly, more than 1 out of 5 households experienced severe levels of food insecurity. These families experienced having no food of any kind, going to sleep hungry, or going a whole day and night without eating anything.
Down south in a Mindanao province, the situation was even direr, where 9 out of 10 households of public school children were food insecure. An even higher number of households, around 2 out of 5, experienced severe food insecurity, which was almost triple the national severe food insecurity level in 2018. All households in the geographically isolated and disadvantaged area (GIDA) experienced food insecurity, with the majority, or 3 out of 5, experiencing severe food insecurity levels.
Food insecurity prevents parents from providing a balanced and varied diet for their children — a basis of good health — directly contributing to child malnutrition. A closer analysis of their actual food intake reveals the impact of household food insecurity on the children. The majority of them are at risk of being underweight due to inadequate energy intake, especially older school children (9 to 12 years olds). In a city in Metro Manila, less than 50% of the children have fruits and vegetables in their diet. Milk and milk products remain inaccessible to these children as they are considered luxury food items for most households. This situation largely explains their inadequate intake of key nutrients such as Calcium, Phosphorous, Iron, and Vitamin C. Filipino children face challenges in accessing sufficient food as well as nutritious diets even before the COVID-19 pandemic.
Filipino children's hunger and malnutrition are expected to worsen significantly as food and healthy diets become even more unaffordable to many Filipino households due to the COVID-19 restrictions and the accompanying economic recession. Countries with the most significant economic contractions, such as the Philippines, will be hard-pressed to sufficiently address the problem. Though the need to stop the spread of COVID-19 remains the primary objective, the bleak situation calls for all stakeholders to put their heads together. The time is now to adopt innovative, multi-stakeholder, and participatory approaches to curb the catastrophic impact of hunger, malnutrition, and food insecurity on the country's children.
Some possible options for the country's hungry children
We can mitigate the harmful impact of the economic downturn due to COVID-19 on Filipino children's nutritional status by ensuring that they have access to nutritious food at all times. In the school year 2018-2019, more than 2.3 million undernourished Filipino children benefited from government-sponsored daily hot meals in public schools and daycare centers all over the country. Cognizant to the need to continue delivering nutrition services to this nutritionally-at-risk group despite school closure, the Department of Education and Department of Social Welfare and Development are committed to identifying and providing nutrient-dense food alternatives to hot meals.
Several non-governmental organizations also explored and implemented alternative modalities. The Ateneo Center for Educational Development (ACED) developed the Food Augmentation Program (FAP), which provides vegetable packs worth P90 per week to beneficiaries' families. The FAP vegetables are purchased directly from farmers, making it cost-efficient while at the same time supporting our food producers. ACED successfully piloted FAP in two Quezon City public elementary schools with 500 beneficiaries.
Another modality is Gawad Kalinga's Kusina ng Kalinga (GK KnK) that "goes where the kids are." These community kitchens banked on barangay-level volunteers to prepare daily cooked meals. The hot meals, worth P20 on average, are either served in designated eating spaces or delivered in lunch boxes directly to children in their homes. The KnK in Communities piloted 9 kitchens in various GK communities all over the country, reaching 2,330 children daily.
In Davao de Oro, the provincial government under the leadership of Governor Jayvee Tyron Uy led the Bayanihan Para sa Kalusugan-Kusina ng Kalinga Program (BPsK-KnK). The program deployed KnK Mobile Kitchens to bring not only food directly to the homes of 16,087 children but also much-needed hope throughout the community quarantine. The food package includes locally-produced milk from the Nabunturan Farmers Multipurpose Cooperative to boost the program and at the same time make an impact on the local economy.
Despite the continuing threat of COVID-19, public elementary school children are to start blended learning by October. Yet, these children's stomachs are growling louder than ever due to hunger. Unless timely intervention takes place, very little or no learning can take place. The most basic need for food and proper nutrition cannot wait. We must address the problem now because our children's health is the very foundation of our nation's well-being. – Rappler.com
Eden P. Miro is from the Department of Mathematics, ADMU; Joselito T. Sescon is from the Department of Economics, ADMU; and Leslie V. Advincula-Lopez is from the Development Studies Program, ADMU.
The 3 are the lead investigators of the CW3 Laboratory. The CW3 or Community Welfare, Wellness, & Well-being Laboratory (CW3 Lab) aims to build a research portfolio of translational value to young Filipinos' welfare, wellness, and well-being that bridges the gap between research, policy, and practice. The CW3 team is composed of researchers from various departments of the Ateneo de Manila University as well as the UP Los Baños College of Human Ecology.