'We can only bear so much harangue and incoherence in this absurd drama where the leading actors are mainly bullying thugs and thieves'
In the 1950s a new theater genre emerged, where conventional forms like plot, characterization, conflict, and thematic structure were ignored or distorted to convey the irrational and meaningless nature of our world. Named "theater of the absurd," this movement of diverse "anti-plays" depicted the collapse of the moral, religious, and socio-political structures of Europe following the two World Wars.
These days, we are seeing our governance turn into a similar "theater of the absurd," where an ailing President with a diseased brain presides over a country reeling from his mad and bad governance.
Just take this government's handling of the COVID pandemic.
The narrative it wants us to believe is that this is a global calamity, and that this country's approach to containing its spread is not any worse off than that of the others. The facts say otherwise. Cases are climbing despite severe lockdowns, and the rollout of vaccines is painfully slow compared to others in Southeast Asia, save Indonesia, which has a much larger population. The World Health Organization has sounded the alarm that, up to now, barely 50% of seniors and those immuno-compromised have been vaccinated.
This woefully laggard performance can be accounted to various reasons, but foremost is the mind-boggling corruption in the delivery of billions of funds for emergency use.
There is the spectacle of exhausted health workers taking to the streets to get the measly hazard pay and risk allowances that the government owes them. All the while, the Commission on Audit reports that at least P9.4 billion is sitting in DOH unspent, and a whopping P67 billion has been siphoned off elsewhere.
The Senate Blue Ribbon Committee has surfaced a red thread that ties the scandal of overpriced medical supplies all the way to the top. Pharmally Pharmaceuticals is revealed to have had a paid-up capital of only P625,000, and yet has cornered P8.6 billion in deals with the government, which in truth is its only customer. Its executives are wanted in Taiwan for alleged stock manipulation, and its go-to broker, Yang Hongming, whose westernized name is Michael Yang, used to be economic adviser to the President. How a true-blue Chinese citizen from Xiamen who barely speaks English got to be adviser on the country's economic affairs is anyone's guess. Michael Yang has been linked to drugs, smuggling, and the continuing rise of POGO operations in the country.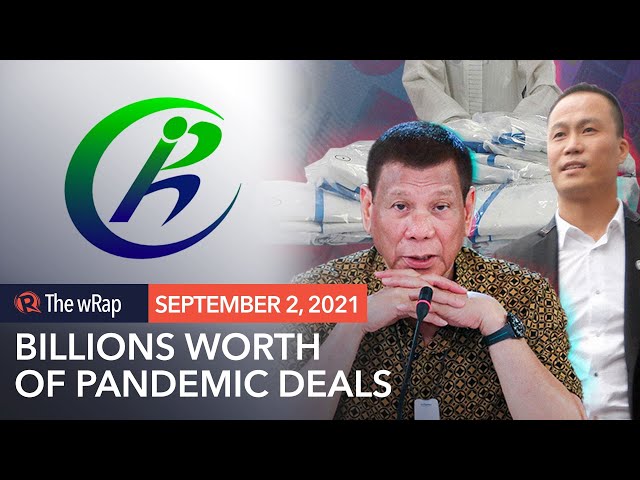 The red thread also seems to wrap itself round the delay in procuring vaccines from western pharmaceuticals. Note, in contrast, the speed with which the Chinese-made Sinovac was ordered. Eric Domingo of the Food and Drug Administration initially balked over its use because of its merely 50.4% efficacy. Sinovac has yet to publish its Phase III trial data. Unlike the other vaccines, it did not apply for an Emergency Use Authorization (UAE), yet the FDA eventually approved its "conditional" emergency use.
What is likely behind this? Perhaps Carlito Galvez, the vaccine czar, gives us a clue: "Pwede na ito sa mga mahihirap nating mga kababayan kaysa masayang." Could it be that it was ordered with unwarranted haste? Besides the crass callousness of the remark, he treats the poor as if they were lab mice.
Quite mysteriously, the President continues to defend his Health Secretary Francisco Duque III on the billions of funds misused, and in an off-hand remark tells the secretary to just sell the health department. While of a piece with the tragicomic performance he makes in his midnight perorations, the remark shows a mindset that views the state as a private preserve, personal property that could be disposed of on a whim.
Similarly, Duterte sees no wrong in rewarding his Chinese friends with fat contracts, using the culture's utang na loob as reason. They bring in investments, he said. He conveniently ignores the fact that Pharmally supplied some 12.9 million units of face masks with prices ranging from P22.50 to P27.72 each, when a Filipino manufacturer had already been tapped to deliver 100 million face masks at P13.50 each.
It is inexplicable why government should prefer a foreign and unvetted firm over and against a local company, and at a price that is exorbitant and far from being an "investment." The inside story is even more dismaying: the local company, EMS Components Assembly, was in the end forced to deliver 75% of the face masks at a much lower price of P2.35 each. "It is P1.3 billion [for the] total original contract but at the end, after shipping 100 million units, the total sales was only P523 million. It was far from the P1.3 billion. Nalugi kami," said Perry Ferrer, its chief executive officer, before the Senate inquiry.
Adding to the absurdity was the creation of an Inter-Agency Task Force that was supposed to be an emergency health measure, but instead has turned out to be a policing instrument for social control.
These anonymous authorities, composed mostly of retired generals and non-health workers, continue to impose various permutations of a lockdown – the most recent being "granular." Yet cases continue to rise in record numbers, evidence that herding people like sheep in one large pen does not work. In keeping with the military mind, the IATF has been fielding a clueless army whose idea of containing the virus is to bulldoze people into cruel inactivity and isolation, a blindsided measure akin to firing indiscriminately at an invisible enemy.
The IATF's flip-flopping policymaking shows vast ineptitude, not only for lack of medical expertise, but also the lack of feeling for business and the small people who have to endure the consequences of their decisions.
People are suddenly corralled without notice, on the supposition that they might try to escape localized lockdowns. For nearly two years we have been under virtual house arrest. Yet since last year, based on established scientific literature, 50,000 doctors and medical professionals, among them Nobel prize winners, have declared that lockdowns be replaced instead by focused protection of the sick and elderly.
The health system is near collapse, says Robert Mendoza of the National Alliance of Health Workers. Hospitals are so overflowing that 7 out of 10 patients have to be turned away or die without adequate medical attention. Working non-stop up to 12 hours, overworked and underpaid nurses, who comprise 70% of our frontliners, are forced to wear diapers because told to conserve PPE's and not spend time to pee.
"Where has all the money gone?" says health workers. The current House deliberations on the budget for 2022, a critical election year, gives us a clue: instead of buttressing the health system, a total of P182 billion for the Office of the President, supposedly for intelligence and other discretionary uses beyond reach of public scrutiny, was approved in three minutes flat.
The billions loaned to us by foreign banks could have gone to giving out free testing, food, immune-boosting vitamins, expensive medicines, PPEs and yes, vaccines which are puzzlingly in short supply. Mistakenly thinking that the slow vaccination rate is due to the people's recalcitrance, the President rails and threatens to clap to jail those who do not show up for the jab.
We can only bear so much harangue and incoherence in this absurd drama where the leading actors are mainly bullying thugs and thieves. Let the curtain fall na. – Rappler.com
Melba Padilla Maggay is President of the Institute for Studies in Asian Church and Culture.
Voices is Rappler's home for opinions from readers of all backgrounds, persuasions, and ages; analyses from advocacy leaders and subject matter experts; and reflections and editorials from Rappler staff.
You may submit pieces for review to opinion@rappler.com.