'Duterte promising to audit the COA as vice-president is both laughable and a badge of guilt'
The Commission on Audit (COA) is in the spotlight again for releasing a series of audit reports covering government agencies' transactions for the past year. Perhaps due to the COVID-19 pandemic, the audit report for the Department of Health gained the most traction in the sphere of public commentary.
With all these red flags from COA auditors, it would seem like the Duterte administration is the most corrupt ever. That is not necessarily the case. But unfortunately, the President himself and cabinet members like Secretary Duque seems to think that this is the conclusion from the COA reports.
No less than President Rodrigo Duterte led the backlash against COA, saying, "You make a report. Do not flag and do not publish it because it will condemn the agency or the person that you are flagging. […] What you are doing is f-l-o-g-g-i-n-g. Do not just flag. And then no one gets jailed, nothing happens. And yet you know that when you flag, there is already a taint of corruption by perception."
COA as an institution
Understanding that COA is an independent institution, which is beyond the control of any other entity in government including the President, is a key premise that we need to internalize.
COA is one of the three constitutional commissions, the other two being the Civil Service Commission (CSC) and the Commission on Elections (Comelec). According to the Constitution, "[t]he [COA] shall have the power, authority, and duty to examine, audit, and settle all accounts pertaining to the revenue and receipts of, and expenditures or uses of funds and property, owned or held in trust by, or pertaining to, the Government, or any of its subdivisions, agencies, or instrumentalities, including government-owned or controlled corporations with original charters […]."
One may ask, why, of all agencies, were these three raised to the status of constitutional commissions? A look into their functions (COA in auditing, CSC in personnel management, and Comelec in election-related activities) would show the extraordinary need to protect the integrity of such vital matters.
Let us state here the abbreviated enumeration of protective measures present in Article IX-A of the Constitution to protect commissions, such as COA, from political pressures and influence, as originally discussed by the late Fr. Joaquin Bernas, SJ.
First, Section 2 imposes a list of prohibitions to commissioners against engaging in other activities, such as holding another office or employment, engaging in the practice of any profession, or active management or control of any business, among others. Second, Section 4 gives them independent powers of appointment but in accordance with law. Third, Section 5 gives them fiscal autonomy. Fourth, the commissioners are given a fixed term of seven years, without reappointment, and are removable only by impeachment.
More specifically for COA, Sections 2 (2) and 3, Article IX-D state that "The Commission shall have exclusive authority, subject to the limitations in this Article, to define the scope of its audit and examination, establish the techniques and methods required therefor, and promulgate accounting and auditing rules and regulations […];" and "No law shall be passed exempting any entity of the Government or its subsidiaries in any guise whatever, or any investment of public funds, from the jurisdiction of the Commission on Audit."
With these, we can only see that the President's and his appointees' statements on the recent COA findings are pointless rants, precisely because they cannot control nor dictate how COA does its job (except only to faithfully follow government transaction protocols and to directly converse with COA on preliminary findings).
Yet, legally speaking, no matter how pointless these rants are, they can degrade COA's integrity and blur the people's understanding of what COA is actually mandated to do.
Audit reports as tool of persecution?
We condemn the use of any tool of accountability as a tool of persecution, but we must know by heart the distinction between the two.
We have been speaking and writing publicly on an example quite similar to COA audit reports: Statement of Assets, Liabilities, and Net Worth (SALN). SALNs are designed to make governance more open and transparent, consistent with the constitutional policy that "public office is a public trust." However, in recent history, it has been used for political persecution as seen in the fate of the Supreme Court, where Chief Justice Renato Corona was impeached and Chief Justice Maria Lourdes Sereno was ousted over alleged SALN irregularities.
Going back to COA, contrary to President Duterte's earlier statement, COA does not flog government agencies and those who manage them — for COA does not have the mandate nor the interest to do so. COA and its auditors are professionals who conduct audits by the book — checking whether the requirements of law, rules, and regulations are satisfied. Thereafter, there is an intricate system of presenting preliminary findings to the agencies involved, before any publication is made, to ensure that the explanations as well as justifications for any shortcoming are covered.
For instance, Section 56 (4) (d) of P.D. No. 1445 or the Auditing Code of the Philippines states that audit reports shall "[i]nclude recognition of the views of responsible officials of the agency audited on the auditor's findings, conclusions, and recommendations. Except where the possibility of fraud or other compelling reason may require different treatment, the auditor's tentative findings and conclusions should be reviewed with officials. When possible, without undue delay, their view should be obtained in writing and objectively considered and presented in the final report."
If at all, just like in SALNs, there are other parties who may use audit reports as tools for political purposes and fairly or unfairly inflate the issue. But again, COA is not the one to blame if ever this scenario does happen. If the opposition elevates and makes these audit reports a central piece of their campaign in 2022, then so be it.
Balancing accountability and efficiency
There is a semblance of truth in what the President said about the "corruption by perception" tied with the COA audit reports – but only as to the perception aspect. When COA publishes its audit reports, COA does not state when a public official must be removed from office, for instance by the President. More so, COA does not in any manner make findings of corruption. All it is able to say through its audit reports is that there have been irregularities in the spending of public funds, nothing more and nothing less. A more meaningful way to understand audit reports is to know what kind of irregularities were found, and how public institutions can hold those at fault to account.
Beyond "corruption by perception," another uphill battle faced by COA as an institution is that it is perceived by some implementers – as can be seen in Secretary of Health Francisco Duque's emotional plea in the congressional hearing – as insensitive, uncompromisable, and an obstacle to a quick turnaround of affairs and transactions. Audits can even be branded as inefficient. But is this not how auditors are supposed to conduct themselves for the sake of auditing standards, or the grander vision of accountability?
This is why we, Filipinos, and our government should never be afraid of audit reports. The response of Pag-IBIG Fund Vice President for Public Relations Kalin Franco-Garcia is recommended as a best practice. She answered politely but directly as to why there was no violation of law and rules when it came to her COA finding. She also acknowledged COA as a partner in accountability.
Only those who are guilty of corruption are afraid of COA reports. Likewise, acting entitled and attacking COA and other accountability institutions are badges of guilt that we must also be vigilant about. Duterte promising to audit the COA as vice-president is both laughable and a badge of guilt.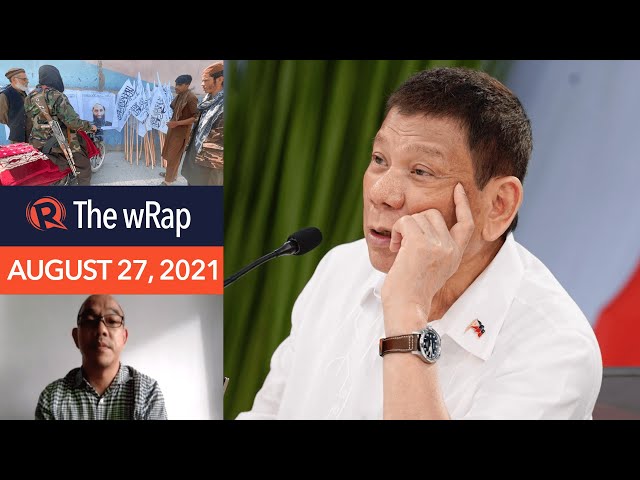 We do not know if the Duterte government is the most corrupt administration ever in our history. The signs are not good, as illustrated in the Senate hearings on Pharmally and how it has illegally bagged contracts worth billions. This is plunder plain and simple. One of us (La Viña) helped write that law in the late 1980s and the Pharmally siuation is exactly what the plunder law punishes and seeks to prevent.
We were promised that even a whiff of corruption would not be tolerated. But in recent days, the stench has become so terrible. Attacking COA auditors will not change that. Decisive actions by the COA, Ombudsman, Congress, and citizens are needed in the days to come. – Rappler.com
Tony La Viña teaches law and is former dean of the Ateneo School of Government.
Jayvy R. Gamboa is a student at the University of the Philippines College of Law and an advocate of youth formation.