That some journalists do still persist does not necessarily mean they are not afraid, but only driven by righteous duty. Nothing more can be asked of them.
The question is all too often asked whether press freedom exists under the regime of Rodrigo Duterte. And each time it is put to Harry Roque, the regime's chief apologist, he puts together a convenient universe of press campers to back his pronouncement that press freedom is alive and well.
Never mind that it is not for Roque, but for the press itself, to say whether it is able to operate freely, or freely enough. That the question is asked at all testifies to Roque's untrustworthiness.
As for his interloper's readiness to speak to the issue and even make pronouncements on it, the implication seems that, for such a happy state as he paints for it, the press is indebted to Duterte. It is, of course, never the intent that, before they can exercise press freedom, journalists have to ask permission from anyone. Indeed, a democratic press ceases to exist without freedom – freedom is its breath of life.
And the following circumstances should leave no doubt how so little freedom is left for the press to breathe: The widest-reaching broadcast network is closed arbitrarily; this pioneer online news site is taken to court on implausible accusations of libel, tax defaults, and violations of securities regulations; the leading newspaper is picked on for alleged wrongdoing by its proprietors in conduting business that had nothing to do with their newspaper. Their only guilt is displeasing Duterte with their reporting and criticism – with their exercise of press freedom.
Campaigns of reprisal are in fact a hallmark of Duterte's high-handed presidency, whether against drug dealers or against the political or ideological opposition. Against journalists in particular, there have been more than a hundred violent attacks, in which 16 (other reports say 19) have been killed. The victims are mostly journalists practicing in the provinces, where, owing to remote and obscure settings, these attacks are easy to mount and conceal.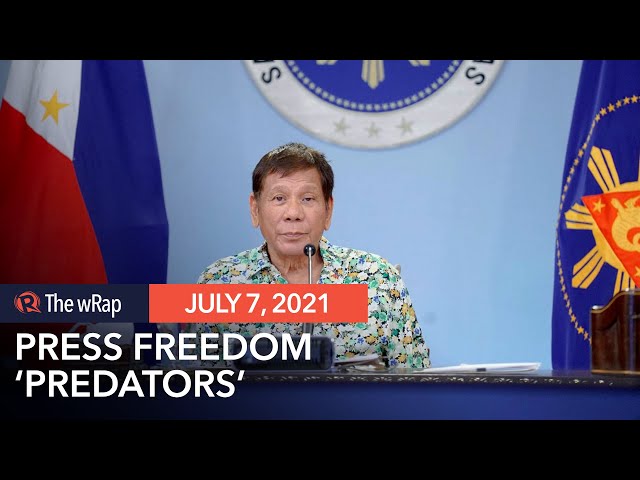 Reporters Without Borders has put the Philippines two places further down, 138th among 180 countries, in its annual press-freedom rankings. And now it lists Duterte among the world's 37 "press freedom predators." That should make the question whether the freedom exists under Duterte, decidedly, a merely rhetorical one.
But, as a matter of slavish habit, Duterte's quibblers are quick to search for self-serving comparisons, and this time they find Ferdinand Marcos. Duterte idolizes Marcos but his image has to be sacrificed to suit the moment's purpose: to show Duterte as more benign. But then, again, the scheme succeeds only in proving the opposite. Marcos had no pretensions about murdering freedom; he did it, if you like, properly: he declared martial law. Duterte just does his murders, no tokenism.
Chief quibbler Harry Roque himself tries to cover up the murder of press freedom by showing off the scarce bold practice that might make for what little of it that remains alive. He thinks he can fool Reporters Without Borders.
The quality of press freedom is measured not by the ability of journalists to report on and criticize the government, but by what can happen to them afterwards. Even if only one of them is punished unduly, press freedom is eroded, and eroded to a much greater degree than might be thought limited to that suffered by that one singled-out journalist.
State power is so vast and its potential for abuse so real – think only of the military, the police, and the taxmen – that any reprisal brought on even just one of the press is bound to send a chill across the whole institution. That some journalists do still persist does not necessarily mean they are not afraid, but only driven by righteous duty.
Nothing more can be asked of them.
Nonoy Espina, 59
When it comes to soldiering for press freedom, no one can hold a candle to Nonoy. He gave his life for it, a life so regretfully short, and he gave it at a time when every reason could be found for him to give less.
Neither cancer nor coronavirus could stop him. He was where all of us should have been when we needed to be there, mostly out there in the street, fighting, expending his strength to the last ounce. Embarrassed that I may have fallen short myself, I sent him a copy of just about every word I set down in my own safe and and sedentary fight for freedom.
Surely, a tear or a nice word is the last thing Nonoy would have wished offered in his memory, but, rather, an ever greater measure of courage than we are accustomed to giving – for press freedom. – Rappler.com