'To the world, the hero that is Maria Ressa is brilliant, fearless, and relentless. To me as a friend, she has always been always warm, cheerful even during crises, and incredibly stubborn when told to take care of herself.'
When I first got wind of my friend Maria Ressa's Nobel Peace Prize, I was filled not only with pride, but especially with longing. My first instinct was to give her a long hug, something which has not been possible since our last meeting on February 27, 2020. That evening, worried about some mysterious virus in the news, my wife and I gave her a bottle of Purell for her flight the next day as we shared a dessert of mochi in black sesame sauce in a crowded cafe in New York's Chinatown. You know what happened after that.
Maria and I first met in 1999 when she was covering LGBTQ+ life in Asia for CNN and I was a student in the University of the Philippines and a co-founder of the lesbian organization UP Sappho Society. Three years later in 2002, I met her again as the friend of Roz Espinosa, a visiting New Yorker I had just started seeing romantically. Maria looked at us with her inquisitive journalist glare and with her squeaky voice asked, "So, are the two of you together?" I moved to New York within weeks of that meeting, eventually marrying the New Yorker. Maria has since been a constant presence in our lives, with Roz and I witnessing her personal and professional journey through the years.
In 19 years of friendship, Maria and I have had countless conversations about the Philippines, the US, the world, love, relationships, family, and the future. Since New York is a frequent stop on her trips and we usually stay with her when we're in Manila, Maria is the friend we see the most. However brief these meetings are in between Maria's ever-hectic life, there is at least an hour of great conversation between us. Sometimes, when the topic excites her, she even records them.
I found two of these videos today, hoping to catch a moving and audible presence of the friend I missed and wanted so much to congratulate this week. But instead of Maria's presence, what I found was the difference in how we both spoke about the Philippines between 2013 and 2017, captured in 30-minute conversations from each of those years.
2 conversations
In 2013, I visited Manila to receive my Palanca Award. After joining us for the ceremony, Maria interviewed me about being an out lesbian in the Philippines, the legalization of same-sex marriage in New York and in the United States, the courage to write about queerness, the Filipino diaspora, and life as a Pinay in New York. Maria actually had the time and emotional bandwidth to discuss these topics. They seemed quite relevant at that time.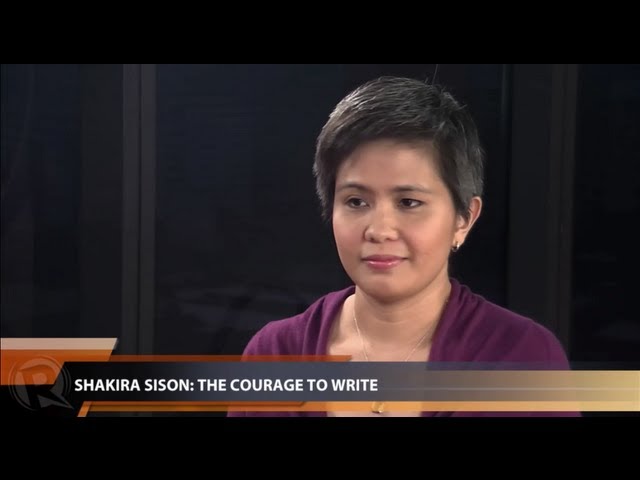 That conversation feels like a whole lifetime away. Three years later in 2016, President Duterte was elected in the Philippines, and President Trump in the United States. When Maria visited New York in 2017, the horror of institutionalized extrajudicial killings in the Philippines was well underway, and Rappler's coverage of the carnage was beginning to get scrutinized. Over banana split in a Brooklyn restaurant, I started talking to Maria about my heartache watching the mass murder in our homeland as well as Trump's Muslim ban and hateful language, when she grabbed her gimbal and said, "Hold on, let's put this on Facebook Live!" On video in our living room, we discussed my reluctance to write about the current situation, the troll armies employed by the administration, and how social media was being weaponized. I answered live questions from the audience. I received angry comments. I hyperventilated. I smirked nervously when I said the words "mass murder." I made a reference to the Holocaust. I whined about my twice broken heart about two countries I loved.
Little did we know that the terror of President Duterte's term was only just beginning, and that it was only a matter of time for his administration to turn his attention to Maria and her Rappler crew's determination to hold the line. In 2018, the first cases were filed against Maria and Rappler. Their palace correspondent Pia Rañada was banned from covering the President in Malacañang. Numerous arrest warrants were issued and more bogus charges were filed. Maria's family, friends, and colleagues around the world began worrying for her life. 
When press freedom is threatened
When press freedom is threatened and media is suppressed by a country's government, it's not just its current atrocities and abuses that are misreported and covered up. When thousands of Filipinos have been killed and continue to be killed by state-sanctioned murder, all the other topics and subjects for discussion and reporting become secondary at best, and at worst, forgotten.
I felt this immediately when I could not write about anything without tackling the enormity of the administration's summary execution program. How dare I go back to my usual topics of LGBTQ+ discrimation, women's rights and reproductive health, overbearing family members, and toxic Filipino culture? How petty it felt to write fiction, to feature music and art, or to talk about anything other than the bodies being found in city streets every night? There was no accessible solution for it, and yet any vocal opinion or criticism was met with violent threats on good days, and a bullet in the head on bad. To me it felt like only the elephant in the room deserved to be discussed, but that elephant could never be touched.
Suddenly my 2013 interview with Maria felt shallow and irrelevant. Even our concerns in our 2017 conversation felt laughable. I can only describe those two recorded moments with Maria, but for her it was only the beginning of a very long ride. 
Since that last recorded conversation, there was no longer time during visits to grab the gimbal and do a fun interview. In our meetings squeezed between her hundred commitments, we only had a few moments to talk about what she was facing and our concern for her welfare. It became real for us in 2018 when we stayed with her in Manila and were given instructions on what to do if the authorities came knocking. "Tell them you're American citizens," we were told, as if that would protect us from the lawlessness of whoever might come. "Get it on Facebook Live." 
Roz and I laughed at the precariousness of our situation before realizing that for our dear friend this terror was 24/7, where things can and do change in a second, where one's affairs must always be in order, and where each meeting with friends and family has to be treated like it's the last. It was not a life for us, but it is a life that is a given when one chooses to hold the line.
To the world, the hero that is Maria Ressa is brilliant, fearless, and relentless. To me as a friend,  she has always been always warm, cheerful even during crises, and incredibly stubborn when told to take care of herself. Whatever meal it was that we shared several times a year in New York, whether it be Korean BBQ or our favorite Szechuan on Mott Street, we always parted ways by yelling out, "Go on and save the world, or something!" because even if we spent the last hour or two laughing and talking about our personal details, that was what she was doing every second of her life.
The prize
The Nobel Peace Prize is an incredible honor, of course, and puts the Philippines and its hellish landscape for the past five years on the global radar. Maria's lifelong commitment to truth and integrity definitely deserves all the recognition. But when I think about the circumstances that brought us to this point: the unnamed journalists and activists who actually paid for their integrity with their lives, the tens of thousands killed by a fictional drug war since 2016, the corruption not only of the nation's coffers but especially of its morals and psyche, I cannot help but mourn the country that was lost in this short span of time.
It brings me back to the innocence of my 2013 video with Maria, both of us happy (even baby-faced), likely on our way to dinner after that shoot. She asked me questions that were important then but now all feel silly in face of death and daily terror. I cringe when I watch that video because I feel foolish to be discussing what now feels like fluff. It makes me think about all the things that were important then — topics, convictions, rights, lives, and dreams — all so distant and irrelevant now, crushed like all the hopes of everyone else who never get a chance to be asked how they feel. 
All that is left is what was lost, the Nobel being the worldwide symbol of that, and Maria Ressa, Rappler's founders and crew, weary but still standing up, now especially strong and proud, for what has always been and will always be right. – Rappler.com
Shakira Sison is a Filipino American writer living in New York City.